Estimated read time: 4-5 minutes
After a long, hot summer, you're probably counting down the days until the slopes open up again for the season. From skiing to snowboarding, you can hit the slopes and enjoy the fresh mountain air all while getting in a good workout.
According to a Science Daily article, the benefits of exercising in nature are numerous. "Compared with exercising indoors, exercising in natural environments was associated with greater feelings of revitalization, increased energy and positive engagement, together with decreases in tension, confusion, anger and depression," notes the article.
So if you're ready to revitalize your mind and body, take advantage of these Snowbasin deals you won't find any other time of the year.
Buy now and save
Starting today, you can save more than $50 off weekday lift tickets making your pass under $100 for any age group. You can also save on select weekend tickets; adult tickets are $125, seniors are $95 and youth are $75.
If you prefer to make the most out of the winter months, season passes are also discounted through Cyber Monday. You can save up to $400 on your pass if you purchase within the next few days. To see season pass pricing, visit Snowbasin's website.
Stay for less
In addition to lower slope prices, lodging in the area is also discounted. Snowbasin partnered with Grand America and Little America in Salt Lake City to offer up to 25% off lodging. Take 25% off Sunday - Thursday stays through Jan. 2, 2022. Take 20% off stays Jan. 3 - March 30, 2022, any day of the week. You can stay in downtown Salt Lake City, just a 45-minute drive from Snowbasin Resort, and enjoy a luxurious getaway. Visit Snowbasin's website to book at the discounted rate.
Enhancements and safety precautions
If you're a Snowbasin regular, you'll be happy to learn that the Middle Bowl Triple chairlift will be replaced with a high-speed, six-person lift. You can also expect to find more than 400 new parking spaces in the Maples and Canyon Rim parking areas.
"We will be working over the next few years to build upon the incredible vision that Earl Holding and his family have had for this resort. Combining the best ski experience in Utah with pre and post ski experiences that maintain the character of Snowbasin is our top priority," said Chris Frampton, CEO of East West Partners. "Our goal of creating 'Terrific Places' lines up perfectly with the focus that the Holding Family has had in guiding Snowbasin for nearly 40 years and counting."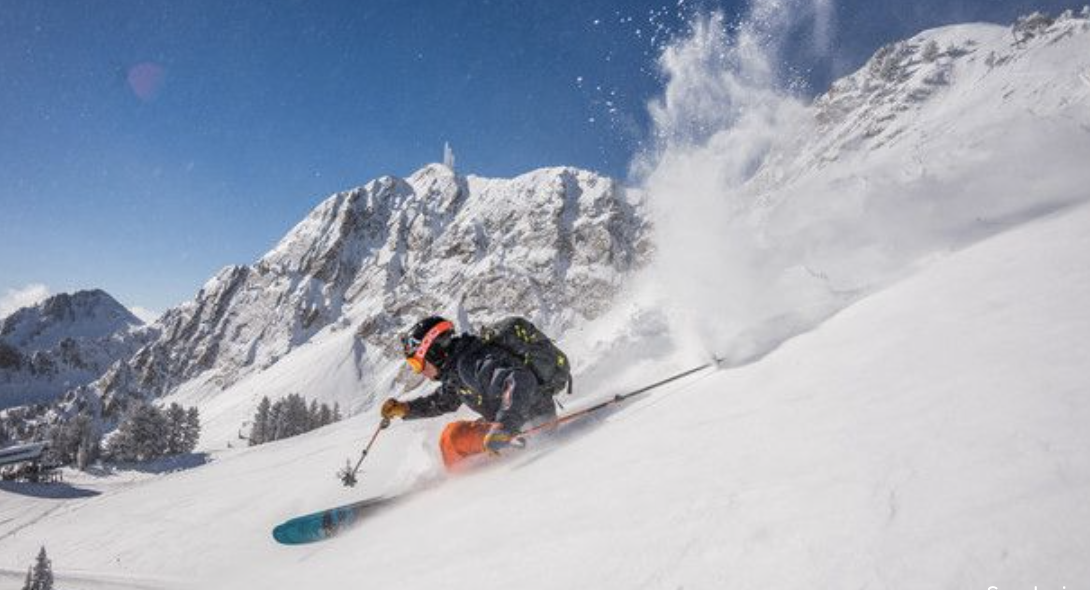 About the slopes
Snowbasin boasts an impressive 3,000 skiable acres and 3,000 vertical feet with 104 runs, 11 lifts and three terrain parks. For those new to skiing, you can rest assured that this is a good thing. Snowbasin is the No. 8 ski resort in the west, according to an October article in Outside.
With as many runs as they boast, there are plenty of areas for all levels of skiers and snowboarders alike. Beginners can enjoy seven easier runs, intermediate skiers will have fun on 30 middle-difficult runs, and advanced skiers can choose from 35 most difficult and 32 expert-only, including the Grizzly and Wildflower Downhill Course from the 2002 Winter Olympics.
Access and atmosphere
As the winner of Ski Magazine's Access Award, one of the most-cited reasons that skiers and snowboarders love Snowbasin is the peaceful atmosphere and lack of competition for fresh snow. Because the resort has so many runs and skiable miles, and is just far enough off the beaten track, the influx of tourists that often clog the Big and Little Cottonwood Canyons won't trample the runs at Snowbasin.
Additionally, the location is prime for people who prefer more skiing and fewer traffic problems. It's only a 45-minute drive north of Salt Lake City — and traffic usually goes the opposite way.
To get the best deals on one of Utah's top ski destinations, buy your lift tickets by November 30 at 11:59 p.m. Visit snowbasin.com or call 801-620-1000 to book now.
×