Estimated read time: 3-4 minutes
This archived news story is available only for your personal, non-commercial use. Information in the story may be outdated or superseded by additional information. Reading or replaying the story in its archived form does not constitute a republication of the story.
SALT LAKE CITY — Here are 10 stories you may have missed over the weekend. As always, click on the headline to read the full story.
1. Overdue hiker dies shortly after being found in canyon above Bountiful
A 58-year-old man died shortly after being located in Holbrook Canyon by Davis County search and rescue crews early Sunday. The man was reported overdue after he had not been seen since 11 a.m. Saturday after setting out on a hike in Holbrook Canyon, Davis County sheriff's spokeswoman Stephanie Dinsmore said.
2. More than 20 people injured, some died after driver plows through a Wisconsin Christmas parade
Police reported "some fatalities" after more than 20 people, including children, were struck by a vehicle that ran through a crowd at a Wisconsin holiday parade Sunday, Waukesha Police Chief Daniel P. Thompson said in a press conference. Get an update here.
3. Woman rescued after being stuck in Utah Lake mud for 2 hours
A woman was rescued Sunday after spending around two hours stuck in mud up to her waist at Provo Bay on Utah Lake. "It's an interesting kind of a situation to be in, because a person can have some real serious risks to their health just from hypothermia," Utah County Sheriff's Sgt. Spencer Cannon said. "And when you're out there like that — especially in the winter time — time is of the essence."
4. 1 hospitalized following Tooele County house fire
One person was hospitalized Sunday after attempting to put out a house fire in Lake Point.
5. 'The whole system is guilty': Utahns rally after Rittenhouse verdict
Around 60 people gathered Sunday afternoon in Salt Lake City to rally against Friday's not guilty verdict in the high profile Kyle Rittenhouse case.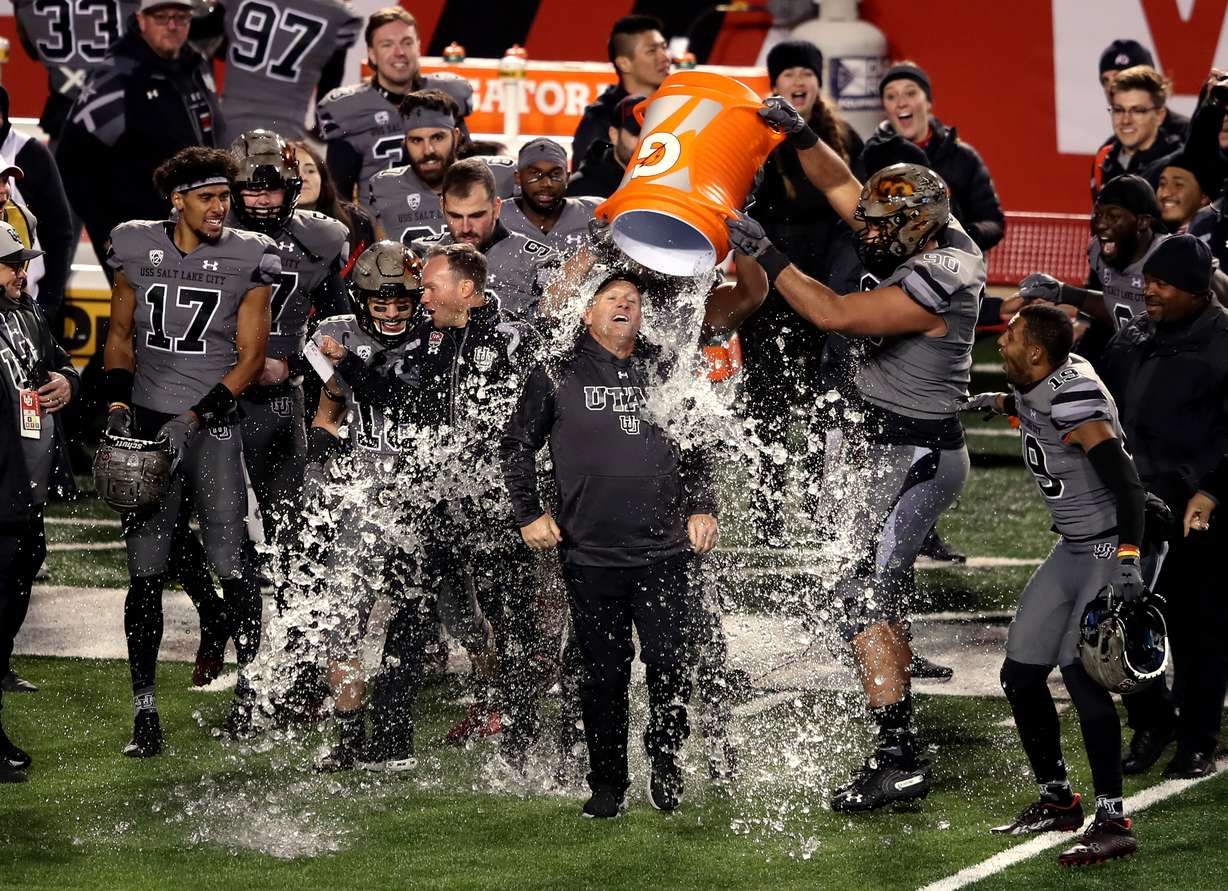 Sports
1. No. 23 Utah clinches South in 38-7 rout of No. 3 Oregon; Thomas breaks TD record
Utah was the dominant team and controlled a 28-0 first half performance en route to a 38-7 victory over the visiting Ducks, who had no answer to the level of play Utah brought to the field.
2. 'This is a special place': BYU experiences rare 24 hours of cross-sport domination
The Cougars may have just pulled off the most remarkable 24 hours in the history of college sports. A lot of college football teams won Saturday — BYU is no exception — and just as many college basketball teams did, as well.
But the Cougars' overall athletic department victory was exceptional.
3. 'That was something': Jazz reflect on 15-minute barf delay in win over Kings
Utah's 123-105 win at Sacramento Saturday took a back seat to a Kings fan who was sitting in the front row.
4. Justin Bean leads Utah State past his hometown team to win tournament championship
In what Aggies head coach Ryan Odom described as a "Wilt Chamberlain" like performance, Bean put up 24 points, 19 rebounds and three assists. Aided by two clutch 3-pointers by Brock Miller in the final two minutes, Bean led Utah State to a 73-70 win over Oklahoma Sunday afternoon.
5. Weber State off to best start since 1985-86 with Rahe's 300th win
Seikou Sisoho Jawara had his best game of the season with 20 points as Weber State made history with a 68-58 win over Green Bay on Sunday to win the Jersey Mike's Classic in St. Petersburg, Florida.
×
Most recent Utah stories