Estimated read time: 4-5 minutes
This archived news story is available only for your personal, non-commercial use. Information in the story may be outdated or superseded by additional information. Reading or replaying the story in its archived form does not constitute a republication of the story.
Most families have their favorite holiday traditions. Watching movies, hosting parties, baking delicious food, donning ugly sweaters — these are all fun parts of the season. But one of the most popular and memorable activities is getting out to see the incredible light displays that bring an added dose of festive cheer.
In Utah, there are plenty of places to get your holiday light fix. But there's only one display that was featured on ABC's popular "Great Christmas Light Fight: Season 8."
This year, transport your family to another world full of all the sights, smells, sounds and tastes of the holidays. Visit Luminaria, Utah's biggest light display in the Ashton Gardens at Thanksgiving Point.
A holiday light display unlike anything you've seen before
Beginning in August of each year, the staff at Thanksgiving Point strings up millions of lights throughout 50-plus acres of beautiful gardens. It's a process that takes over 9,000 hours to complete — but the results are well worth it.
The mile-long walk features 27 different scenes for a visual feast. Your first sight of Luminaria is The Grand Allee, where 6,500 programmable luminaries blanket a sweeping hill. Each one acts as a pixel in a moving picture, so you'll see images of reindeer, ombré waves, stars, trees and other signs of the season.
This year's music and lights will be bigger and better than ever with the iconic 120-foot tree (on top of a 40-foot hill) incorporated into the show. Lighted with 164,000 bulbs, the Tree-Topped Summit is the focal point of the experience.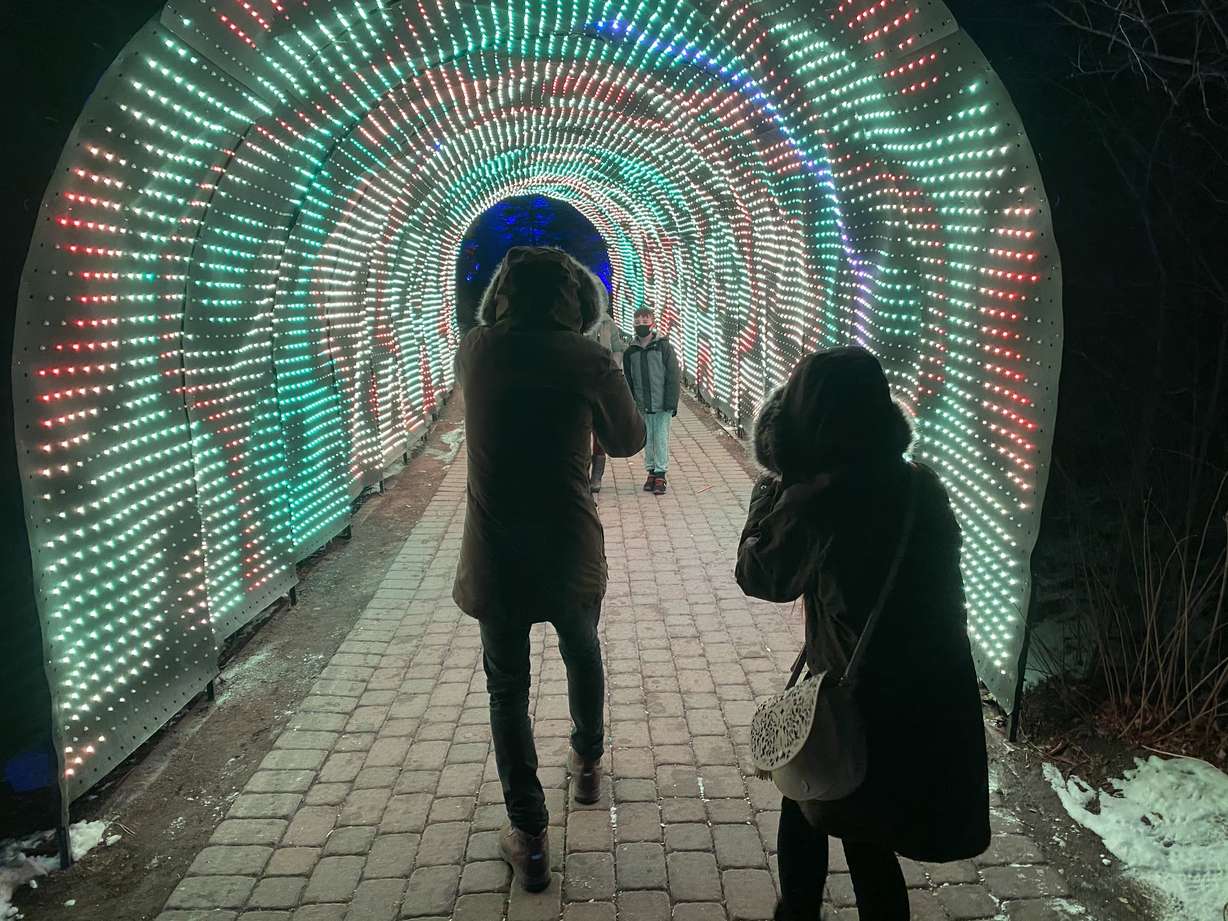 While The Grand Allee light mosaic and Tree-Topped Summit may be big and impressive, most of the displays offer a more intimate experience, according to garden and landscape director Tony Latimer.
"I think one of the special things about Luminaria is that (each display) has a different feel, different music, different lighting, sometimes even different smells," Latimer said. "And so it's kind of an intimate experience as you go through. … The mosaic is really grand and big, but the rest of it is just kind of intimate and you have your own little experience inside that. That's what's really fun and unique about it."
Something new every year
Even if you've been going to Luminaria every year, each season offers something new and exciting to look forward to. In 2020, Luminaria presented "The Legend of the Yeti." Keep an eye out for signs of the abominable snowman as you walk through the light display! New in 2021, a Singing Tree section offers a chance to sing and play your favorite holiday tunes on a giant glockenspiel. The lit tree reacts to your merry musical scene with a responsive light show you won't forget. 
Reflect on the true meaning of Christmas in The Light of the World Sculpture Garden
Amid the bright lights and music, there's a quiet section of the gardens that allows you to enjoy a peaceful moment of spiritual reflection. For an uplifting experience, take a stroll through the nativity scene and The Light of the World Sculpture Garden.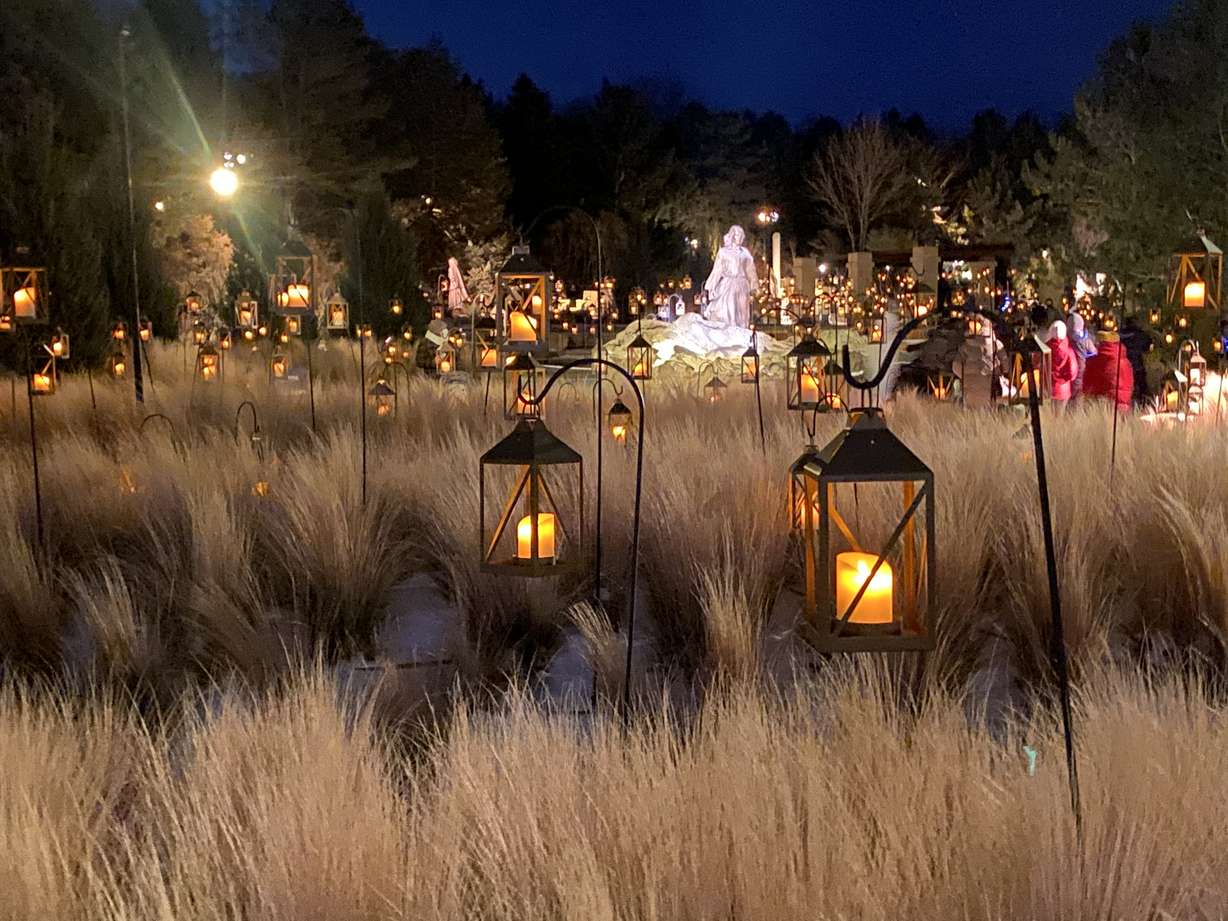 Glowing lanterns and peaceful music accompany 35 monument-sized bronze sculptures depicting scenes from the life of Jesus Christ from the New Testament and The Book of Mormon. It's the perfect spot to think about the true reason for the season.
Warm up with some favorite seasonal treats
To make your visit complete, Luminaria also offers several sweet and savory treats to enjoy while you walk through the light display. Warm up with some hot chocolate and smores by the glowing fire pits or pick from a variety of goodies with their Foodie Punch Card. Choices include cinnamon almonds, mini donuts, pretzels, kettle corn and many other seasonal favorites.
Staying healthy and safe
Because of the ongoing pandemic, Luminaria is the ideal activity for families and groups because it's outside and easy to stay socially distanced. The staff at Thanksgiving Point has also taken special precautions to encourage the health and safety of all guests with an added entrance and a one-way flow of traffic.
Get $5 off your Luminaria tickets
Your new favorite tradition awaits — but don't wait to get tickets! Utah's biggest light display runs from Nov. 18 to Jan. 1 in the Ashton Gardens at Thanksgiving Point, and you won't want to miss it.
Right now, you can get $5 off any admissions online when you sign up to receive the bi-monthly emails from Thanksgiving Point. (You'll also be the first to know about upcoming events, news, exclusive offers and more.)
To learn more about special group pricing, VIP packages and other available offers for Luminaria, visit the Thanksgiving Point website.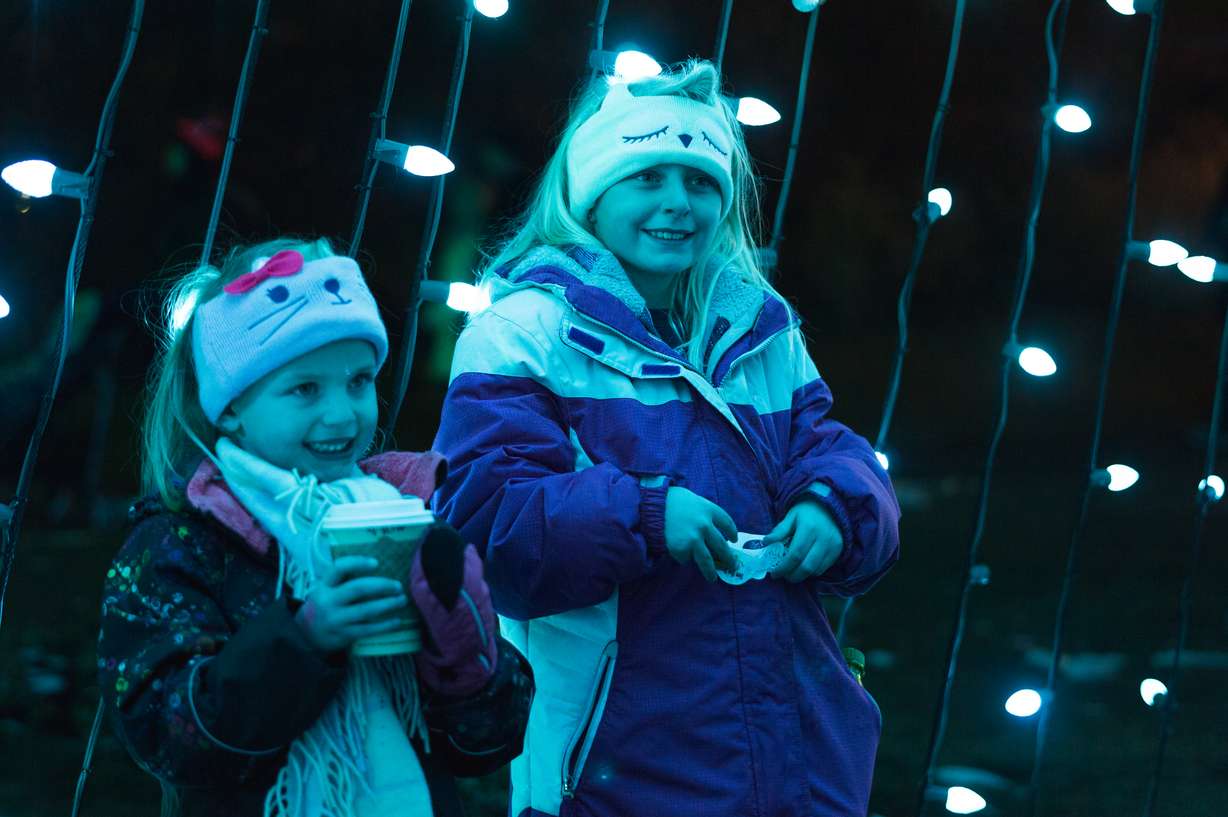 ×