Estimated read time: 5-6 minutes
SALT LAKE CITY — Bamidele Olaseni will line up Saturday against the likely No. 1 overall pick in the upcoming NFL draft.
The mere fact that Olaseni is in that position is something that he calls "insane." His 6-foot-8, 330-pound frame makes it less shocking, but for someone that grew up in London, England, where football is played on a pitch as the national sport, the opportunities to play American football are limited.
Years ago, Olaseni was playing the equivalent of a recreational league of American football in North London's Finsbury Park, playing against "dudes that may be not taking it seriously — maybe it's just a new avenue for them."
"I was literally playing against dudes who have day jobs and now I'm playing against the projected No. 1 overall pick," Olaseni said. "Like it's just a great honor to be here; I'm just happy to have the opportunity to do it."
Olaseni's is a vital job at left tackle — the blindside — to protect the backfield against a team's top edge rusher. And in the case of Oregon's Kayvon Thibodeaux, one of the best edge defenders in the entire sport, it's no small task to line up across from him. It's a job that won't go unnoticed, but such is the life of an offensive lineman.
As long as Olaseni and his fellow linemen do their job, there's little thought given to the admirable job they do on any given game day; but allow quarterback Cam Rising to be sacked or pressured a handful a times and the hot heat from the spotlight is squarely in focus. All guts, no glory.
But Olaseni wouldn't have it any other way.
The British lineman doesn't live for the spotlight and would rather be tucked away off to the side. As linemen go, Olaseni will let teammate Nick Ford, who has recently moved to left guard to create a power duo to cement the offensive line, take the spotlight and be the one to represent the position group's effort. Olaseni is there to do his job.
His job, that of an offensive lineman, is still an unusual position group to him.
"To be honest, the concept of college football's offensive line is still crazy to me," he said, "but it is what it is and I'm the type of person that doesn't really actually like the spotlight."
Early on in the season, when Utah's offense struggled to get any push and defenders lived in the backfield, the offensive line was squarely in focus as a major problem for the team. A handful of fans wanted the position group's coach fired and everything retooled. Fortunately, the mob doesn't rule the sidelines.
Olaseni, along with his fellow offensive linemen, have since became a major strength to Utah's offense that is considered to be the ninth most efficient offense in the country, according to ESPN's Football Power Index. In September, Utah's offensive line allowed seven sacks, but has allowed only three since then.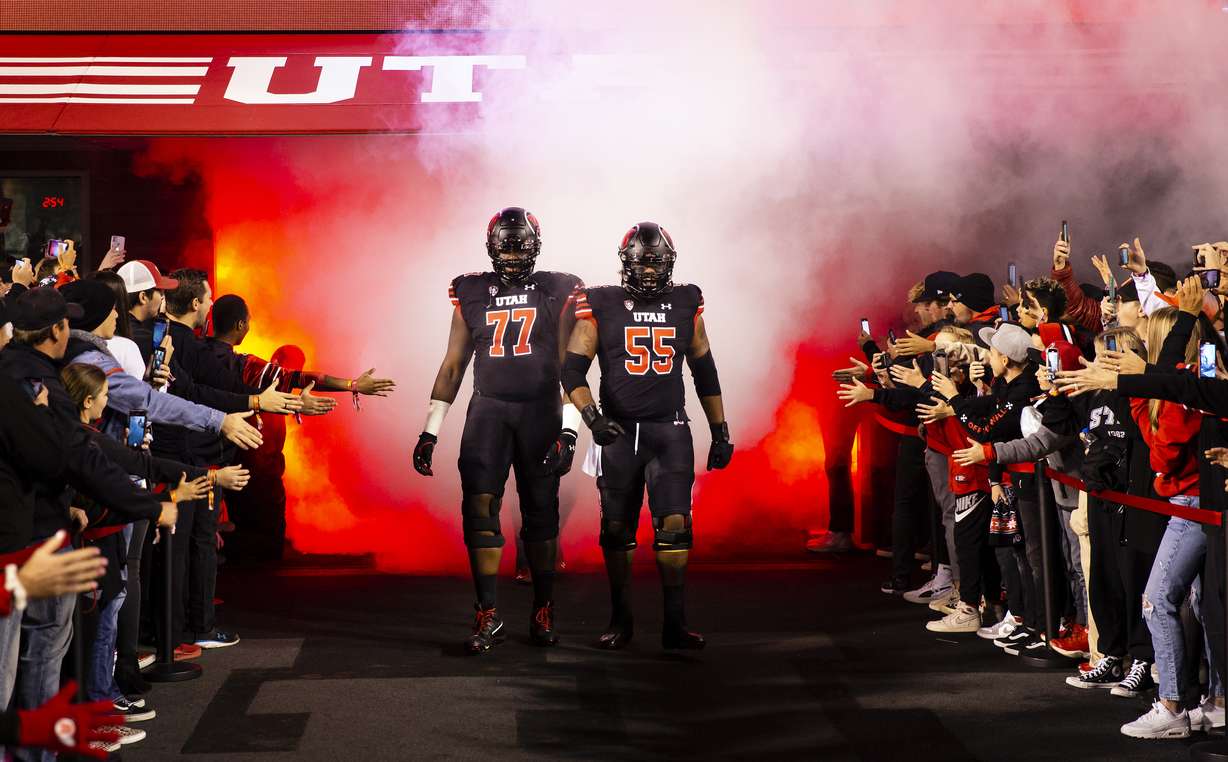 The offensive line, which was decimated by a COVID-19 outbreak last season and led to no consistency, has overcome the early season woes and has put together a strong performance that has opened up the run game and allowed Rising to do his magic. Olaseni said it's all about the team putting its head down and working harder to put Utah in a position to succeed.
The about face has led to Utah being ranked No. 23 in the latest College Football Playoff rankings and being one win (or Arizona State loss) away from clinching the South division title for the third time in four seasons.
"We just put our head down; we work," Olaseni said of the offensive line's transition this season. "I don't think there's any 330 pound man or 300-plus person that likes running or likes 20-20 stuff or likes practicing and literally fighting people every single day to protect someone behind me."
But Olaseni has a job to do and his father taught him to "finish everything."
And more than any win or individual successes Olaseni and the offensive line may have this season en route to another potential Pac-12 Championship game appearance, it's about showing others in England, or other international destinations, that there's a path to the American football game. And if Olaseni can be that example, he's done his job.
"We have the people to play the game, we just need the avenue," he said. "I just hope that me being here, me playing, me just being out here is not good enough — it's a great achievement, but I just want to excel and just show kids that you can really do this, especially because American football, anyone can play it.
"You have people like Britain Covey — me and Britain are on the same team. We're literally polar opposites from different backgrounds, from different upbringing and stuff like that. American football is just the best sport for any size, any individual. I just want it to open up to the kids back home."
Olaseni's task will be a difficult one Saturday as he looks to neutralize a talented Thibodeaux, but it's all part of a bigger plan — one that can help his team succeed now and potentially set himself up for an opportunity to play the game at a higher level later. That, in turn, will help him create an avenue to showcase to others than a British player can succeed at a high level.
"Yeah, definitely, it's a dream. I just want to keep working," Olaseni said. "I don't really look to the future that much. I normally just try to do what I'm doing right now, even on the field — one play at a time, one day at a time, couple months at a time. I'm trying to let the cards fall in place pretty much.
"I'm just trying to create an avenue for kids to come over here, showcase that you can actually do this. Like I was working in a stock room, like four years ago now, five years ago, now I'm here preparing to go against maybe the No. 1 overall pick — it's just a great honor."
×