Estimated read time: 5-6 minutes
OGDEN — Intentional or not — mostly the latter, but certainly some of the former — Grantsville head coach Kody Byrd put Saturday night's 3A state championship game in the hands of his defense.
He did it after the Cowboys failed to convert on fourth-and-2 at the 41-yard line with just over two minutes left of a 4-point game.
Ethan Rainer made him look like a smart man.
Quarterback Caleb Sullivan rushed for two touchdowns, and Rainer made the game-sealing interception on the goal line with 1:33 remaining to lift the Cowboys to their first state title since 1997 with a 14-10 victory over Morgan at Stewart Stadium.
The ball hung in the air for only about three seconds, but for Rainer, it might as well have been an eternity. For Grantsville and its traveling cadre that nearly filled the west stands at Stewart Stadium with perhaps the most people to watch a high school football game on Weber State's turf all year, it probably felt far too long. At the very least, like 24 years, perhaps.
Rainer knew he had to make the play.
"This was going to be the last ball of the game," said Rainer, a two-way player who also caught one pass for 11 yards. "I felt like I needed to go grab that ball and go bring home the win.
"I didn't do much at receiver this game, but defensively I came out and showed them I could get the ball."
The one catch on defense more than made up for anything he did on offense, his quarterback insisted.
"He's amazing. I can't throw the ball to him enough; he's such a good player," said Sullivan, who ran for 88 yards and two scores, second only to running back Gabe Mouritsen's 115 yards on 15 carries. "That let the floodgates open. I knew that sealed the deal; he's a great player. I love him."
The game-sealing play couldn't have happened to a better senior, a three-year varsity player who has played running back, receiver, defensive back and kick returner.
"It was definitely fitting, especially for Ethan," Byrd said. "He's stepped up for us big all year. If it wasn't an interception, it was a big touchdown catch or a big return. He's done it for us all year.
"It's fitting for him that he could have that moment."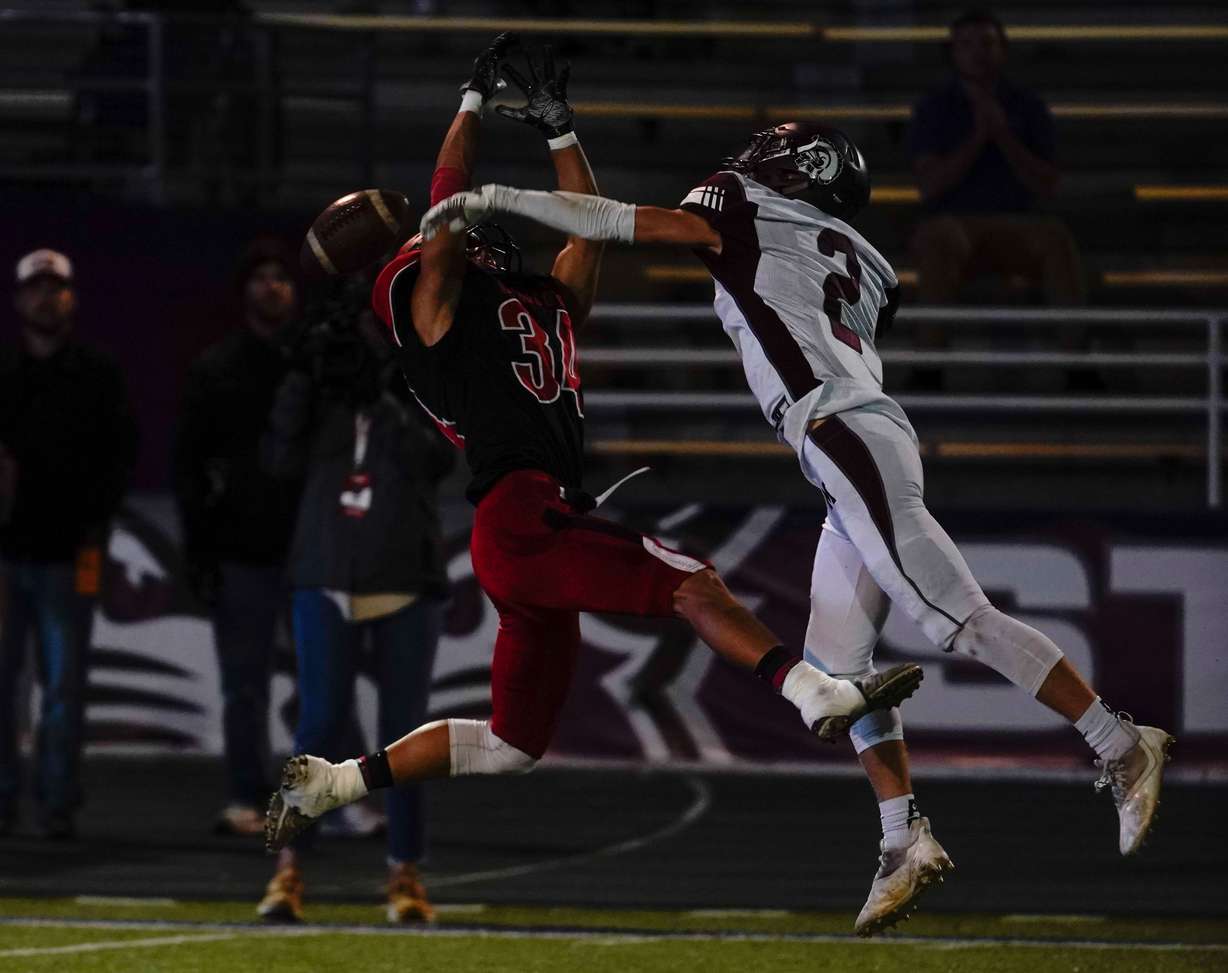 Byrd was just graduating college in Los Angeles when Grantsville last won the state title, the third in six years under former coach Kevin Butler — "a long way from Grantsville," he admits. But when he put the game in the hands of his defense, he knew exactly what he was doing.
"I went for the big one on fourth down; we thought we could put the nail in the coffin," Byrd said. "But we have 100% faith in our defense. When it comes down to that, I knew they wouldn't let us down.
"Ethan's made plays like that all year."
The Cowboys (10-3) gave up just 10.4 points per game during a run as arguably the best defense in 3A. So, anchored by Grant Rounds' seven tackles and six from Dillen Richardson, the Cowboys' defense went to work again, and came up with the biggest defensive play of the year.
"I just knew that we had to go make a stop. We had to do something with it," Rainer added. "Our defense has been strong this year. I felt really good and confident about it."
Sullivan scored on a 3-yard run midway through the first quarter for the only points of the first half as Grantsville pitched the early shutout. But Will Lance equalized with an off-tackle, 7-yard run with 3:11 left in the third quarter.
The nine-play, 65-yard drive over 3:11 started when Noah Burraston forced a turnover on downs at the Trojans' 35-yard line — and Despain went to work, averaging 7.2 yards capped by Lance's touchdown to square up the contest.
Beau Johnson gave the Trojans their first lead of the game on a 41-yard field goal — with room to spare — with 17 seconds left in the third quarter. That followed Brady Kelsey's sack on third down to set up the scoring drive as Morgan wrestled control in front of the largest crowd of the days' three-game slate at Stewart Stadium.
But Grantsville responded immediately.
Sullivan scored his second touchdown of the game from 7 yards out to give the Cowboys a 14-10 advantage with 8:38 left in the game. When the Trojans tried to respond, Conner Brown forced a fumble that Tanner Stanley recovered at the 21-yard line just over three minutes later.
The two teams mirrored each other for much of the game — right down to the final stats: 274 yards on 58 offensive plays for Grantsville to 251 on 50 for Morgan. The Trojans had more passing yards, 126 from Despain to Sullivan's 48, but trailed on the ground, 226 to 125 with four fewer first downs.
That set up a frantic final few moments for the Cowboys, who took a chance on that former Angeleno in 2017 when they hired Byrd as head coach following stops at Spanish Fork, West Jordan and LA's John Marshall High.
"I'm glad we could give something back," Byrd said. "That community has done so much for me. They'll never know what it means to me to be able to bring this back to them. It means the world."
Grantsville gambled late on offense — and lost — but set the stage for a surehanded receiver playing defensive back to seal a win that reverberated throughout the three-hour drive home from Ogden to the Tooele Valley.
"I'm going to remember this for the rest of my life," Sullivan said, before turning to the party in his hometown. "It's gonna be crazy. It's been a long time since we won a state championship — and we've basically got the whole town out here. So it's going to be a party."
×
Photos
Related Links