Estimated read time: 3-4 minutes
SALT LAKE CITY — Lehi's first trip to Rice-Eccles Stadium in two years had its share of miscues.
But every time quarterback Jackson Brousseau had a question, steady receiver Jaxon Christensen had an answer.
Two Jax(ck)sons really are better than one.
Brousseau completed 21-of-37 passes for 238 yards and three touchdowns with an interception, Christensen caught seven passes for 93 yards and two scores, and Lehi shut out Stansbury in the second half with a pair of goal-line stands en route to a 28-14 win Thursday afternoon in a 5A state semifinal.
"He's a stud. I trust him fully," Brousseau said of Christensen. "He works hard every day, and he's a great guy."
For the first time since 2017, the Pioneers (10-3) will play in the 5A state title game, where they'll face Springville next Friday at 11 a.m. MT at Rice-Eccles Stadium.
Carson Gonzalez ran for 116 yards and a touchdown for the Pioneers, who got 114 kick-return yards from Kadiyon Sweat and a late goal-line stand to secure the victory.
But there were too many mistakes for Lehi coach Ed Larson's liking. Five penalties for 57 yards; two fumbles, including one lost; an interception gathered by Stansbury's Dylan Hamilton, who also had 105 receiving yards and two touchdowns on offense en route to 140 all-purpose yards.
Perhaps worst of all were four tackles for loss, including two sacks, for a coach like Larson who prides himself on tough offensive lines. The Pioneers had 13 tackles for loss of their own, including four sacks, led by 1.5 from Isaac Terrell.
Hema Katoa had a game-high 14 stops for the Pioneers, who got an interception from Hank Griffin and a fumble recovery from William McCleary.
But Lehi needed each stop to prevent Stansbury's rally, only scoring 7 points after halftime and relying on a two fourth-quarter stands inside the 10-yard line to make it stand up.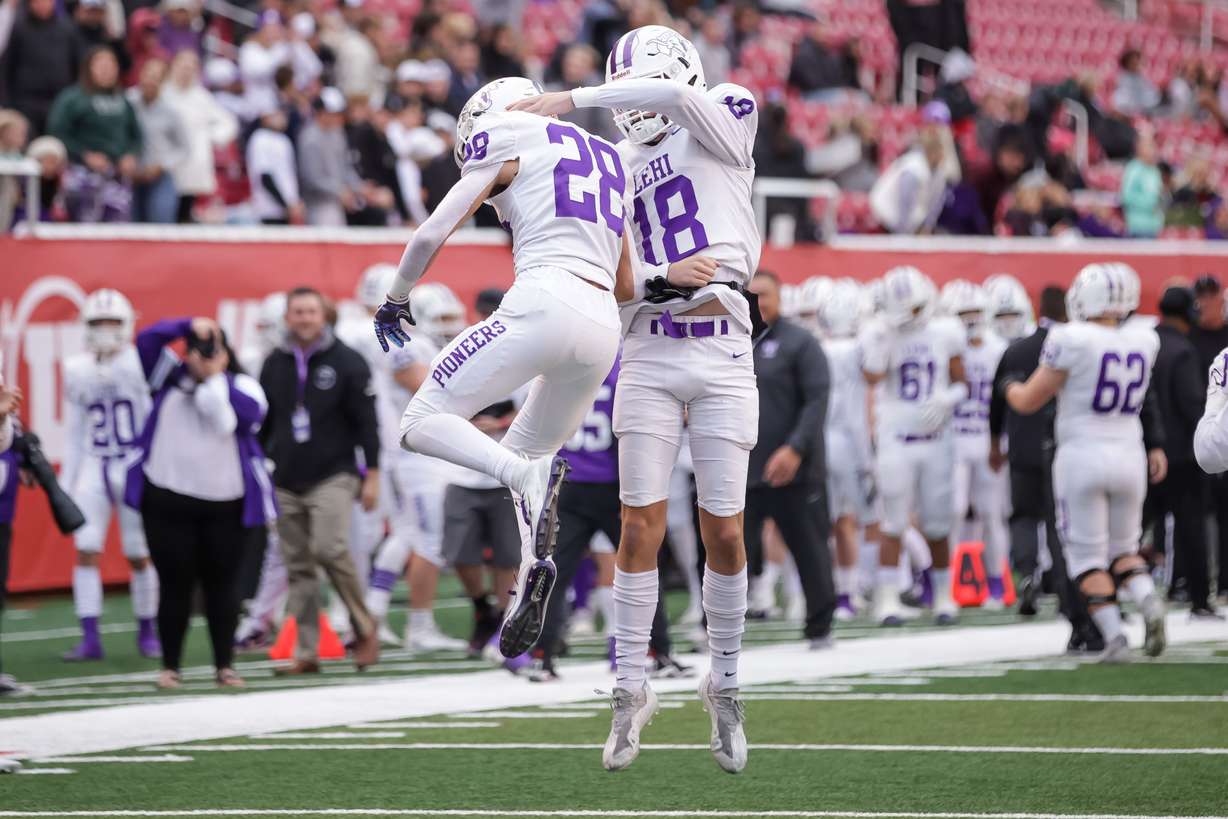 "I'm not happy at all with our performance. But a lot of that has to do with Stansbury being ready, and we weren't ready," Larson said. "I've got to clean that up from a coach's standpoint, and we've got to get our guys ready to play.
"If we show up next week like we did today, we'll watch Springville walk off with the trophy."
Lehi couldn't have started much better on offense, piling up 192 yards in the first half and scoring on four of the Pioneers' six drives before the break. Brousseau threw two touchdown passes and Gonzalez's 40-yard touchdown on third-and-one gave the Pioneers a 21-7 lead to open the second quarter.
But Stansbury didn't go away.
"Everyone was just doing their job," Brousseau said of the first half. "We had a great game plan, and everyone just executed what they needed to and it worked out perfectly."
But Jacob Rich's sack set up a six-play, 82-yard drive capped by Dylan Hamilton's second touchdown of the game, a 65-yarder that pulled the Stallions within 21-14 at halftime.
Brousseau threw for 140 yards and two touchdowns, including 63 yards and a score to Christensen and 30 yards and a touchdown to Boston Bingham as the Pioneers overturned Stansbury's early 7-0 deficit with 21-unanswered points.
After halftime, the Pioneers' offense fell mostly dormant. Brousseau found Christensen for a 9-yard touchdown with 3:26 left in the third quarter to lift Lehi to a 28-14 advantage. But the Pioneers' other second-half possessions ended in an interception, a punt, and a kneel-down in victory formation to end the game.
"We had so many mistakes offensively that stopped drives," Larson said. "Defensively, we didn't know what we were doing at times. We just didn't get done like we needed to at this level.
"I'm not really happy with our performance. But I credit Stansbury; those are tough-nosed kids and they played their hearts out."
Ezra Harris threw for 215 yards and two touchdowns for third-seeded Stansbury (10-3), and Nathan Bushnell added 90 yards on 18 carries on the ground.
×
Photos
Related Stories