Estimated read time: 6-7 minutes
This archived news story is available only for your personal, non-commercial use. Information in the story may be outdated or superseded by additional information. Reading or replaying the story in its archived form does not constitute a republication of the story.
It's easy to overlook the unusual things Utahns say if you've grown up here or lived in the state for a while. ("Oh my heck" and various alternate curse words could practically be on the license plates here next to "Ski Utah!")
But to an outsider unacquainted with the local vernacular, some phrases are downright perplexing. (You might be using some of them without realizing it.)
Here are 12 phrases you probably won't understand unless you hail from the Beehive State.
'She's in my ward'
If you hear someone say this, they're not talking about a mental illness hospital. A person's "ward" refers to a local congregation of The Church of Jesus Christ of Latter-day Saints and they're usually divided by neighborhoods. And in case you haven't noticed the plethora of chapels throughout the state, wards are everywhere. In Utah alone, the Church reports that there are 4,914 wards as of November 2021.
'My house is for sell'
No, that's not a typo — that's just how it sounds when someone tells you they're selling something. Though most Utahns probably know the difference between "sale" and "sell," they pronounce the words the same way. This has been affectionately dubbed the Utah accent — but the interesting thing is that it's actually not unique to Utahns.
In an article for BYU magazine, BYU linguistics assistant professor Wendy Baker Smemoe says these types of vowel mergers (saying "fell" instead of "fail" or "dill" instead of "deal") also show up in the Northeast and the South. But because people perceive Utah to be more rural, Utahns catch more flak for it.
'Pour me a glass of melk'
There are plenty more examples of the so-called Utah accent, but this is one more worth mentioning. You thought that white liquid from a cow was called "milk," but many Utahns call it "melk" — though not as many as you might think.
Back in 2016, KSL conducted a poll to gauge Utahns' pronunciation of certain words. 21% said they say "melk" instead of "milk." (But 50% still say "mou'un" for "mountain," so that's still going strong.)
'Drive to fourth south'
This is an important one to know if you ever ask a Utahn for directions. Anywhere else in the world, "Fourth South" would mean "Fourth South," but here it means "400 South." Utah's grid system makes sense once you get used to it, but for newbies, Tripadvisor has some tips to help you find your way around Salt Lake City.
'I'm feeling awnry today'
Here's a Beehive State classic. According to Merriam-Webster, the correct word for being easily annoyed is "ornery." However, if a Utahn is in a bad mood, they might say that they're "awnry."
As one Reddit user put it, "We're not saying 'ornery' pronounced wrong, we're saying a different word that means the same thing!" But don't try to correct someone's grammar right away if they use this Utah substitute. It'll only make them more awnry.
'Pass the funeral potatoes'
Funeral potatoes rank right up there with green Jell-O and fry sauce, as far as popular Utah foods go. Since cheesy potatoes covered in cornflakes is the ultimate comfort food, they're often served at funerals. (Hence, the name.)
However, this classic Utah dish also shows up at Thanksgiving and almost any other time of the year. And while no one can pinpoint its origin, Food52 cites that members of The Church of Jesus Christ of Latter-day Saints' Relief Society have been making it since at least the 1970s.
'It's time for family home evening'
If your friends can't hang out on Monday night, it's probably because they're doing "family home evening." Traditionally, members of The Church of Jesus Christ set aside one night a week (usually Mondays) that's dedicated to spending time with family and holding a special spiritually-focused lesson.
Though many Church members jokingly refer to it as "the family fight that begins and ends with a prayer," this weekly ritual seems to carry some benefits. Vern Bengtson, a sociologist who studied at-home religious practices for four decades, called family home evening one of "the most successful [religious] programs fostering intergenerational connections and the nurturing of families." So, whether you're religious or not, this might be one Utah tradition you can get behind.
'I'd like a scone for breakfast'
For most people, a scone is a biscuit-like cake that's traditionally served with your afternoon tea. But if you ask for a scone in Utah, you'll get a deep-fried piece of dough served with powdered sugar and a side of honey butter. It feels more like something you'd eat at a carnival than a fancy tea party — but they sure are delicious!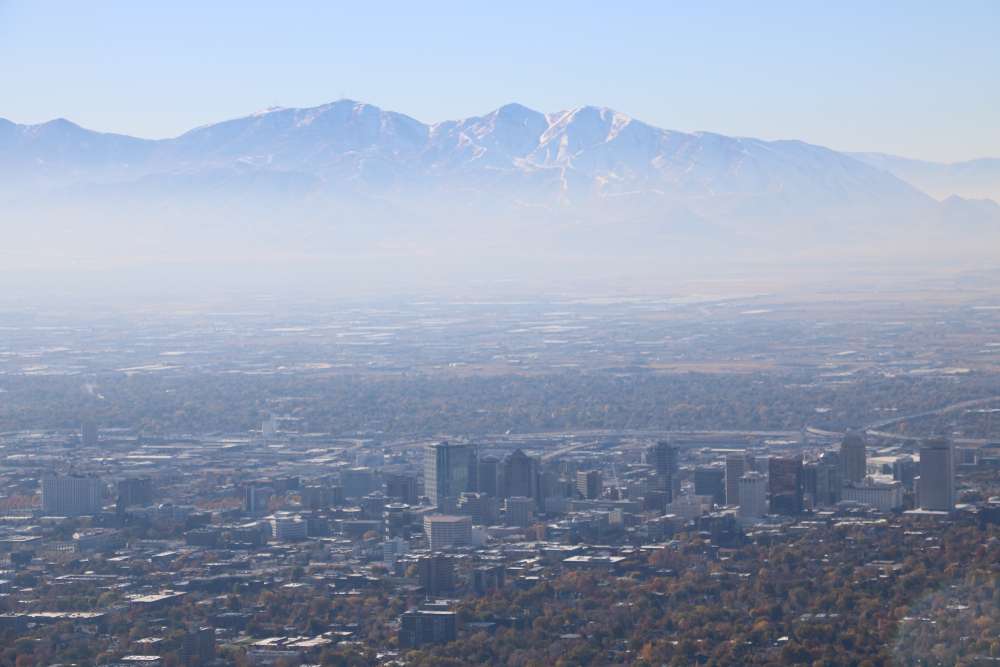 'The inversion is terrible'
To use another Utahn phrase, an outsider might wonder what the heck someone is talking about when they mention the inversion during wintertime. They're not referring to the world turning upside down — just the unfortunate consequence of having high mountain ranges that trap in air pollution.
According to the Utah Department of Environmental Quality, inversions happen when cold air on the ground gets trapped under warmer air. This usually happens after a snowstorm and it creates an unsightly, smoky film that hovers just below the mountain peaks. If this is your first Utah winter, be prepared for some smoggy days!
'He's a True Aggie'
Don't let this one confuse you – a "True Aggie" doesn't mean you're a die-hard Utah State fan. It actually refers to an old campus tradition that has to do with the old Block A on top of Old Main hill in Logan.
According to USU, "Today one can become a 'True Aggie' by receiving a kiss on the 'A' under a full moon at midnight by somebody who already is a 'True Aggie,' or on Homecoming or A-Day by somebody who is not."
Of course, the school did have to pivot a little when it came to handling things during a global pandemic. Earlier this year, they held a "COVID-Friendly True Aggie Night" where couples exchanged Hershey's kisses instead of the real deal. (Not everyone was happy about the changes.)
'We're headed for the slots'
No, not those kinds of slots. Since FindLaw reports that gambling in Utah is still illegal, it's unlikely you'll ever be hitting up the slot machines here anytime soon. But there are plenty of beautiful slot canyons to explore in the southern part of the state!
×