Estimated read time: 6-7 minutes
If there's one thing Utahns know how to do, it's spreading Christmas cheer far and loud for all to hear.
A Today article claims decorating early for Christmas can make you happy—so imagine what would happen if you started experiencing amazing light displays earlier in the season.
Depending on the display, you might just have to make plans to go early this year and some are opening up soon!
So whether you're planning on ringing in the season a little early this year, or you just want to make sure you're prepared for the minute Thanksgiving is over, check out these incredible Christmas light displays along the Wasatch Front.
Layton City's Lights Before Christmas display
One of the best free light displays, Layton City's Lights Before Christmas display is a wonderful, eclectic display, stretching from one end of the Layton Commons Park to the other.
Whether you drive through or get out and walk, you will be treated to dazzling displays. It's free to the public, making it a perfect way to get the family out of the house and do something fun — especially because Santa makes a nightly appearance.
Google reviewer Noe S. wrote, "We heard about the Christmas lights and went without thinking ... Once we got there we were amazed. Really nice setup to either drive or walk. Lots of things to see. Kids really enjoyed it."
The display opens Nov. 23 and runs through Dec. 31. According to the Davis County website, the lights turn on at dusk and go off at 11 p.m.
Ogden's Christmas Village
This one you will need to park and walk around for, but it's absolutely worth it. Ogden's Christmas Village is a fun, village light display giving life to downtown Ogden.
Free to the public, the Christmas Village illuminates Ogden's downtown area with displays and lights every year from the Saturday after Thanksgiving through January 1. According to the Ogden City website, you can expect some fun events on the opening day.
At 4:30 p.m. there will be a Santa Run, followed by an Electric Light Parade at 5:30 p.m., and at about 6:30 p.m. there will be a short ceremony with fireworks. Then they flip the switch to all of the Christmas lights!
The lights are on for the entire Christmas season, but Santa will be there Monday through Friday from 6 p.m. to 9 p.m., and on Saturday from 5 p.m. to 9 p.m.
Christmas in Color in South Jordan
One of the more professionally produced light displays in Utah, Christmas in Color packs in more than one million lights all synced to your favorite holiday songs. This attraction is drive-through only, but it will feel like you're driving through a magical Christmas land as you pass giant candy canes, snowmen, arched pathways and more.
You can reserve tickets on their website—and it's best to do it well in advance. Time slots are already selling quickly and for good reason.
As Google reviewer, Tayler S. wrote, "Absolutely Amazing! So worth the money and drive (came from Bountiful)! So much fun and great for all ages, even my dogs loved it!"
Christmas in Color is located at the Salt Lake County Equestrian Park in South Jordan. It's open Monday-Saturday from 5:30 p.m. - 10 p.m.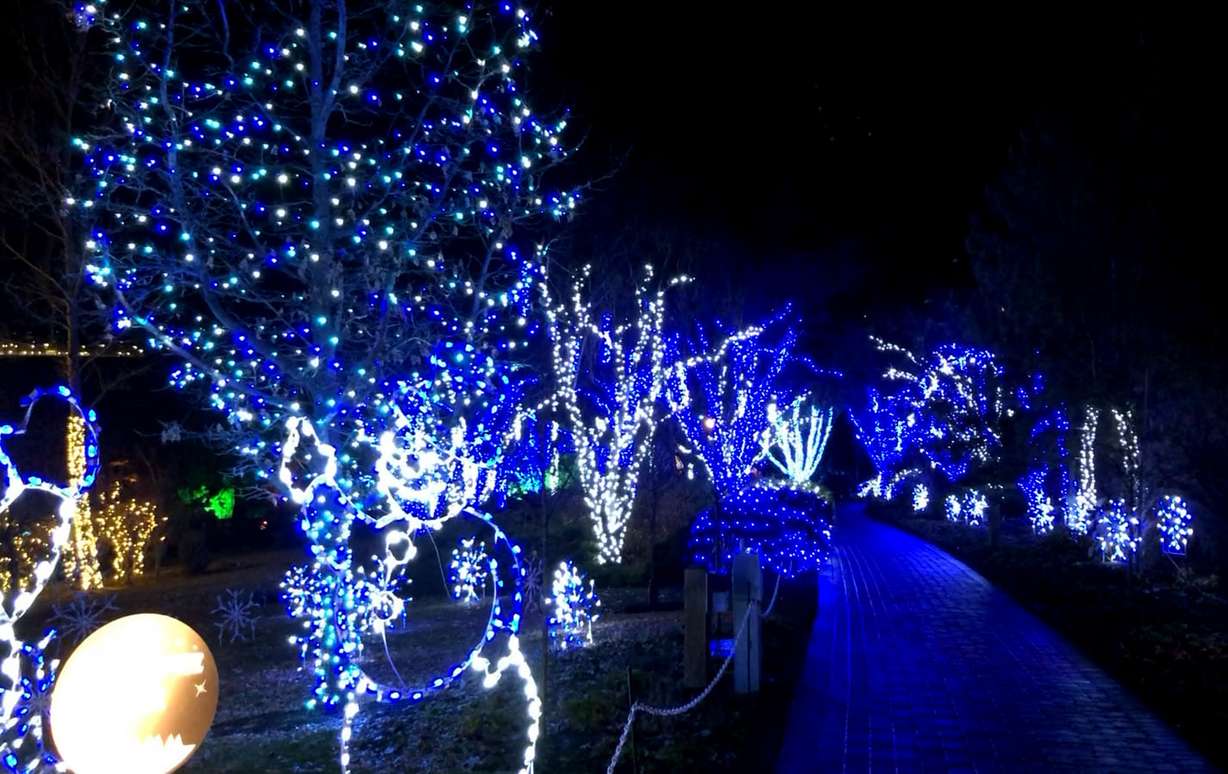 Luminaria at Thanksgiving Point
Famous for a reason, Luminaria is much more than just a cool-sounding name. On display at Thanksgiving Point's beautiful Ashton Gardens, Luminaria isn't just a light display, it's an experience.
From the walk through the gardens with thousands of luminaries, to the reverent Light of the World Garden depicting 35 monument-sized bronze sculptures depicting scenes of Jesus Christ from the New Testament, Luminaria is the transportive Christmas experience of the season.
Their tickets are available to purchase now, which is a good idea because they typically sell out quickly. The opening night is Nov. 18 and it runs through Jan. 1. Time slots begin at 5 p.m. and end at 9 p.m.
ZooLights! at Hogle Zoo
Now in its 17th year, ZooLights at Hogle Zoo is a lot of holiday fun for the whole family. Open nightly from 5:30 p.m. to 9:00 p.m., ZooLights combines Christmas light displays of your favorite animals, as well as mermaids, carolers, fairytale characters and more.
With more than 200 lighted animal and holiday-themed displays, a 135-foot lighted tunnel, Santa's Station and plenty of treats, ZooLights is a must-see, especially for the animal lover(s) in the family.
You can buy tickets in advance on Hogle Zoo's website. The event runs Dec. 3-23 and 26-31 from 5:30 p.m.-9 p.m.
Riverwoods Holiday Lights Display
Exquisitely decorated with a striking number of Christmas lights, The Shops at Riverwoods in Provo offers a festive atmosphere for your seasonal shopping. It's free to the public, so take a stroll through some of the shops while you enjoy Santa's Village, giant nutcrackers and crackling fire pits.
The opening night is Nov. 19 at 6 p.m. In the past, there have been lots of photo opportunities, millions of lights, s'mores and more. To keep up-to-date on this year's specialties, follow the Shops at Riverwoods Facebook page.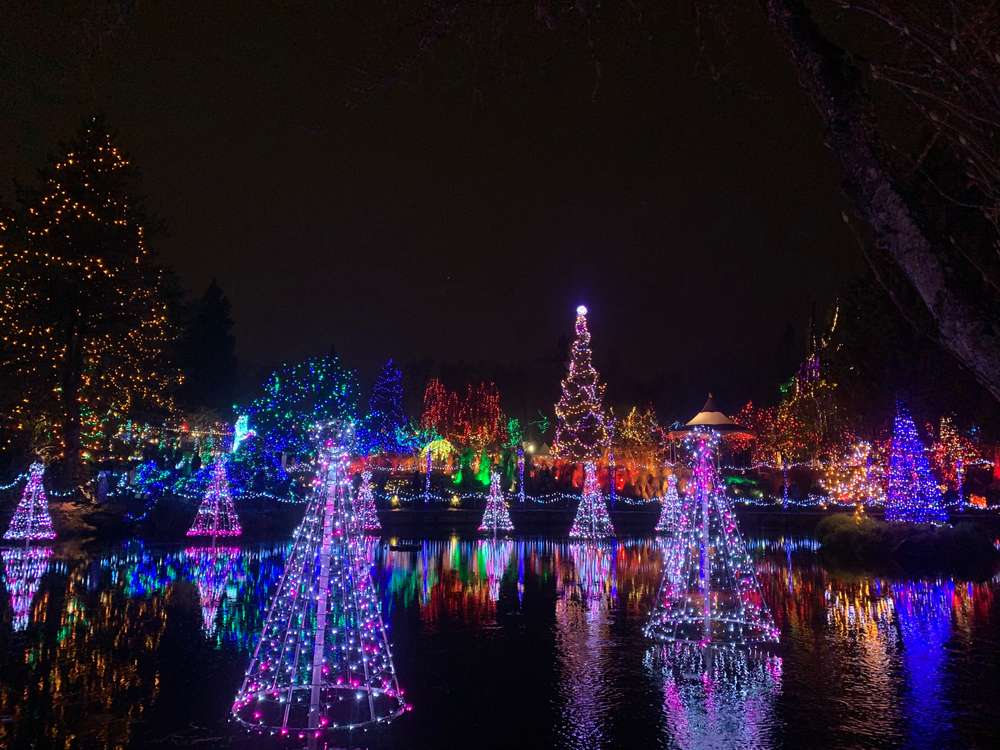 Pond Town Christmas
Easily one of the most picturesque Christmas settings in Utah, Pond Town Christmas in Salem City is sure to delight die-hard Christmas light fans and casual observers alike. Set against the Salem City pond, the reflection of lights is a delightful way to spend an evening with those you love, especially while enjoying the peaceful nativity scene on display.
This free drive-through display opens Nov. 26 and runs through Jan. 1. You can check out the lighted displays anytime between 5:30 p.m. and 11 p.m.
Spanish Fork Festival of Lights
The Spanish Fork Festival of Lights in Canyon View Park in Spanish Fork is a sight to behold. It is one of the largest, most brilliantly lit drive-through displays in Utah, featuring over 3 million lights. The festival features an array of creative light displays including holiday characters, dinosaurs, cowboys, toys, and a Nativity scene.
The drive-through experience is open nightly starting Thanksgiving night from 6 p.m. to 10 p.m. for a small fee per vehicle. Your last day to experience the magic is Jan. 1. Tickets for the event are sold on-site, first-come-first-served, so be sure to bring some treats and hot cocoa along!
×