Estimated read time: 5-6 minutes
SALT LAKE CITY — The National Weather Service has issued another winter weather advisory that goes into effect Monday afternoon as more than another foot of snow is forecast to fall in some of northern Utah's mountainous areas.
The weather service also issued wind advisories for parts of central and southern Utah that expired Monday evening.
The storm system is moving from the west, coming in from California and Nevada. It arrived Monday afternoon. KSL meteorologist Brett Benson said the heaviest precipitation is expected overnight into Tuesday morning.
"We'll get precipitation before that, but this is the stronger part of the storm, the colder part of the storm," he said. "This is when we'll see snow on the benches and we could even see some snow mixing down into some valley locations."
Most of the precipitation is expected in northern Utah but the storm is now expected to bring some precipitation to southern Utah as well, according to an updated forecast Tuesday afternoon.
More snow for the mountains
The weather service's winter weather advisory covers the Wasatch and Uinta mountains, including Alta, Brighton, Logan Summit, Mantua, Mirror Lake Highway and Moon Lake. The alert went into effect at 3 p.m. Monday and expires at noon Tuesday.
The agency said the area is forecast to receive 6 to 12 inches of snow between Monday and Tuesday, although higher amounts are expected near "Snowbasin, the upper Cottonwoods and the Western Uintas," according to the alert, updated Monday afternoon.
The Wasatch Mountains near Alta and the Western Uintas are expected to receive the heaviest amount of snow, according to a graphic published by the weather service Monday afternoon. Some parts of the Wasatch Mountains and Western Uintas may even receive up to 1½ feet by Tuesday afternoon.
Northern Utah mountain areas like Ben Lomond are forecast to receive upwards of 12 inches, while the Tony Grove area is expected to receive about 6 to 8 inches.
Here's our latest snow forecast with the storm impacting the area through Tuesday. Significant snow will impact travel over southwest Wyoming and the mountains of northern Utah. #utwx#wywxpic.twitter.com/X8fmk9wB1q

— NWS Salt Lake City (@NWSSaltLakeCity) October 18, 2021
"Winter driving conditions can be expected on many mountain routes, including the Mirror Lake Highway and Monte Cristo Summit," weather service forecasters wrote in the advisory. "Higher snow rates may bring snow levels low enough to develop occasional winter driving conditions across Parleys, Sardine and Logan Summits, especially during the overnight hours."
Road Weather Alert: Road snow to impact northern Utah mountains 4PM Monday to 3PM Tuesday. In southwest Utah expect strong winds to continue through this afternoon. For more info: https://t.co/4P1gO1U0Gg#utwx#utwind@UtahTruckingpic.twitter.com/eE8p956HtJ

— UDOT Traffic (@UDOTTRAFFIC) October 18, 2021
Other high elevation areas south of Alta were also expected to receive snow, although the accumulations are expected to taper the farther south you go. Daniels Summit is forecast to receive 8 to 12 inches of snow, Soldier Summit is forecast to receive about 3 to 4 inches and Joes Valley is expected to receive 1 to 2 inches of snow, according to a weather service model updated Monday afternoon. All of those are more than originally forecast.
The updated model also shows some snow for southern Utah that wasn't in the initial forecast. The Tushar Mountains are expected to receive 3 to 4 inches of snow, while Brian Head, Fish Lake and the Pavant Mountains are all now expected to receive anywhere from 1 to 3 inches of snow.
KSL Weather models show the storm has the potential to provide more than an inch of precipitation in some valleys. Davis and Weber counties are expected to receive the most precipitation from the storm Monday and Tuesday, according to the model.
The storm adds to a torrid start to the 2022 water year, which began at the start of the month.
Per Natural Resources Conservation Service's SNOTEL data, the normal statewide snowpack typically doesn't start picking up until about Oct. 23. That's based on snowpacks from 1991 through 2020. The needle showing the beginning of the snowpack moved on Oct. 9 this year.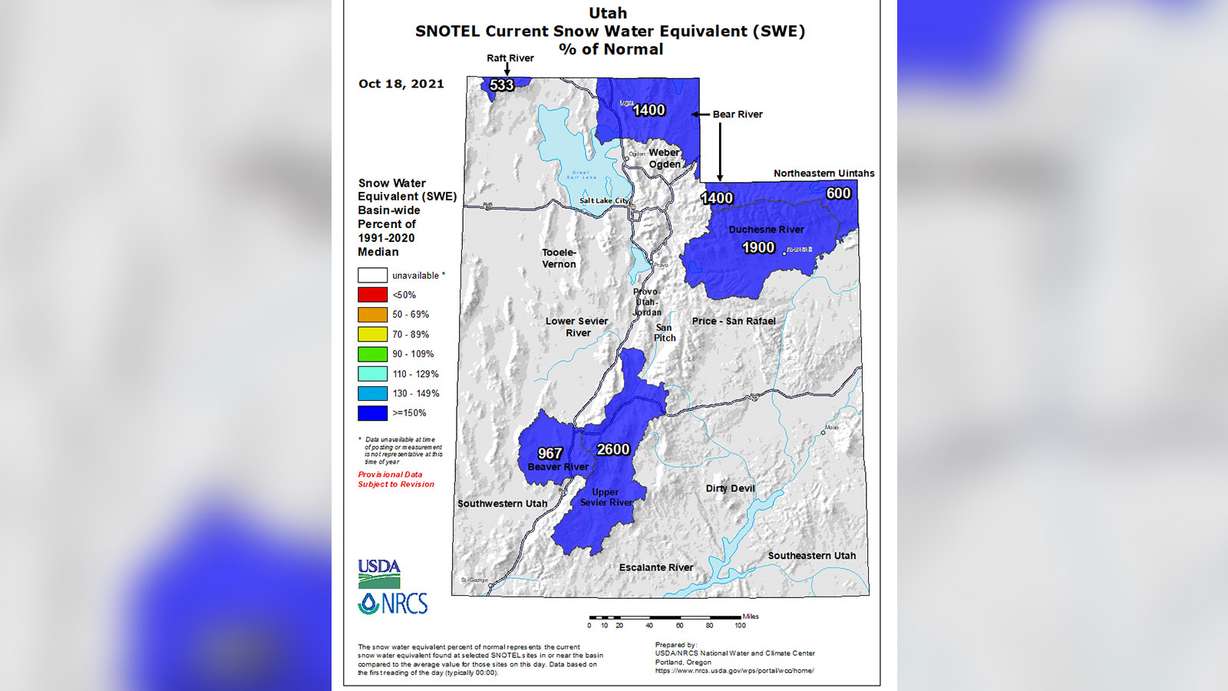 Since the snow season has started weeks sooner than the average, some snowpack regions are already showing snowpack levels between 500% to 2,600% above normal heading into this week, according to the SNOTEL data.
What has it looked like on a more localized scale? The National Weather Service station at Alta has already received 25.9 inches of snow heading into this week, which is triple the normal listed for the station in October.
The early snow start is an encouraging sign for the state, which remains in severe to extreme drought.
Windy weather
The weather service also issued wind advisories for parts of central and southern Utah associated with the storm system that has since expired; however, wind gusts as high as 35 mph are expected along with the snow in the mountains across Utah.
A gust of 61 mph was recorded along state Route 72 at Hogan Pass east of Fish Lake on Monday afternoon, topping wind gusts in the areas included in the alert.
Interestingly enough, the strongest gust was actually reported in northern Utah on Monday. The arriving storm produced a gust of 65 mph at Miller Hill on Fremont Island shortly before 4 p.m., according to weather service data.
Workweek temperature outlook
High temperatures aren't forecast to drop quite as much as when storms arrived last week. For example, high temperatures are expected to remain in the low to mid-50s across the Wasatch Front on Tuesday before rebounding back to the mid-to-upper 60s by Friday.
In northern Utah, high temperatures are expected to drop into the 40s Tuesday before returning into the 60s by the end of the workweek. High temperatures in St. George are expected to be in the 60s Monday and Tuesday but are forecast to reach close to 80 by Friday.
Full seven-day forecasts for areas across Utah can be found at the KSL Weather Center.
×