Estimated read time: 6-7 minutes
This archived news story is available only for your personal, non-commercial use. Information in the story may be outdated or superseded by additional information. Reading or replaying the story in its archived form does not constitute a republication of the story.
OGDEN — Possibly no possession gave more false hope in a game that Weber State desperately needed to win over No. 9 Montana State than the Wildcats' first drive of the game.
After starting the possession at their own 3-yard line, the Wildcats smoothly moved up the field, and executed and gained chunky yardage on each play.
Freshman Bronson Barron completed 4-of-5 passes for 71 yards on the opening drive, including a 17-yard reception to Rashid Shaheed, back-to-back 13-yard receptions to Ty MacPherson, and a 28-yard reception to Jon Christensen.
Josh Davis capped off the drive when he ran 9 yards into the end zone to gave the Wildcats an early 7-0 lead. But those would be the only points scored by the home team as the Wildcats fell 13-7 in a defensive showdown against the Bobcats.
Barron started in his first game back from injury since Sept. 11, and completed 16-of 29 passes for 215 yards; and Josh Davis ran for 55 yards and the lone touchdown of the game for the Wildcats (2-4) who have now lost three consecutive games against ranked opponents this season — all played at Stewart Stadium.
"This obviously comes down to not being as good as we need to be offensively," Weber State head coach Jay Hill said. "I thought the defense played absolutely phenomenal. They gave up the one drive, but to hold that team to 222 yards, and to hold that quarterback to 76 yards passing — very, very, very proud of the defense."
Coming into the game, Montana State (6-1) averaged 461.3 yards per game, including 224 passing yards from Matthew McKay and 110.2 from running back Isaish Ifanse.
Weber State held McKay, a North Carolina State transfer, to his lowest output of the season with 76 yards, and held Ifanse to 83 rushing yards and outside the end zone for the first time against an FCS opponent this year.
Montana State was held to an abysmal 1-of-14 on third-down conversions, while being forced to seven three-and-out series — four consecutive in the second half. But as good as the defense was at holding Montana State to its lowest scoring output of the season, football is two-sided, and it lacked any help from the offense.
On four different possessions, Weber State started on their own 45-, 47-, 48-, and 50-yard line, and only gained 16 yards on all the possessions combined. The Wildcats were forced to punt and couldn't take advantage of the field position the defense awarded them on multiple occasions.
"Right now we've just got to get our mojo going on offense," Hill said. "Against a great defense like that, you've got to make plays; and I don't think we consistently made enough plays today."
A lingering issue that faces the Wildcats is the battle of the turnovers. Against James Madison, Weber State was minus-two; minus-three against UC Davis; and minus-two again Friday night against a team who is second in the nation in turnover margin.
Barron fumbled twice — one off a bobbled handoff that he recovered, and the other being punched out from behind him to begin the third quarter. On the ensuing Weber State possession, Dontae McMillan fumbled the ball on the first play and Montana State recovered.
On both fumbles lost, the Bobcats scored, though they were held to just field goals after starting at the 50-yard line and Weber State's 33-yard line.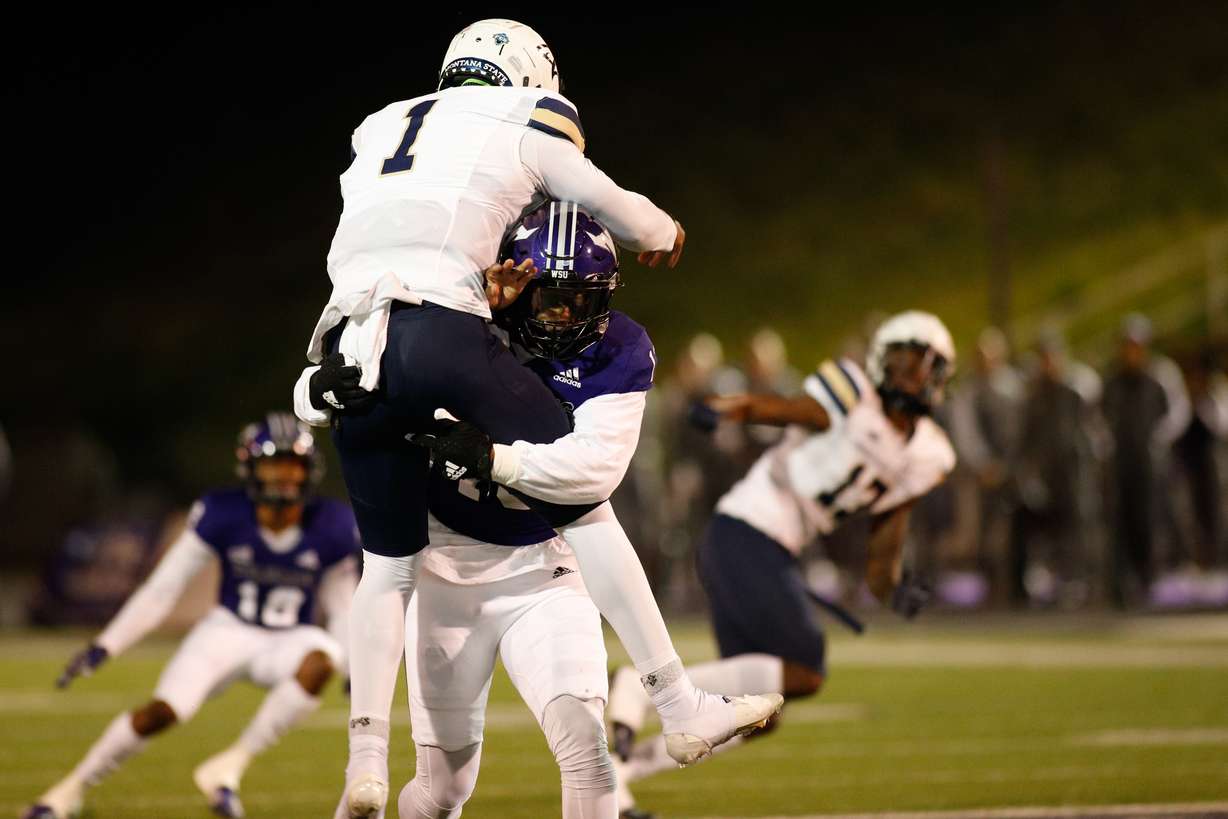 The Bobcats entered the game ranked ninth nationally in total defense, and the teams' defensive line showed exactly how they are holding teams to just 10.6 points per game.
The defensive line ran right through Weber State as if they weren't even there. Each time, the Bobcats got to Barron and made his life extremely difficult after the first scoring drive of the game. Barron was sacked four times for a loss of 35 yards and was given no time to look down the field to his receivers.
Weber State was almost no better than Montana State in third-down conversions and was held to 2-of-13. Together, the teams combined for just 3 converted third downs on 27 attempts
"In a way, I think we're making offensive football too hard — block the guy you're supposed to block and throw the ball to the guy you're supposed to throw it to," Hill said. "There were things in the run game, schematically, all night that needed to be better gains.
"There's things there that we've got to execute better and we're not."
Whatever is missing to complete the Weber State football team will have to come quickly as the team travels to Cheney, Washington, next weekend to face current No. 2 Eastern Washington.
It will be the Wildcats' fourth game against a ranked FCS opponent this season. But at this point in the season, ranked or unranked opponents don't matter; Weber State needs to find ways to win if they want a playoff berth
"Something's gotta change," said Conner Mortensen, who had six tackles on the night. "This isn't us; we know this isn't us."
"It's not what the other team's doing; it's just what we're doing," Barron added. "We've just got to hold ourselves accountable, make the necessary changes to get us back to Weber State football."
Dixie State stopped by Tarleton State in WAC opener
ST. GEORGE — Dixie State began its Western Athletic Conference era on a sour note as the Trailblazers came out on the wrong end of a 41-20 home decision vs. Tarleton State on Saturday night at Greater Zion Stadium.
After failing to reach the century mark on the ground over its first five games, Dixie State racked up a season-high 170 yards rushing. Drew Kannely-Robles enjoyed his finest outing in his two-plus seasons as a Trailblazer as he finished with a career-high 81 yards on 20 carries.
Meanwhile, the senior's two rushing touchdowns also tied a career-high, with his first instance coming nearly two years to the day in a road win at Western Colorado (28-20; 10/19/19). In addition, Kannely-Robles finished with a career-best 120 all-purpose yards after he hauled in a co-team high six passes for 39 yards.
Freshman back Quali Conley also got into the act on the ground as he tallied a season-high 66 yards on seven carries, including a 39-yard, second quarter scamper. Kenyon Oblad finished the night with 108 yards on 15-of-30 passing, while Tracy completed 11-of-15 of his attempts in the fourth quarter for 111 yards.
— Dixie State Athletics
Southern Utah can't complete rally, falls in Grand Canyon rivalry
FLAGSTAFF, Ariz. — After falling behind 24-0 in the first half, Southern Utah's offense came alive to close the deficit to 10 multiple times, but could not complete the comeback as Northern Arizona came out on top in the battle for the Grand Canyon Trophy, 59-35, Saturday night at the J. Lawrence Walkup Skydome.
The loss dropped SUU to 1-6 overall and 0-4 in Big Sky play. The Lumberjacks improved to an even 3-3 and 2-1 in conference competition with the victory.
"We've got a lot of guys who have been through a lot, and they're never going to stop fighting. That's what I was most proud of tonight," said SUU head coach Demario Warren. "We fell down 24 and cut it to 10 multiple times. We had opportunities but the defense just didn't play well enough for us to be successful tonight. We've got to fix that side of the ball. It's my job to go in there and see what's going on and see how we can get better."
— SUU Athletics
×
Most recent Weber State Wildcats stories