Estimated read time: 4-5 minutes
LOGAN — With 9:48 left in Friday night's Wagon Wheel matchup, Utah State had life.
Quarterback Logan Bonner and the Aggies had just manufactured a 14-play, 90-yard drive that was capped off by a 29-yard touchdown catch from Deven Thompkins. BYU's lead had narrowed to a touchdown, 27-20.
The Aggies fans clad in black sensed the fight from their team, and a soldout Maverik Stadium came to life.
But the Cougars offense was unfazed.
On first down of the ensuing drive, running back Tyler Allgeier found a wide-open hole along the right side and surged through it. An attempted arm tackle from defensive end Cam Lampkin did nothing, and Allgeier broke free for 67 yards before being downed at the 1-yard line.
A touchdown run from Allgeier two plays later ended any chance of a Utah State comeback. The play was indicative of how the night went for the Aggies.
Utah State appeared outmatched on the line of scrimmage on both sides of the ball, and it showed in the run game. The Aggies mustered just 22 rushing yards on 35 carries, while BYU ran for 221 yards on 36 carries.
BYU's three touchdown drives all felt easy. The Cougars found big plays — both in the passing and run game — and Allgeier found the end zone each time, all with relative ease.
The Aggies' touchdowns, on the other hand, were a result of long drives, gritty third- and fourth-down conversions, and tight passing completions.
But despite BYU winning the game in the trenches, and on the scoreboard, there was a sense of pride from the Aggies side following the game.
While BYU players jammed out to "Wagon Wheel" by Darius Rucker in the locker room below, Utah State head coach Blake Anderson stepped into the press room and shared his impressions.
"The only thing we had was quickness and speed — that's it. Anything else right now is in their favor," he said. "But our guys were not intimidated. They battled their tails off, scrapped and clawed to make it a 7-point game. I just wish we could finish. So I'll be encouraged; disappointed, but encouraged, too, and hope our fan base knows this is just the beginning."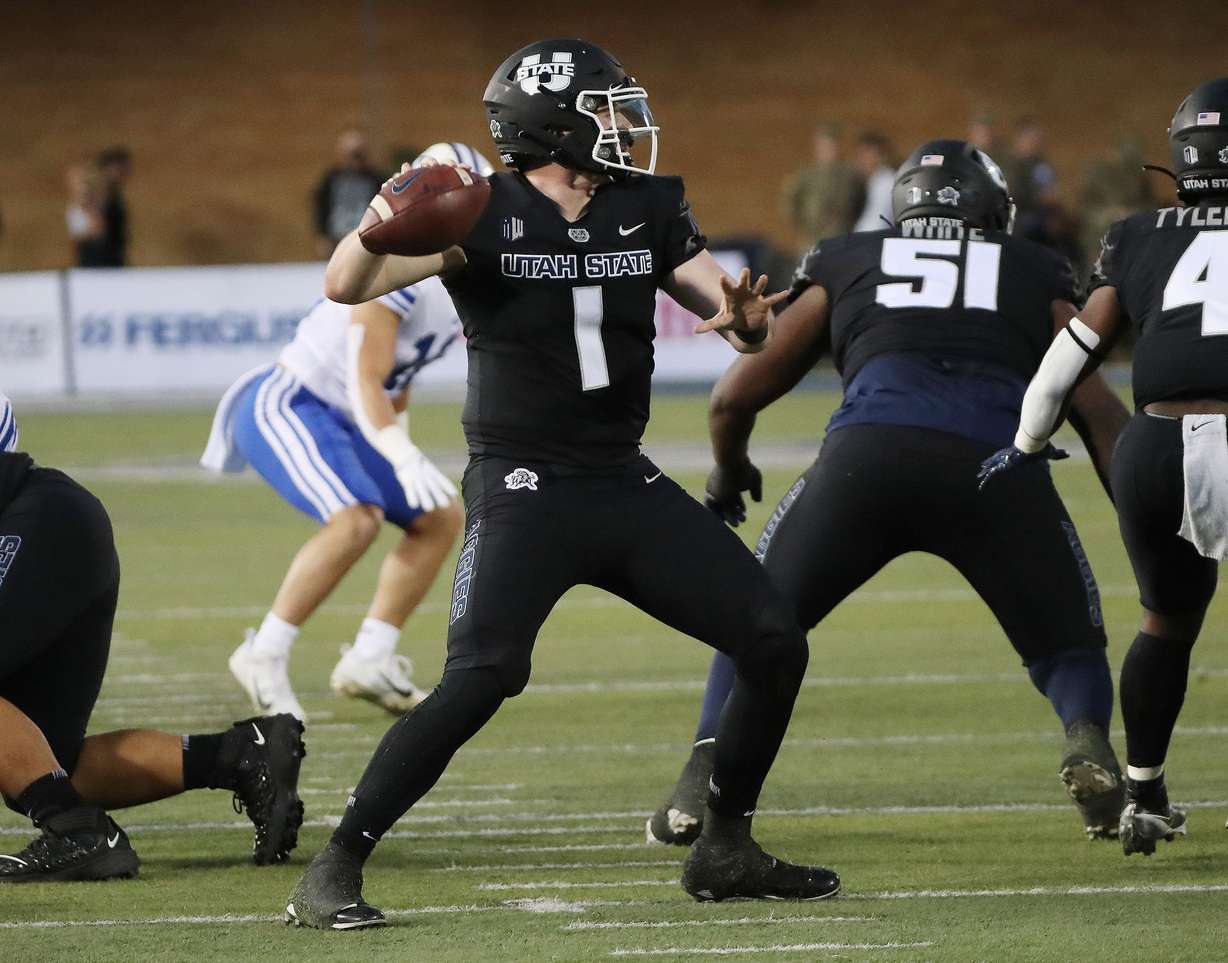 The game could easily have ended up similar to how the Utah State-BYU game went down two years ago.
Also a blackout game at Maverik Stadium in 2019, the Aggies were beaten in the trenches and gave up over 200 rushing yards. After being down just 21-14 at the half, they folded in the second half and were outscored 21-0.
Friday night was a different story.
Down 24-13 at halftime, Utah State came out with renewed energy and turned it into a game.
Perhaps aided by the fact that freshman quarterback Jacob Conover was thrown into the game for the Cougars in the third quarter, the Aggie defense, which gave up 291 yards and scored on in four of five drives in the first half, tightened up.
Led by safety Hunter Reynolds and defensive tackle Marcus Moore, who both had a team-high nine tackles, the Aggies defense forced three straight three-and-outs from the Cougars offense.
"Coaches make the calls and we just had to execute," Moore said. "We went into the locker room, talked about it, and figured it out. We came back out and kept swinging."
The Aggies offense failed to take advantage in the third quarter, posting a three-and-out of their own, and failed to convert on a fourth-and-1 in field goal range. But the defenses' effort kept the game in reach into the fourth quarter.
Finally, the Aggies managed to put a drive together. Converting a fourth down and two third downs, including a 10-yard scramble from Bonner, Utah State found its way into BYU territory. Bonner, who finished the game 21-of-41 passing for 276 yards, connected with an open Thompkins in the end zone to make it a one-possession game.
"I knew it was man coverage, so I needed just a little bit of movement to get him to bite just a little bit on the slant," Thompkins said. "As soon as I saw him bite a little bit I got happy."
The elation was quickly whisked away, though, by Allgeier's long scoring run.
Late in the fourth quarter — when the result was all but decided — Bonner limped off the field after hyperextending his knee. Anderson said with the bye week coming up, it's something he thinks he'll be able to "get passed" and be ready for UNLV.
Thompkins, who was playing in the third BYU game of his career, recognized the fight his team played in the game as a whole.
"We competed a lot better this game for sure," he said. "It wasn't that bad of a loss. You know I've just been on both sides of blowing BYU out and getting blown out by BYU, you know. Like in 2018 we went there and had a big win, we came back and wore the all-black and lost (in 2019). So this third time kind of brought those two games together. It sucks, but it's part of the game."
But in order to match BYU nose to nose, the Aggies still have a ways to go.
"They're stronger than us today," Anderson said. "But that will not last. We will recruit our tail off; we will develop our tail off, and we will make this a battle every stinking year."
×
Photos