Estimated read time: 5-6 minutes
COTTONWOOD HEIGHTS — East needed every bit of 17 minutes in the second half to take a 28-20 lead over Brighton in a pivotal Region 6 football contest Thursday night.
The Bengals needed just four minutes to take it back.
And 13 seconds to celebrate it.
Jack Johnson turned the whole thing upside down, finding Bingham Zollinger with a 13-yard screen pass for a touchdown with 13 seconds left, and Lander Barton sealed the wild 35-28 comeback win with a sack on the final play of the game to lift Brighton to its fifth win of the year.
"I think this was a really big win for us," the Utah target and top-rated linebacker in Utah said. "East is a historically good football team and being able to get a win over them is good.
"Now we've got to move on and focus on next week."
With the win, Brighton improved to 5-2 overall and 3-1 in Region 6 play, just a half-game behind Park City for the top of the league standings. The Miners (3-3, 3-0) will play at Olympus Friday before hosting the Bengals in a crucial region contest next week.
"This makes things interesting next week," Brighton coach Justin Hemm said. "It gives us an opportunity to set ourselves up with at least a position to be co-region champs."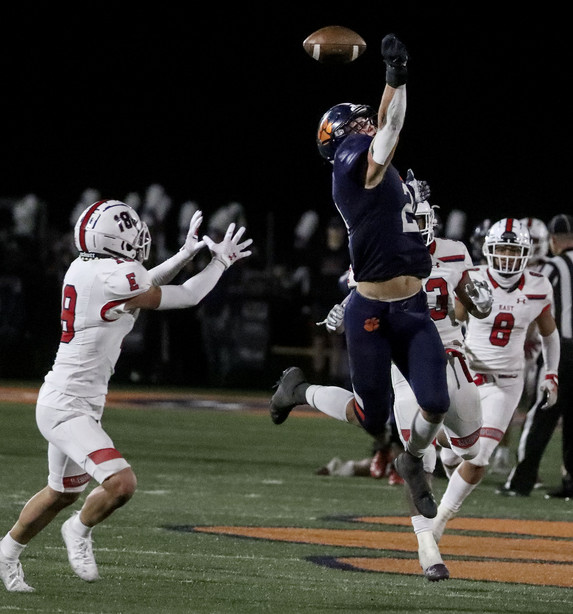 Being in such a position is quite the comeback for a Brighton team that opened the season at 1-1 after a loss to Syracuse in Week 2 and two losses in their first five games. But everything's ahead of the Bengals now, having won four of their last five.
"There are still some things," Hemm said. "We're moving the ball and controlling the game offensively, but we're shooting ourselves in the foot a bit. When you're playing a well-coached team like East and their physicality, you can't do that."
Quincy Covington caught three passes for 51 yards and a touchdown, and Mitchell Dolato ran for 50 yards and the game-tying score with 2:33 to go.
That's when Brighton knew it had a chance. After fighting back amid limited possession in the second half, the Bengals had one drive and two timeouts to finish the win in regulation.
Johnson threw for 355 yards and four touchdowns with two interceptions, including nine passes for 125 yards and two scores to Dante McMaster that helped the Bengals to a 20-14 halftime edge.
September 24, 2021
None were bigger than the short screener to Zollinger in the final minute, a play that was supposed to go to the right, sprung to the left with a block by Johnson and followed Barton and Co. into the end zone for the game-winning scorer.
"We had to finish it," Johnson remembered of the final drive. "In the first half, we weren't finishing our drives; we were getting to the red zone, and the goal coming out of halftime was just to finish our drives. That's what we did.
"I saw the play going one way, and then Bingham cut back and I thought it was over. He broke a tackle, I caught a block, and then he found the end zone."
Added Barton: "Originally it was just a sweep to the right. I'm blocking and trying to seal the edge, but I look back and (Zollinger) is running the opposite way. I knew it could go one of two ways: he scores or it goes bad. Luckily he scored."
Barton, the No. 2 overall recruit in the state of Utah and 21st-ranked linebacker nationally by 247Sports, had as big of a role as anyone in the comeback. The 6-foot-4, 215-pound senior with offers from the likes of Michigan, Texas, Arizona State, LSU, USC and Utah (among others) had seven tackles and the game-sealing sack that lifted the Bengals to their fourth win in the last five games.
He also showed some hands, catching six passes for 61 yards, earning a first down every time Johnson found him in the open field.
Coming off a recent recruiting visit to Ann Arbor, Barton will get on a plane Friday bound for Austin to visit Texas ahead of the Longhorns' home game with Texas Tech. He's got a couple other visits planned over the next few months, but plans to make a decision before the early signing period — as early as November.
But first, he had to take care of East and that first-down dive play that kept their offense on the field.
"We finally stopped that first-down dive," Barton said. "If you can shut down that first-down dive, it collapses their playbook a little bit. Before they were killing us on that dive, getting 4-5 yards every first down. But we shut it down, and made them switch it up a bit."
But the Bengals (5-2, 2-1 Region 6) clung to the one-score lead as the Leopards (1-5) secured two turnovers, including Ben Roberts' 52-yard pick six on the first drive of the game to go up 7-0.
East had just 90 yards of offense at the break but trailed by just one score, including 44 yards and a 6-yard scoring run to end the half by Amine Amone.
But the Leopards went to work after the break.
East put together back-to-back drives of around seven minutes each, an 11- and 12-play drive capped by Petal Tafisi's 1-yard dive to go up 28-20 with 10:52 to go.
Amone ran for 126 yards and two touchdowns on 26 carries for the Leopards, who play at Murray next week before hosting Highland in the regular-season finale Oct. 15.
×
Photos
Related Stories