Estimated read time: 5-6 minutes
OREM — With respect to his teammates of past years and the lessons he learned as part of those teams, Josh Jones was tired of being picked on.
After a combined three wins over the past two years, Timpanogos' senior running back vowed to do things different for his final year of high school football.
The Timberwolves have done that and more.
"Compared to last year, it's a night and day difference," Jones said. "We've already doubled the record that we did last year, and it's still early."
Led by nearly 400 yards and six touchdowns on the ground by Jones and the strong arm of Matu Holdaway, the Timberwolves, who once were so non-competitive in football that the school suggested foregoing region titles and a postseason in favor of an independent schedule, have surged to the front of the recently reconstituted Region 7.
Timpanogos is 5-0 for the first time since 2018 and has a chance to win six games for only the third time in the past seven years Friday night when it hosts Cedar Valley (2-3, 1-1 Region 7).
The Timberwolves' run hasn't come against a murderer's row, with wins over opponents like Millard, Grand County and Hurricane. But from where Timpanogos stood three years ago to now, the step forward is dramatic.
And a lot of that credit lies on the senior class, and a mental shift from the past two seasons.
"When we came out for the summer, we really pushed it and made sure to focus on what we were doing," said Holdaway, the team's starting quarterback. "I think overall, the team has bonded so tightly together that now we feel like we need to be at practice and at every team function for each other. We're held responsible. And practice makes perfect, in the end."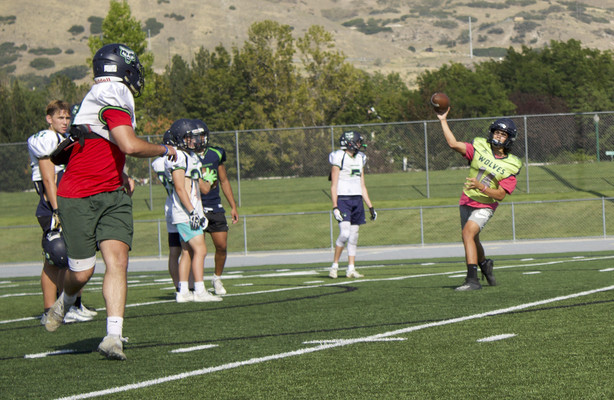 This year's senior class has been in the weight room since January, and started showing up to player-run practice sessions just after spring break.
"Instead of learning back into the summer, we were refining," head coach Austin Heaps said. "We just had that leadership, with a message to the boys of encouraging them. They're the guys who get the work done first, and lead by example."
It's not just the seniors, though. There's been a culture shift at Timpanogos — even to a new batch of assistant coaches including former Mountain View coach Tyler Anderson, now the Timberwolves' offensive coordinator.
But every team needs a spark plug, even one as senior-laden as this new Timberwolves' side. And for Timpanogos, that spark includes sophomore Luke Livingston.
The 5-foot-11 sophomore is an all-around playmaker, a multi-sport athlete who also plays basketball and has 846 receiving yards with 12 touchdowns on 31 catches who has been receiving interest from a handful of Pac-12 schools.
In that regard, though, Livingston is just following his team leaders.
"We've got a bunch of confidence built up," he said. "Last year we didn't have that confidence, either going into the year or during it. This year, with our new offensive coordinator, new coaches, new players, I think the new confidence helps us a lot."
One of those key leaders is Holdaway, who transferred to Timpanogos from Mountain View a year ago for personal reasons and has settled into a gun-slinging role as starting quarterback.
The 6-foot-1, 188-pound signal caller has thrown for 1,087 yards and 16 touchdowns through the air with just four interceptions, three of them coming in a 51-48 win over Payson that came down to Reed Harris' 42-yard buzzer-beating field goal to stay unbeaten.
"This tempo offense has helped us catch defenses off guard," said Holdaway, who played under Anderson at Mountain View. "It's a very high-paced, quick offense that gets the ball out fast. Less travel time causes less turnovers. If you get the ball out quickly, there isn't much the defense can do against it."
Tempo and keeping it clean; the Timberwolves have just four interceptions and four fumbles through the first five games of the year en route to the 5-0 finish.
One of those first five wins on the schedule? Perhaps the most important for Holdaway, a 63-7 victory over Mountain View wherein the starting quarterback completed 26-of-38 passes for 300 yards and five touchdowns with one interception.
"It was great," the gunslinger said of the win over his old school. "I loved being able to go play some of my former teammates more than the win. You play with someone for so long that you wonder what it's like to be on the opposite side of the ball.
"Last year, we got our trash kicked, and it was nice to come back this year and get that revenge."
The unbeaten streak will likely run out, some day. Nothing lasts forever, after all. But that same senior leadership of a group that has played together through multiple levels since fourth grade, the one that propelled the Timberwolves to their first start also has the ability to keep them together through adversity, said first-year head coach Heaps, a Timpanogos grad who played baseball at Utah Valley.
Tough games continue to lie on the horizon, including a potential showdown with fellow unbeaten Tooele (5-0) in the penultimate week of the regular season, or the regular season finale at Stansbury (3-2).
"In the past, we sometimes had a couple of good weeks and then guys started coasting," said Heaps, "but these seniors aren't allowing that to happen. They're getting on kids to watch film, messaging guys out in their off time, and just doing things to push guys to do more.
"From the seniors through the sophomores and freshmen, everyone's following the role that those seniors are doing."
Whether they compete for region or state titles, or just enjoy winning more than 1-2 games a year, something is different at Timpanogos.
"I don't think we're little ol' Timpanogos anymore," Livingston said. "I think we're moving up to big brother. Everyone is now seeing what we can do, the potential we have, and I think it's great that everyone can see it."
×
Photos
Related Stories