Estimated read time: 6-7 minutes
This archived news story is available only for your personal, non-commercial use. Information in the story may be outdated or superseded by additional information. Reading or replaying the story in its archived form does not constitute a republication of the story.
In a world that's gotten crazy and mixed up, there are few activities that transcend political, ideological and generational boundaries. Taking children fishing is one that does.
Fall provides some of the best fishing opportunities of the year in Utah. Fish are actively feeding in preparation for winter and as water temperatures cool, fish move closer to shore where they are accessible to more anglers. Fall is also a beautiful season to spend time in Utah's outdoors. The colors are gorgeous and the weather is usually cooperative.
If you tried fishing in the past without much success, perhaps you are making a common mistake such as using hooks that are too big or using the wrong bait for the type of fish in a lake. Some of the more common angling mistakes are spelled out in this KSL.com article.
Even if you don't catch fish, you will still have a great time with your family in Utah's incredible outdoors. And no matter where you're headed, you can stock up on fuel and supplies at one of Utah's many Maverik locations.
Here are some Utah fishing holes that are just waiting for your next adventure.
Utah Lake
Although it's shallow and has murky water, Utah Lake is also loaded with fish. And it's less than an hour away for most people living along the Wasatch Front. White bass are the most common quarry. At certain times--especially during the spring spawn--it's possible to catch as many as you can imagine. Thirty fish or more per hour is not unrealistic.
In addition to white bass, Utah Lake holds good numbers of bluegills, perch, crappie, catfish, carp, walleye and largemouth bass. On rare occasions, one might even catch a trout, a smallmouth bass or a northern pike (which must be killed if it doesn't have a tag or released and reported to the Utah Division of Wildlife Resources if it has a tag).
You could also catch a June Sucker, an endangered species found only in Utah Lake. If you do, make sure to carefully release it.
The best fishing areas are around marinas and launch ramps or anywhere a tributary enters the lake. If you're uncertain about what methods work, you can find plenty of YouTube videos with specific guidance.
A local community fishing pond
The Utah Division of Wildlife Resources provides fishing opportunities at approximately 30 local water bodies across the state. If you live along the Wasatch Front, chances are at least one is within a few miles of where you live.
Most of these have naturally reproducing populations of bluegills and largemouth bass. Some have carp and catfish and even illegally introduced fishes like the 17-pound goldfish an angler caught in the Highland Glen pond.
State wildlife resources also stock catchable-size trout and catfish in many of these waters several times each year. You can find current stocking reports at the division website. Please make sure you check current fishing regulations because many of these fisheries have special regulations.
"The DWR is committed to developing more community fisheries — places one can walk, bike or bus to, then catch a fish or two," states the DWR community fishing website. "Community fisheries offer a setting for parents and kids to talk, enhance family interaction, and keep busy Utahns in touch with the natural world. Fishing can provide families with opportunities to get away from their day-to-day problems and share time together."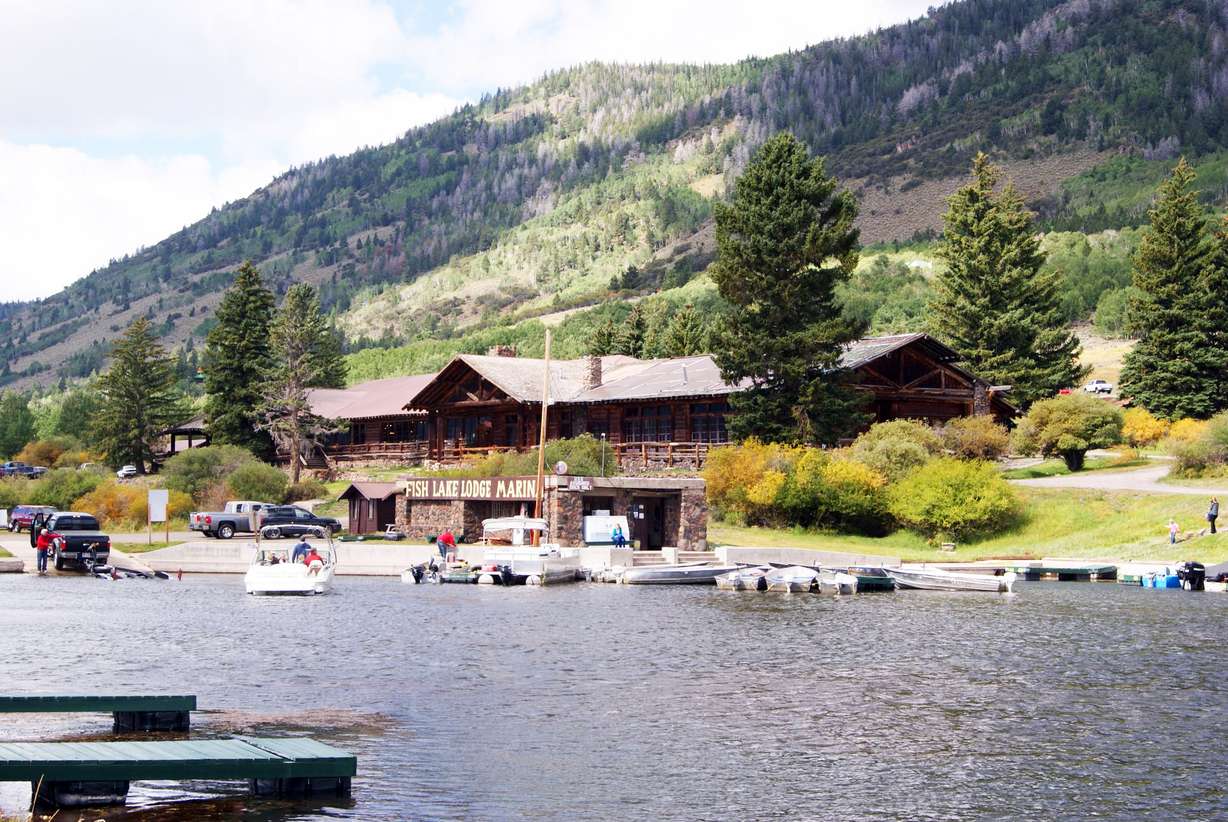 Fish Lake
When a lake has fish in its name, the angling has to be terrific. And in that regard, Fish Lake in the south-central part of Utah doesn't disappoint. The most prolific fish in the lake are perch. And while they might be small, they are unmatched as table fare and they are willing biters.
Fish Lake is also well known for trout fishing. Rainbow trout are the most common catch, but the lake also produces hefty lake trout, splake and brown trout.
Shore fishing can be a challenge because of extensive weed beds. As a result, Utah.com reports the most consistent action comes to those fishing from boats. If you want to fish from shore, the best technique is to suspend a bait or jig a couple of feet below a bobber to keep it above the weeds.
A small hook with a small piece of worm will typically keep young anglers busy with perch and an occasional trout.
An added bonus at Fish Lake is the stunning scenic beauty. The area around the high alpine lake is home to Pando, an aspen grove that is considered the world's largest living organism, as reported recently in a Deseret News article.
Deer Creek Reservoir
This is another reservoir within easy reach of most Wasatch Front residents. At the top of Provo Canyon, Deer Creek offers good opportunities for shoreline fishing. It has a wide variety of fishes, so toss out a worm on a hook and you could catch a trout, smallmouth bass, largemouth bass, perch, crappie, carp, walleye or green sunfish.
In the summer, fishing at Deer Creek can be a challenge because of its popularity among boaters, water skiers, windsurfers and general water activity enthusiasts. Once the water temperature drops to the low 60s, the anglers have it pretty much to themselves.
Little mountain lakes
The mountains all across Utah are dotted with small mountain lakes. Everyone knows about the small lakes in the Uinta Mountains. Mirror Lake, Trial Lake and Lost Lake are well known and easy to get to but there are dozens more that can be reached by hiking less than a mile from a road.
The Boulder Mountains in southern Utah have dozens of lakes that offer pristine fishing in beautiful alpine settings. Skyline Drive in the Manti La Sal National Forest passes many lakes as it winds through the mountains east of Fairview, Ephraim and Manti. The mountains east of Moab have Warner Lake, Oowah, Dark Canyon Lake and more.
Most of these small lakes are stocked with trout and the fishing can be fast at times. If the fish aren't biting using traditional baits like worms or Powerbait try dragging a small fly two feet behind a clear plastic bubble.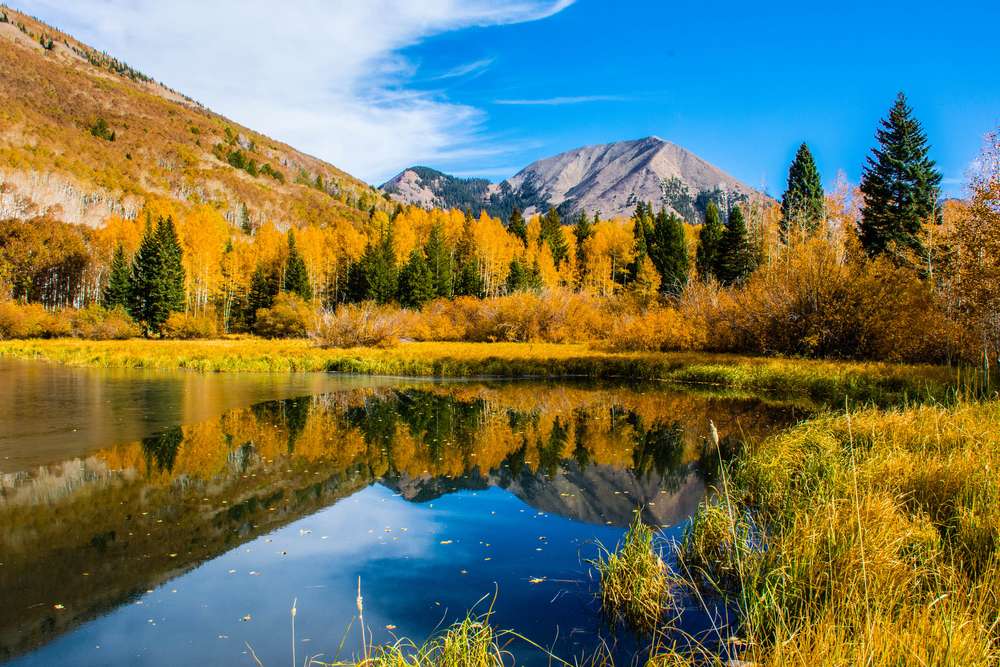 Remember to be prepared
With this year's severe drought, many water bodies are very low and some lakes have even dried up. So before you go, it's wise to check the internet for information about current conditions.
Also remember that even though temperatures are cooling, most areas are still extremely dry and susceptible to wildfire. Make sure and follow proper safety precautions to make sure you don't accidentally spark a wildland blaze.
Whether you need to fuel up or to buy snacks for your trip, don't forget to stop at a convenient Maverik location before and after your fishing adventure.
×