Estimated read time: 7-8 minutes
This archived news story is available only for your personal, non-commercial use. Information in the story may be outdated or superseded by additional information. Reading or replaying the story in its archived form does not constitute a republication of the story.
This story is sponsored by Robert J. DeBry—more than 200 years of combined experience practicing personal injury law.
Much like most wild things, Utah's hiking trails are beautiful — but they demand respect. Every month, there are Utah hikers who find themselves in dangerous situations. And these instances are relegated to backcountry areas. People are seriously injured or killed every year within sight of the valleys along the Wasatch Front.
While this isn't meant to scare you away from the great outdoors, it's important to understand the risks before you set off on your wilderness adventures. Too many unsuspecting hikers have found themselves ill-prepared for the dangers ahead of them. Tragically, some have even lost their lives.
To help you watch your step, here are the most dangerous hikes you should be aware of in Utah.
Mount Timpanogos
Mount Timpanogos (or "Timp" if you're in the know) could be Utah's most familiar mountain. The 15-mile hike to the summit and back is worth it for the stunning view, which stretches as much as 100 miles on a clear day. But before you grab those hiking boots, there are a few things you should know about this beautiful yet challenging hike. First of all, it's home to Utah's only real glacier — but it's deadlier than you might think.
The U.S. Forest Service reports the "Timpanogos Glacier is one of the major sources of injury or death to hikers on Timpanogos, particularly when some attempt to 'glissade' (or slide rapidly) down it to save time descending."
Aside from the glacier, through the years other hikers have fallen to their deaths on the steep trail, perished in avalanches or gotten stranded because of harsh conditions. (Remember: Just because it's a sunny day below, that doesn't mean things will be clear and calm up top. Check weather conditions before you go.) The exact number of deaths associated with the mountain isn't clear, but hikers should definitely be prepared and cautious.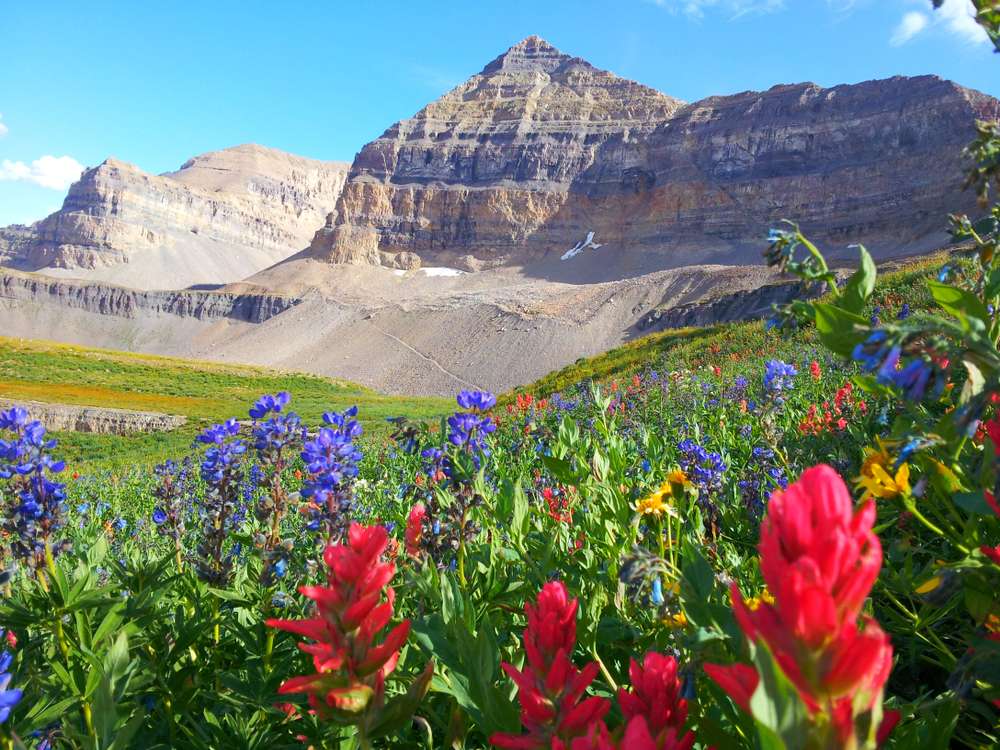 Kings Peak
As the tallest point in Utah, you can bet that Kings Peak comes with a fair share of risk to hikers. Towering at 13,528 feet above sea level, the steep climb is just one of the obstacles you'll encounter. The air gets pretty thin up there and altitude sickness is a definite possibility, along with other risks associated with strenuous activity in extreme conditions.
Even experienced hikers struggle on a hike like this. In September 2020, KSL reported that a missing Idaho hiker died after falling 1,000 feet as he was summiting the peak.
If you want the bragging rights for climbing Utah's tallest point, make sure you prepare well in advance. Most sites agree that you'll need to plan a minimum of three days to make the roundtrip hike.
Peek a Boo Gulch in Escalante
This one may surprise you. The name "Peek a Boo" doesn't exactly strike fear into most people's hearts, yet Peek a Boo Gulch in Escalante made Active Junky's list of 30 Terrifying Trails. As a very narrow slot canyon, this hike is probably most terrifying if you suffer from severe claustrophobia. But it can also turn deadly pretty quickly in a flash flood, so beware!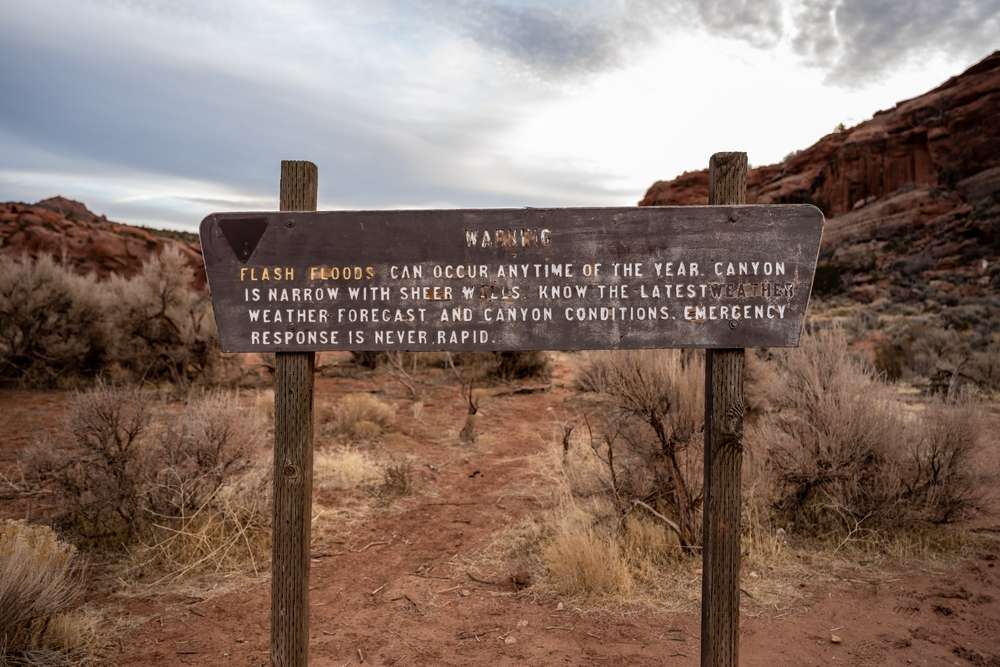 Buckskin Gulch along the Utah/Arizona border
Backpacker Magazine lists Buckskin Gulch as one of the 10 Most Dangerous Hikes in America, calling it "gambling in the slots." Buckskin Gulch carries the same danger as most slot canyons: potential flash floods.
"The extended exposure to flash flood danger makes Buckskin one of the country's most dangerous slots: Rarely more than 10 feet wide, the eerie corridor is 400 feet deep at its junction with the Paria River," writes Backpacker Magazine's Kelly Bastone. "Most chilling: The entire length of sandstone wall is virtually insurmountable–except for a single escape hatch at the Middle Route, about 8 miles in from Wire Pass. Should thunderstorm-bloated floodwaters come charging down the tunnel, you're no better than a bug in a firehose."
Though there have been no fatalities to date, there have been some close calls. If you find yourself in the area, be sure to check the weather before you head out.
Delicate Arch hiking trail in Moab
It's a relatively short hike up to Utah's most iconic landmark (three miles roundtrip, according to the National Park Service), but the Delicate Arch trail in Moab can be treacherous — particularly when conditions are rough. The route is open and exposed to harsh weather elements. In warmer months, heatstroke and dehydration are real possibilities.
In December 2019, KSL reported that a California couple died after slipping on a steep slope near Delicate Arch. Since it was winter, rain, snow, and freezing temperatures played a part in the fatalities. Their son suffered serious injuries but survived.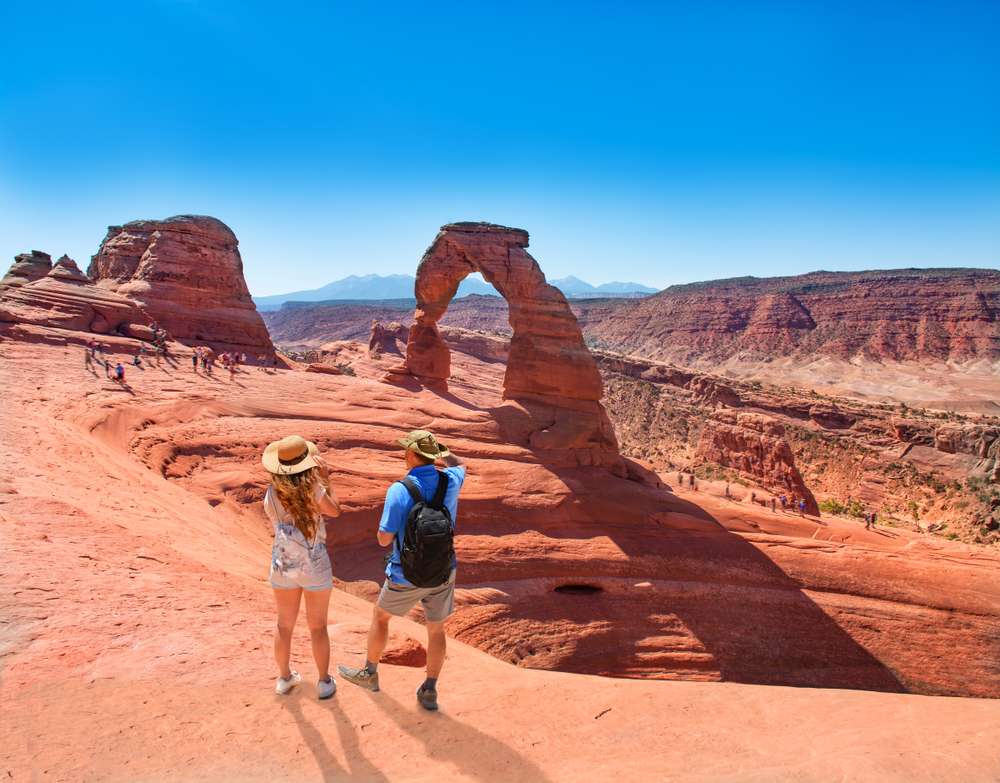 The Maze in Canyonlands National Park
The biggest clue about this one should be in the name. The Maze hike in Canyonlands National Park is a vast series of backcountry trails in a remote area. (That makes it easy to get lost or in trouble quickly if you're underprepared.) This one also made Active Junky's list of 30 Terrifying Trails. According to Insider Magazine, no one has died hiking The Maze, mostly because of warnings that urge only experienced hikers to visit it. If you're up to the challenge, know that you'll probably spend a minimum of three days there. Overnight permits are required.
Keyhole Canyon in Zion National Park
Here's another slot canyon for the list, but this one has a more deadly history. A flash flood through Keyhole Canyon in Zion National Park killed seven hikers back in September 2015. According to KSL, the group was made of four men and three women — six from California and one from Nevada.
Because of its swimming and rappelling sections, Keyhole Canyon is a technically advanced hike. Unless you're highly experienced, it's probably best to sit this one out until you have the proper gear and training.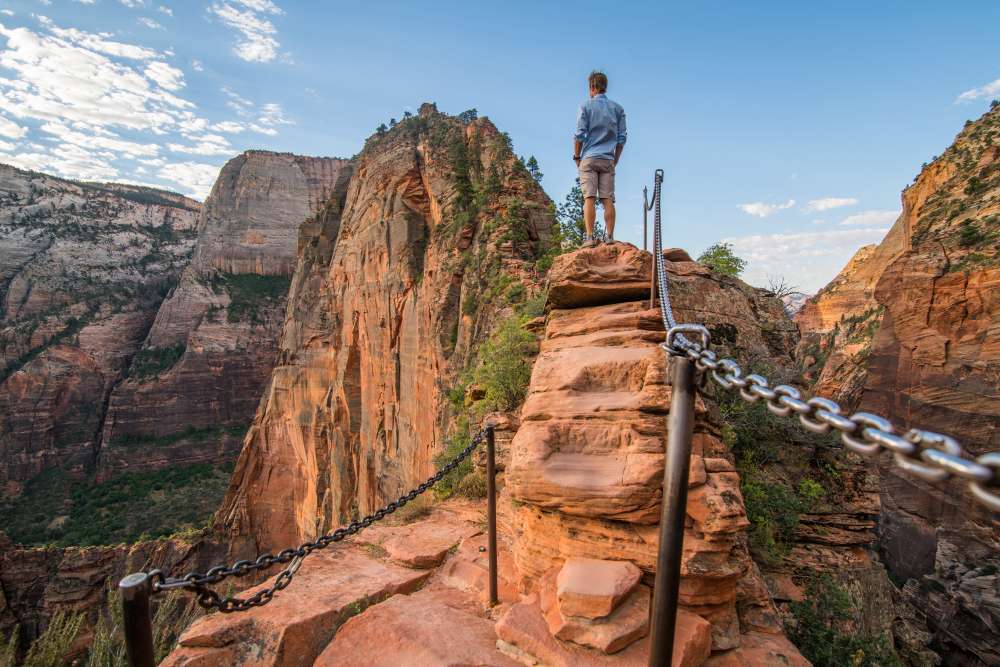 Angels Landing in Zion National Park
This one should come as no surprise, but the No. 1 most dangerous hike in Utah is Angels Landing in Zion National Park. It's also one of the most dangerous hikes in the U.S., according to Discovery.com. With a series of switchbacks, hairpin turns, and rapid elevation gain, this is definitely not a hike for the faint-hearted. The last half-mile of the trail is the most treacherous. Just picture a 500-ft.climb with nothing but chains to hold onto while you tower 1,500 feet above the canyon.
DownTheTrail.com reports that 14 people have died after falling from Angels Landing as of June 2021. Some speculate that the trail is getting more dangerous due to its popularity. (Which is probably why Zion National Park is considering a lottery system to hike it.)
Of course, there's a reason why the hike is so popular despite the risks. The summit rewards you for your bravery in the form of breathtaking views of the whole canyon. If you're up for an adrenaline rush, aren't afraid of heights, and you're in good shape, it will definitely be worth your while. Just be sure to follow these safety precautions outlined by the park.
Stay safe on Utah's hiking trails
Hiking may come with some inherent risks, but don't let the isolated mishaps scare you off. As long as you're prepared, the chances of serious injury or death are minimal. To make sure you are prepared, the Utah Safety Council recommends having these 10 essentials on any hike:
Appropriate footwear
Compass/GPS/map
Flashlight/headlamp
Extra food
Extra clothing
Sunglasses/sunscreen
First-aid supplies
Knife or multi-purpose tool
Matches/Firestarter
Daypack/backpack.
In addition, to keep you and your family safe, the council offers these hiking tips. Happy trails!
×