Estimated read time: 5-6 minutes
This archived news story is available only for your personal, non-commercial use. Information in the story may be outdated or superseded by additional information. Reading or replaying the story in its archived form does not constitute a republication of the story.
LOGAN — It took a near perfect quarter for it to happen, but Utah State managed to do the unthinkable.
The Aggies scored 15 unanswered fourth quarter points to pull off the upset in Pullman, Washington, and to defeat Washington State 26-23. It's the first time Utah State has defeated a Power Five team on the road since 1971, and the first time a new Utah State head coach has won their first game since 1973.
Going from one of the worst teams in FBS last season to beating a Pac-12 team in just eight months speaks volumes for what Blake Anderson and his coaching staff have been able to accomplish.
"I mean what do you say," said Anderson after the game, at a near loss for words. "Really proud of the guys."
For most of the night, Utah State quarterbacks Logan Bonner and Andrew Peasley split playing time, rotating every drive. But when it came down to it, Bonner was the man.
After the Aggies defense held Washington State to a field goal to go up 23-11 with 12:11 to play, Bonner trotted out on the field. Based on how the prior 47 minutes of the game had gone, Utah State's chances of scoring two touchdowns in the final quarter looked unlikely. But the Aggies kept the faith.
"I grabbed them and brought them all up at the beginning of the fourth quarter and told them nothing changes, we're right where I thought we'd be," Anderson said.
Bonner proceeded to take the Aggies down the field 70 yards in 14 plays, and running back Calvin Tyler Jr. found the end zone for the first time of the night to make it 23-18 with 5:25 to play.
The Aggies defense managed to force a three-and-out series, and Utah State got the ball back on its 22-yard line with 3:02. Then came a two-minute drill for the ages.
Bonner went 7-for-7 passing on the final drive and found Tyler Jr. on a fourth down play, as well as receiver Deven Thompkins three times. And with 11 seconds left in regulation, Bonner connected with Thompkins across the middle for the go-ahead touchdown.
"Honestly, I knew it was about to come to me," Thompkins said. "I just saw the way the defenses were aligned, and I saw how far off the safety was, and I kind of was looking at Logan and I knew Logan was thinking the same thing as me. So I was just, I was prepared to take any hit that came with it. I just knew that we needed to get the ball in order to win this game."
For Thompkins, who finished with eight receptions for 94 yards, winning this game was special.
"I mean, it's everything you know. Ever since I first got here, first year here, we lost to Michigan State," he said. "The next year, we lost to LSU and Wake Forest. You know, there's three Power Five teams I've lost to since I've been here, so this one is going to forever stick with me."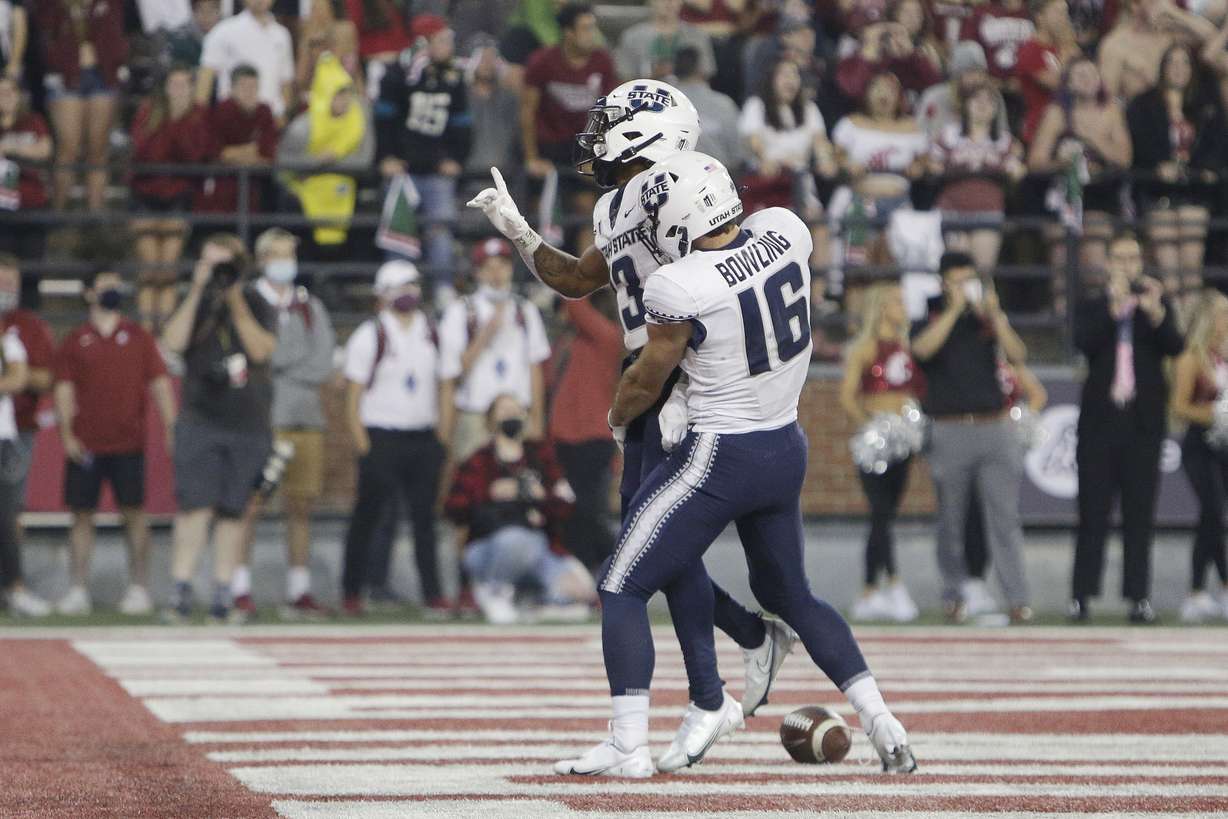 If the Aggies weren't so mistake prone early on in the game, it may not have taken a miraculous comeback.
On Utah State's second drive of the game, Peasley connected with Thompkins for a 45-yard pass, a yard short of the goal line. But after three false starts, the Aggies had to settle for a field goal to take the early 3-0 lead.
In the second quarter, leading 5-3 — defensive lineman Patrick Joyner downed Cougar quarterback Jarrett Guarantano for a safety — Peasley fumbled the football in Washington State territory. The ensuing drive, Bonner threw an interception to defensive back Derrick Langford, who returned it to the Aggies' 27-yard line where Washington State capitalized with a field goal, and to take a 6-5 lead into halftime.
"We did not play our best football," Anderson said. "We turned them all over and made some mistakes that honestly could have lost the football game."
To start the second half, the Aggies found their way to the red zone, thanks in large part to Tyler Jr., who finished with 14 carries for 84 yards. But once again, the Aggies settled for a field goal.
Then, the Washington State offense, who was bottled up by the stiff Aggies front for the first 30 minutes, got things going. Running back Max Borghi broke loose and rushed down the sideline for a 64-yard touchdown.
After Utah State setted for another field goal, Cougars quarterback Jayden de Laura, who replaced an injured Guarantano, manufactured another touchdown drive. He drove the field 69 yards for Washington State and found receiver Donovan Ollie on third and goal for a 11-yard touchdown pass. The Cougars led 20-11.
After another stalled drive, Washington State settled with another field goal.
After that it was all Aggies.
Bonner, who finished 17-of-24 passing for 143 yards, was trusted to lead the final Aggies touchdown drives due to his experience, Anderson said.
"That's a situation where you only really, really learn to be calm and collected through experience," he said. "And he's been in enough that we just felt like he would lean on that. And he did exactly what I expected him to do."
In the end, the Aggies outgained the Cougars 439-355 yards; Utah State rushed for 220 yards and threw for 219 yards.
For Utah State, it was a statement win.
"You know, we just want to send a message to the conference and let them know this isn't the same Utah State team that was here last year," Thompkins said. "Everything about us is different. Even the players that were here last year, mindsets have changed, coaching staff has changed, everything has just changed around here."
×
Most recent Utah State Aggies stories