Estimated read time: 6-7 minutes
This archived news story is available only for your personal, non-commercial use. Information in the story may be outdated or superseded by additional information. Reading or replaying the story in its archived form does not constitute a republication of the story.
If you were to take a poll asking Utahns which season is the shortest, the unanimous answer would most likely be the fall. Every year, Mother Nature sets the hills ablaze with vibrant hues of red, orange, yellow, pink, and purple—but it seems to only last for a moment.
(According to Tripadvisor, your best bet for prime fall colors is late September through early October. This only gives you a window of 3-4 weeks, so fill up your car and get out there!)
In Utah, it isn't hard to find stunning fall colors. (Pro tip: If it's a national forest, ski resort, canyon, or mountain, it probably has some beautiful views.) But narrowing down the list of where to go can be the most difficult part. So, from north to south, here are a few places where you're sure to see some excellent fall foliage this year.
Logan Canyon
Take a drive up north through Logan Canyon during the fall and you'll think your eyes are deceiving you. Though you'll see every color of the fall palette on display, the bright reds are particularly eye-catching. Enjoy the scenery from your car, or take a hike up the Wind Cave Trail to see some of the best fall colors in the state.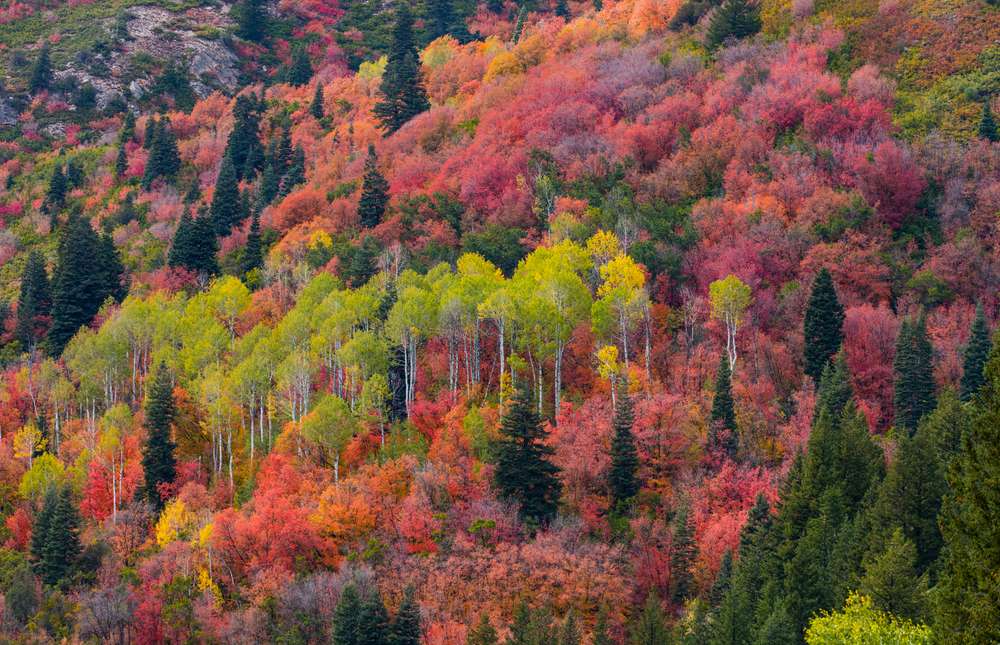 Big Cottonwood Canyon
One of the most popular recreational areas in Salt Lake, Big Cottonwood Canyon is a staple for prime leaf-peeping. Though you can easily enjoy the view from your car, consider pulling over for a hike to fully immerse yourself in the fall colors. Take the Brighton Lakes Trail at Brighton Resort, head up to Donut Falls, or check out any of the other hiking trails suggested by Utah Outdoor Activities.
Little Cottonwood Canyon
Not to be outdone by its big brother canyon, Little Cottonwood Canyon holds its own color show in the fall, too. Head up to Snowbird's Oktoberfest and you'll love taking in the views of bright yellow quaking aspens interspersed with oak, fir, and pine trees. If you want a view from the top, take the Snowbird tram up the mountain and enjoy the panoramic vista of fall colors.
Mirror Lake Highway
Since it's at a higher elevation, the Mirror Lake Highway is one of the first places you'll start to notice the leaves changing color. Winding through the Uinta Mountains, this road is about as serene as it gets if you want a stunning view of the fall foliage. Take a pause to enjoy the cascading waterfalls at the Provo River Falls as well and you won't be disappointed.
Alpine Loop
You can't call yourself a true Utahn until you've driven the Alpine Loop at least once. Though it's beautiful year-round, the fall is when it really shines. In addition to all the golden, crisp reds, yellow, and oranges of the leaves, you also get jaw-dropping views of Mount Timpanogos and the Lone Peak Wilderness area.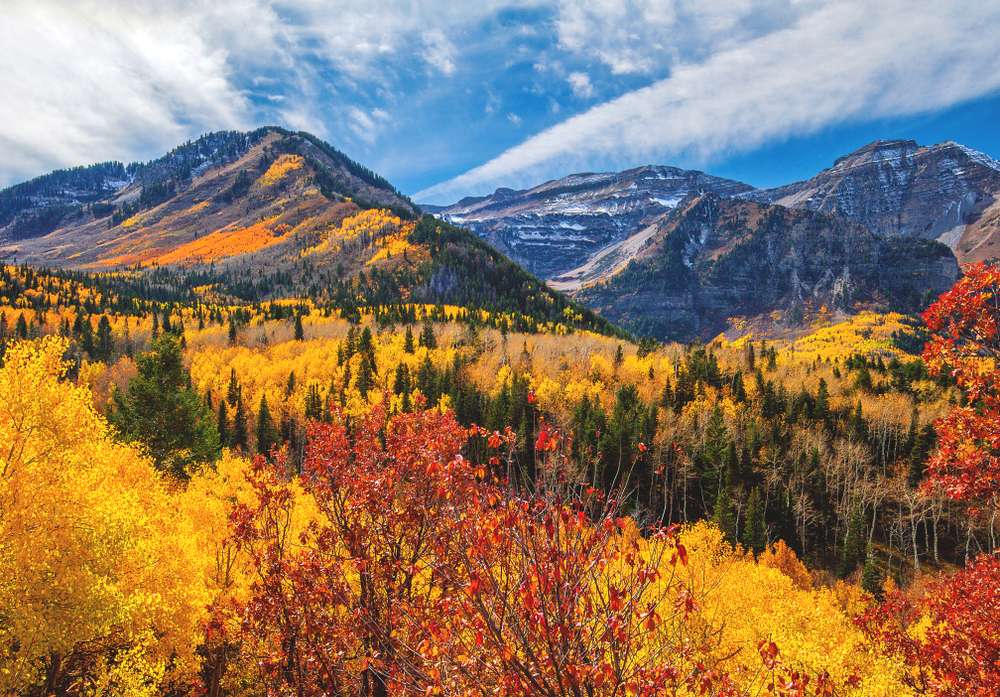 The whole loop is only 24 miles long, but you could easily spend a full day stopping to enjoy all the sites along the way. (It doesn't get much better than seeing the waterfalls at Cascade Springs against the backdrop of Provo Canyon.)
Mount Nebo Scenic Loop
Another popular drive is the Mount Nebo Scenic Loop, which runs from Payson to Nephi. This 35-mile scenic byway shows off great views of the 12,000-ft. Mount Nebo, with several pullouts and overlooks along the way.
Along with the bright fall colors, be sure to stop at the Devil's Kitchen to enjoy the red rock cliffs and spires. The best viewing times are typically mid to late September — and you might still catch a peek at the wildflowers if you're lucky!
Hobble Creek Canyon
If you want a similar vibe to Mount Nebo or Alpine Loop without the heavy traffic, Hobble Creek Canyon is a decent alternative. The road travels through the canyon following Hobble Creek's West Fork, and heads past Strawberry Reservoir before looping back to US Highway 89. It might just become your new fall favorite.
Fishlake National Forest
2,283 square miles of national forest are bound to have some beautiful fall scenery — especially when it's home to the largest group of aspen trees you'll ever see. Fishlake National Forest should be on your fall bucket list if only to see Pando, the world's heaviest living organism. Pando is a colony of quaking aspen trees that grew from a single seed. According to the United States Department of Agriculture, it spreads over 106 acres and consists of over 40,000 individual trees.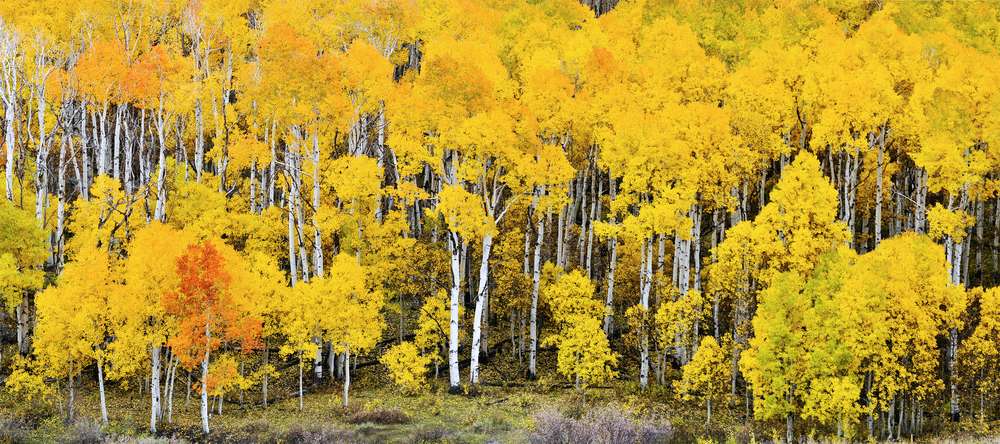 The United States Postal Service dubbed it one of the "40 Wonders of America" in 2006 which earned Pando its own stamp. People come from all over the world to see its gorgeous yellow and orange hues in the fall.
6 Mile Canyon
Another lesser-known but equally stunning place to see fall colors is 6 Mile Canyon east of Palisade Park in Sanpete County. But don't let the name fool you. 6 Mile Canyon is actually 40.2 miles long — which means there are plenty of opportunities to see some unbelievable colors!
Cedar City's Fall Color Loop
The annual Utah Shakespearean Festival isn't the only show Cedar City puts on in the fall. According to visitcedarcity.com, both NBC's Today Show and USA Today rate it as one of the "Top Eight Unique Destinations to View Fall Colors."
For the true fall enthusiast, Cedar City's Fall Color Loop is a must. This two-hour drive takes you through the red rock vistas of Southern Utah all the way to Cedar Breaks National Monument. For the best leaf-peeping opportunities around Brian Head and Cedar Breaks, plan your visit around late September to early October.
And if you've got some time to kill, you can make a weekend out of it by staying for Southern Utah's fall festivals and activities. Check out Brian Head's "Rocktoberfest," the Parowan Fall Fest, or the Cedar Livestock and Heritage Festival.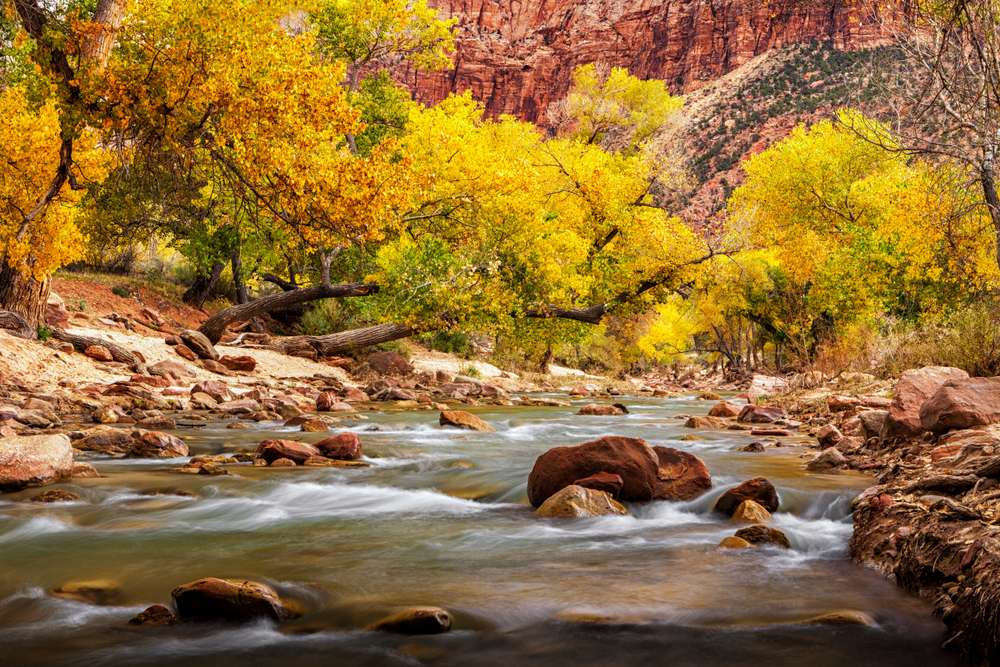 Zion National Park
Red rocks are probably the first things that come to mind when you picture a trip to Zion. But this national park offers up plenty of festive fall colors to feast your eyes on as well. Red, yellow, and orange hues set against a backdrop of sandy cliffs is a photo op you won't want to miss.
To see the fall colors, the Zion Ponderosa Ranch Resort recommends taking the Zion Canyon Scenic Drive or hiking on lesser-known trails. (Watchman Trail, Cable Mountain and Taylor Creek in Kolob Canyon are some suggestions.) The best part about visiting in the fall? Smaller crowds and lower temperatures mean you can enjoy the breathtaking views without the busy roads and baking sun.
Fuel up for your fall adventure
No matter where you go, these fall colors won't last long. From late September through October, you'll want to hit the road so you don't miss Utah's stunning foliage. Fuel up at your local Maverik, grab some snacks, and don't forget to bring the camera!
×