AT THE GAMES — So close.
The first-ever U.S. Olympic swimmer from Utah came up just a few tenths short of winning the state's first Olympic swimming medal.
Herriman native Rhyan White finished fourth in the 100-meter backstroke in Tokyo with a time of 58.43, just 0.38 seconds behind bronze medalist and Team USA teammate Regan Smith.
Australia's Kaylee McKeown won the event in an Olympic-record time of We 57.47; Canada's Kylie Mass finished in second.
White, the former Cottonwood High swimmer, was in contention the entire race. A strong start put her right with the trio of medalists, who had all traded Olympic records during prelims and the semifinals. At the turn, White was in second place ahead of both McKeown and Smith.
In the final meters, McKeown surged ahead to claim the win, and Smith just out-touched White at the wall to keep the Utahn off the podium.
Back home, White's family hung on every stroke.
"It's crazy to see just everyone that has come together," White's sister JC told KSL-TV at a family watch party in Herriman. "It's the neighborhood and friends and family. It's really everyone that we ever kind of thought would come. It's really cool to see how many people actually care and watch her."
It was the strongest 100-meter backstroke field in Olympic history. White's fourth-place time would have won gold in any other Olympics except for 2012, when it would have placed second. In 2021 (or 2020, if you prefer), though, it was just on the outside of the medals.
That's the tough news.
But there is good news: White's Olympics aren't done, and her strongest event is still to come. White won the 200-meter backstroke at the U.S. Olympic Trials and will be among the medal favorites when that event begins Thursday.
White will get another crack at beating both McKeown and Masse in that event. Smith, however, won't be in the field after failing to qualify.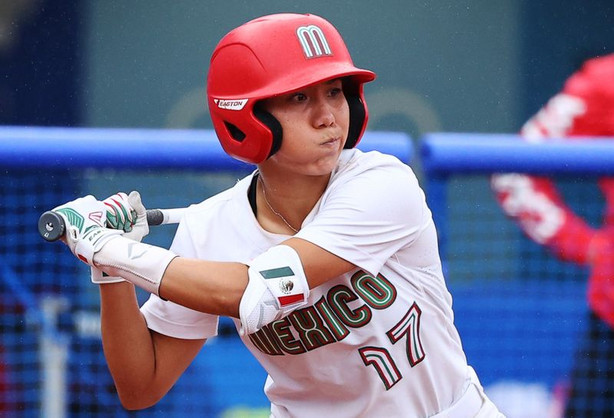 Canadians top Urtez, Mexico in bronze-medal game
Softball: Canada 3, Mexico 2
Jenna Caira, Sara Groenewegen and Danielle Lawrie combined on a six-hitter with seven strikeouts to help Canada clinch its first-ever Olympic bronze with a win over Mexico late Monday night.
Former Utah shortstop Anissa Urtez went 1-for-4 with a single and two strikeouts for Mexico, which fell behind 2-0 early but tied the game on Sydney Romero's run in the top of the fifth. But the Canadians, who were making their fifth Olympic appearance, scored on a sacrifice fly in the bottom of the frame, and Lawrie did the rest, clinching the win with her fourth strikeout in 2.1 innings.
Urtez's inaugural Olympics finished with a .300 batting average, including two home runs and four RBI for Mexico. The skilled middle infielder who is engaged to United States standout Amanda Chidester also flashed her defense, fielding 1.000 against the Canadians to finish at a .958 fielding percentage with nine put outs and 14 assists to just one error in six games.
CANADA WINS BRONZE! 🇨🇦

It's @TeamCanada's first Olympic medal in softball history. #TokyoOlympicspic.twitter.com/JFCxBml6EC

— #TokyoOlympics (@NBCOlympics) July 27, 2021
Park City's Batten top-10 in Olympic cross country mountain bike
Women's cross country mountain bike: Haley Batten, 1:20:13
Park City native Haley Batten finished in ninth place with a time of 1 hour, 20 minutes, 13 seconds to pace Team USA in the women's mountain bike finals on the Izu MTB Course.
The top American finisher in her Olympic debut, Batten was 4 minutes, 27 seconds back of the gold medalist — Switzerland's Jolanda Neff, who rolled to the win in 1:15:46.
Swiss teammate Sina Frei finished second in 1:16:57, followed by Linda Indergand (1:17:05) to cap the Swiss sweep. Switzerland, which had just one Olympic medal in the program's mountain bike history, became the first nation to sweep the podium in the history of the event.
Batten was rated the top American in a field that also included former world champion Kate Courtney. But both trailed the 28-year-old Neff, who cruised to a lead of over two minutes and 13 spots against the Americans in the opening laps.
Courtney finished 15th in 1:22:19.
Tuning into the 2021 Tokyo Summer Olympic Games? Don't miss Parkite, Haley Batten, during the Tuesday, July 27 mountain bike event! We are beyond proud to be cheering for Haley who is representing the United States in women's mountain biking! pic.twitter.com/lWNyow8v9s

— Park City Municipal (@ParkCityGovt) July 22, 2021
Swimming: 200M breaststroke qualifying
BYU's Josue Dominguez finished third in his heat with a time of 2:17.34 in Tuesday's qualifying round in the 200-meter breaststroke at the Tokyo Aquatics Center. Swimming for the Dominican Republic, his time failed to clinch one of six semifinal berths for Wednesday.
The event finals is Thursday in primetime.
Softball: Japan 2, USA 0
Japanese starter Yukiko Ueno fanned five during a two-hit shutout to clinch a gold medal for the host nation at the Yokohama Baseball Stadium.
Salt Lake City resident Amanda Chidester went 0-for-3 for Team USA, who got just three hits, including two from left-fielder Janie Reed.
Upcoming schedule:
All times listed below are in MDT.
Beach volleyball: USA vs. Switzerland - Jake Gibb, Bountiful native (6 p.m.)
Men's basketball: Nigeria vs. Germany - Miye Oni, Utah Jazz (7 p.m.)
Men's volleyball: USA vs. Tunisia - Taylor Sander, BYU alum (8:05 p.m.)
Men's basketball: USA vs. Iran - Damian Lillard, Weber State alum (10:40 p.m.)
×
Related Stories