Looking for a flexible, free, and fun option to help your student excel in school?
Every year, more and more Utah students are discovering the freedom and flexibility that comes from enrolling in Utah Online School. For over 15 years, Utah Online has helped more than 110,000 Utah students by encouraging a personalized approach to learning.
The National Institutes of Health reports that a flexible learning environment helps students become more engaged learners — and when it comes to customized and individualized education, Utah Online is proud to be the educational option you and your students can always count on!
With highly qualified Utah teachers, a full-scale mentoring program, and unparalleled course offerings, it makes sense that thousands of Utah families are looking to Utah Online as the school they can trust to be responsive, individualized, and prepared at all times.
Curious about how Utah Online can benefit your child? Here's a quick look at what they have to offer to all Utah students, no matter where they live in the state.
An expanding variety of course offerings
Planning your schedule for the new school year? With Utah Online's vast course offerings, the options are endless. As they grow and expand, so do their course offerings. Among the current courses, your student may enroll in the following:
Chinese I & 2
Chinese Dual Immersion-Secondary Courses
American Sign Language
World Religions
Literature, Poetry, Shakespeare
Career Orientation and Exploration
Independent Music Studies, where students can earn high school credit for taking private music lessons.
And so much more! Courses are available from kindergarten all the way through high school, so there's something for all ages.
Full and part-time options available
With Utah Online, your child has the option of attending full or part-time. This means students can take UOS courses while attending their boundary school. Part-time students can take up to six credits each school year and all credits are fully transferable to your boundary school.
This is a great option for students whose extracurricular schedules make it difficult to stay on top of school work, or for those who prefer to go at their own pace.
"With Utah Online I can work at my own pace and at my own level," said one UOS student. "If I don't feel up to school in the morning, I can wait til the afternoon or evening when I feel better. If I have to travel for appointments, I just pack my laptop and my classroom is wherever I need it to be."
Whether you enroll in one class or several courses, Utah Online has all the necessary resources to help students reach their educational goals. To learn about how your child can graduate with Utah Online, contact one of their counselors today!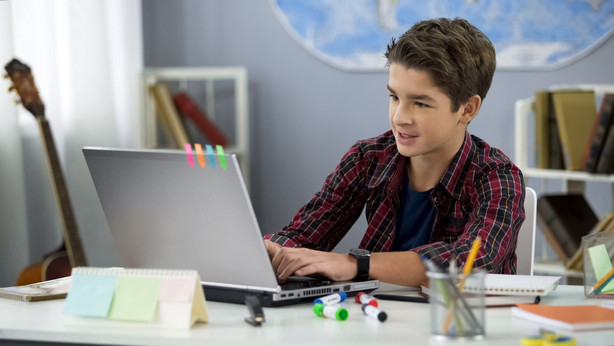 Professional and engaging teachers and staff
Worried about your child falling behind or struggling with online coursework? Utah Online provides help every step of the way, so you're never left on your own.
With a responsive faculty and staff dedicated to helping each individual, Utah Online School has the right structure for student success. Between their administration and counseling, mentoring programs, highly-qualified teachers, and teacher-created courses, their system is student-friendly and simple to navigate.
Utah Online also makes it easy for parents to take an active role in their children's education.
"I continue to just be so impressed with the professional level that exists with every teacher and supporting staff," said one UOS parent. "The number one quality that I find so effective with my kids is the 'I've got your back' quality that each teacher and mentor imbues in their emails, texts and phone calls."
Click here to learn about their professional and engaging teachers and staff.
A tried-and-true option for over 15 years
With the new school year just a few weeks away, now is a good time to learn more about how an online experience can benefit your child. As a tried-and-true option with over 15 years of experience, Utah Online School has helped tens of thousands of students — and your family could be next!
Fall enrollment is currently underway and you can contact the school now through its website to ask questions and complete enrollment. Utah Online is the perfect academic solution for students and families seeking better options. Visit utahonline.org and find out why thousands of Utah students choose to learn with Utah Online each school year.
×