Estimated read time: 5-6 minutes
This archived news story is available only for your personal, non-commercial use. Information in the story may be outdated or superseded by additional information. Reading or replaying the story in its archived form does not constitute a republication of the story.
After test driving the 2021 Nissan Rogue for a weekend, it's easy to see why Nissan is making itself a strong competitor to other car manufacturers in the industry. According to Repair Pal, Nissan is highly reliable and far less expensive to repair than competitors.
Besides the alluring color of the 2021 Nissan Rogue I drove, there was lots to love about it. To start, it is all wheel drive and still gets up to 35 MPG on the highway. Not only will you climb mountains and hills with ease, you'll still maintain a good fuel economy.
Besides the basics of fuel economy, here are a few of my favorite features about the 2021 Nissan Rogue.
ProPILOT Assist
It seems like it's been said a lot recently, but the future is here. No, really! After learning about the 2021 Nissan Rogue's ProPILOT Assist with Navi-link feature, I'm convinced.
With this feature, you can let the car drive you—even on the freeway. The Nissan website says, "If an off-ramp is coming up, Rogue can smoothly negotiate it. If Rogue detects a speed limit sign, it can automatically adjust its set speed. Rogue can also help you navigate stop-and-go traffic and stay centered in your lane – or your chill zone."
The car literally drives itself using cameras, radar, sensors and electronic control. You just have to keep your hands on the steering wheel while the car detects speed limit changes (and automatically adjusts), the distance between the car in front of you and any traffic jams that may arise.
This is bundled with a host of other safety features that actually won the 2021 Nissan Rogue the 2021 IIHS TOP SAFETY PICK+ from the Insurance Institute for Highway Safety for its crash safety features.
Cameras
As any of my friends and family can attest to, I wouldn't stop raving about the cameras in the 2021 Nissan Rogue. Not only does it have a standard rearview camera, it has side cameras and a camera on top to create a sort of birds eye view. As you can see in the photo below, I can see the car as if I'm looking down on it, making parallel parking, reversing or any other challenging situation so much easier.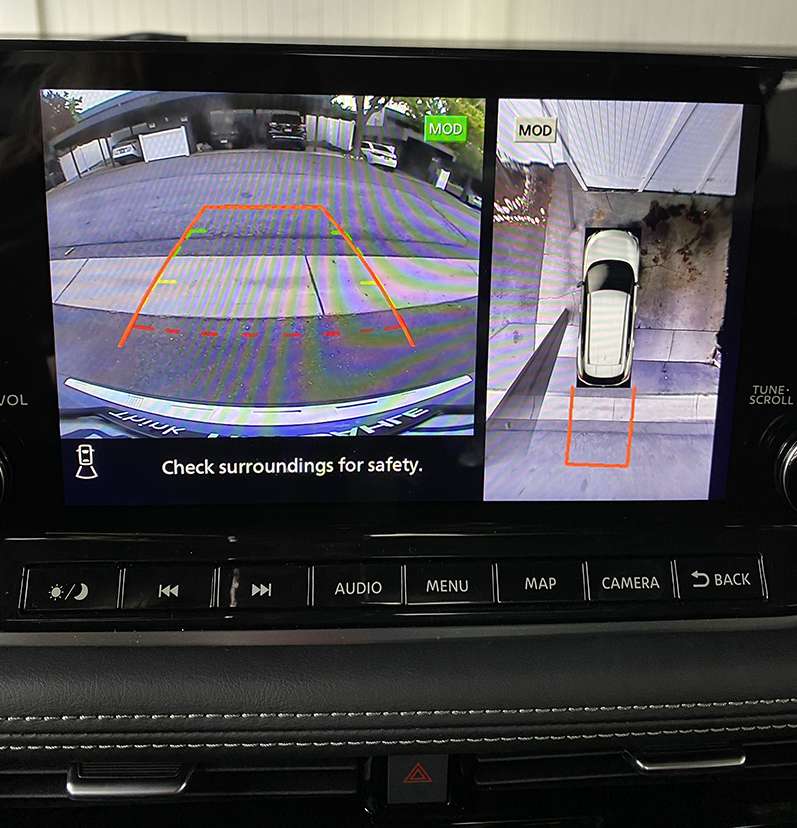 Nissan calls this feature the Intelligent Around View® Monitor. Their website says, "Select from split-screen close-ups of the front, rear and curbside views to help you smoothly maneuver into a parking space." I'm a fairly confident driver, but this feature made me feel so much safer and more thorough.
Sleek design
Not only did I fall in the love with the color of the 2021 Nissan Rogue, I love the new design. One of my friends drives an older model Nissan Rogue, and while it's still a fantastic vehicle, Nissan has made so many improvements on their newest model.
Instead of the rounded back end and hatchback, it takes on a more narrow, efficient look (though not at the sacrifice of cargo space).
Within the car, you'll find one of the most comfortable driver setups I've come across. The middle console leaves the perfect amount of space for the driver and passenger both to feel comfortable—and not too squished. But it doesn't sacrifice drink holder space, either!
One thing I loved—and imagine many Diet Coke addicts throughout the state will as well—are the adjustable cup holders. If you have a drink with a smaller base, it has an extra piece that engages to hold your cup taut. If you have a 44 oz Dr. Pepper (no judgments!), the extra piece simply folds into itself automatically to accommodate the larger cup or bottle.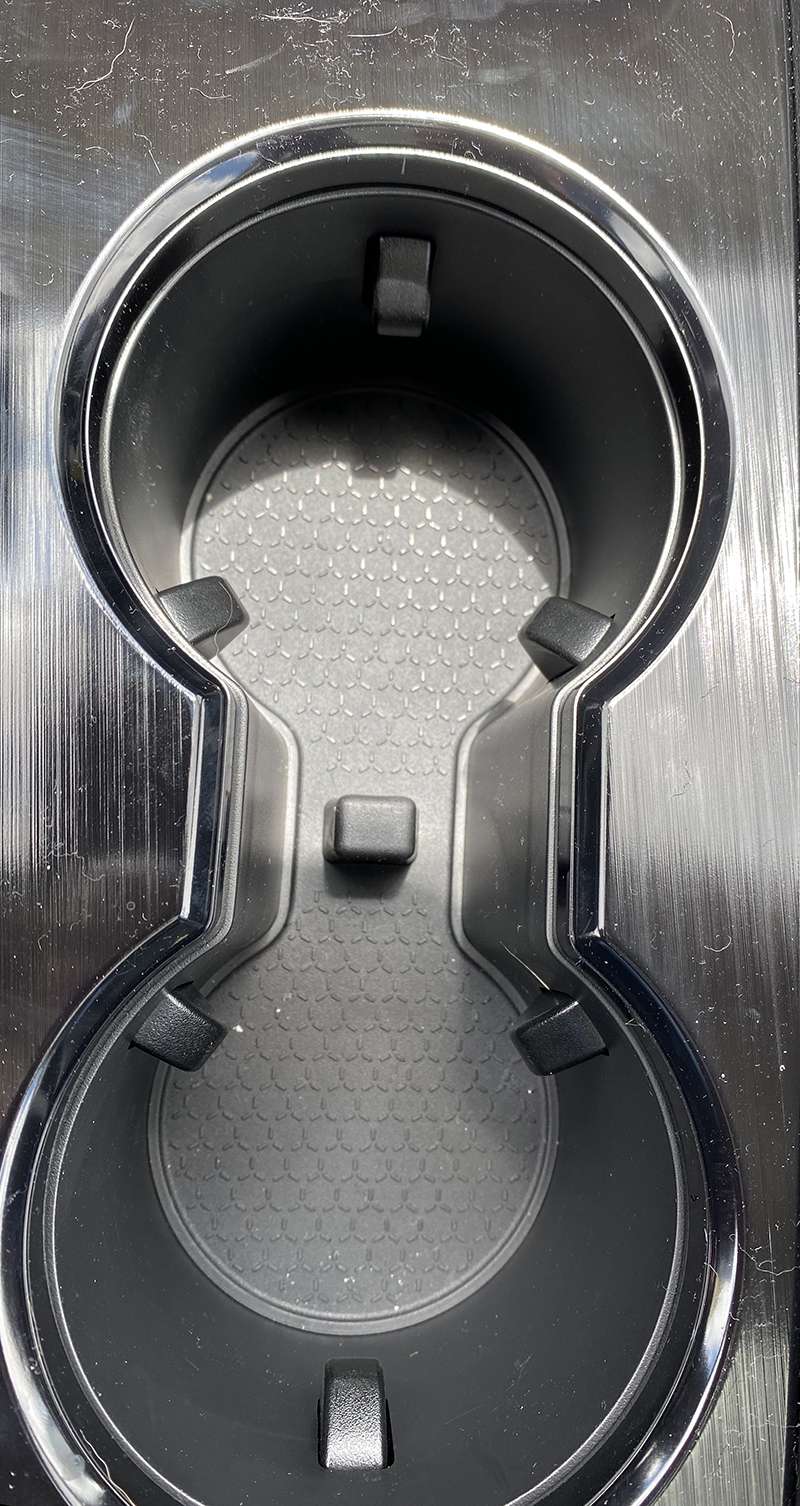 Of course, I would be remiss if I left out the amazing technology available for the driver. Not only does the 2021 Nissan Rogue come equipped with Car Play and Android Auto, the screen for viewing your podcasts, music, maps (and in my case murder mystery audiobooks) is a comfortable 8-inch screen (standard models or 9-inch for SL and Platinum models).
In addition to the large screen, the driver has a viewpoint just behind the steering wheel that can show them nearly anything they want to see. I preferred to see my calls, music, and true crime podcasts on my view. You also have a great feature at your disposal if you are one that tends to get lost. Not only does the 2021 Nissan Rogue tell you what direction you're going, but it also displays what street you're on. As you can see below, I was going south on 1300 E.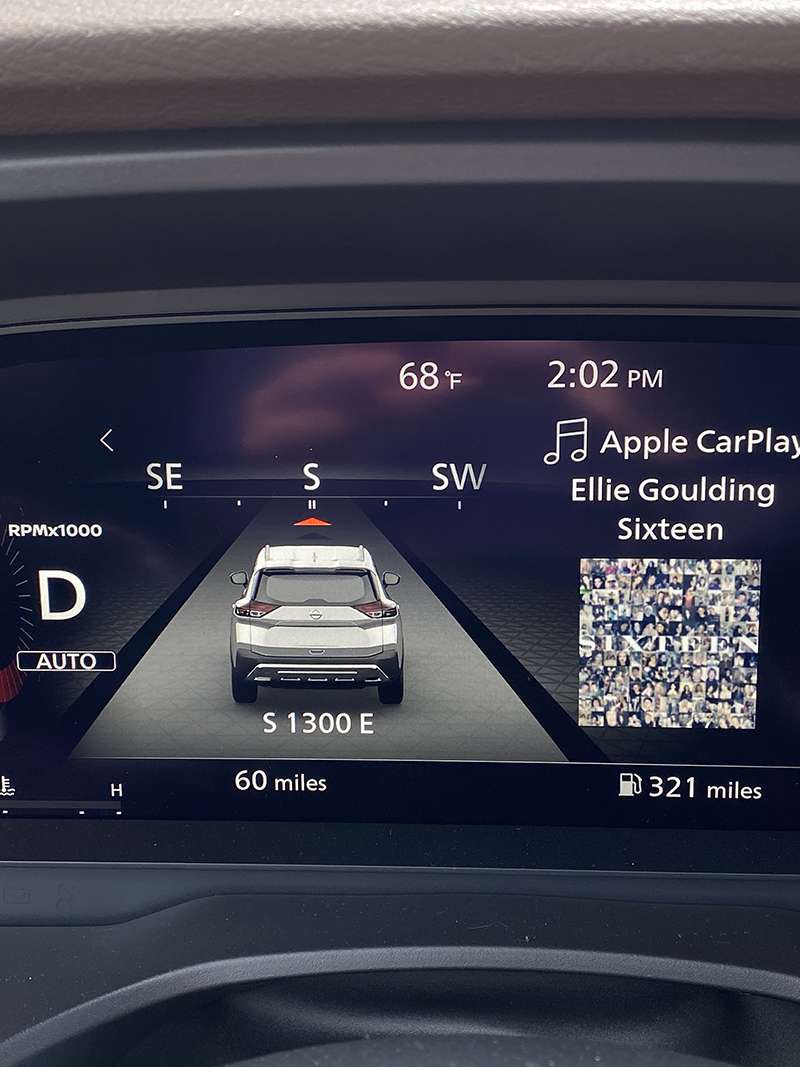 Overall review
My test drive of the 2021 Nissan Rogue left me wishing I could drive it around for much longer. The luxury technology, roomy cargo area and smooth driving capabilities are just a few of the reasons I would consider it for my next car purchase.
To test drive a new 2021 Nissan Rogue near you, visit your local Nissan dealer.
×
Photos