This story is sponsored by Robert J. DeBry—more than 200 years of combined experience practicing personal injury law.
Summer is the best time to get outside and enjoy a few extra rays of sunshine, and there's no better way to do it than by visiting your local public parks. And if you're struggling to find unique and affordable ways to keep your kids entertained all summer long, playgrounds are always a safe bet. They're fun, they're free, and they help the little ones burn off a little of that extra energy.
Plus, it's good for their health. According to a study from the National Institutes of Health, "playgrounds seem to be places for boys and girls to be physically active and to interact with other children whereof they could benefit with respect to their physical activities and resulting health outcomes."
If you're looking for the best playgrounds in Utah, look no further. From Ogden to St. George, here's a preview of some of the best places to take your kids for some wholesome outdoor fun.
Neptune Park in Saratoga Springs
The first thing you'll notice at Neptune Park is the giant pyramid structure built for climbing. While that alone could entertain your kids for hours, there's also a play area for smaller children and toys for bigger kids around the pyramid. Beyond the playground, the park has barbecue grills, picnic tables, a basketball court, and plenty of grassy areas for the kids to run around. Bathrooms and drinking fountains are included.
You'll find the park at 452 W 400 N in Saratoga Springs.
Creekside Park in Bountiful
A relatively new playground in Bountiful, Creekside Park has it all. Children young and old will love the giant slides, climbing walls, swings, water pumps, merry-go-round and more. And once the playground wears them out, they might enjoy a shaded walk down to the creek below.
According to the Bountiful Parks Department, there are 8 acres of park to enjoy, slackline poles, water play tables and channels, paved and natural walking trails as well as a footbridge. You can get to Creekside Park at 600 E Mill Street in Bountiful.
Wild West Park in West Jordan
Recently remodeled, Wild West Park in West Jordan provides a place where your children's imagination can truly run wild. The playground was made to look like an Old West town with a bank, jail, and plenty of toy horses to ride. There's a train-themed play area for toddlers as well as a zone for children ages 5 and up. With giant slides, a zipline, spinning toys, and plenty of climbing areas, your little buckaroos will have a rip-roarin' time.
One Yelp reviewer said, "This park is the most awesome park...There are two zip lines, one that is a little disc you sit on and the other is a full chair you can sit in (for all ability levels). There are also a couple of large slides in that area. Tons of grassy area too."
The Wild West Park is located at 1985 W 7800th S in West Jordan.
https://www.instagram.com/p/CHyhGapBHYe/?utm_source=ig_web_copy_link
The All-Together Playground in Orem
The All-Together Playground in Orem is not only a fun place for children of all abilities, but it has a touching backstory. In the fall of 2016, more than 4,000 volunteers and playground construction professionals came together to build Utah County's first all-abilities playgrounds in just 6.5 days, according to the City of Orem.
An all-abilities playground is great for children's physical, social, cognitive, and sensory abilities, says the City of Orem. The playground features an obstacle course, climbing areas, themed play areas, and swings and slides galore!
Go check out this inclusive playground at 200-298 100 N in Orem.
https://www.youtube.com/watch?v=6maLNKzoAA4
Discovery Park in Pleasant Grove
Located within Manila Park, Discovery Park in Pleasant Grove offers plenty of amenities to keep everyone entertained. Explore Utah Valley says the playground includes whisper dishes, a dinosaur sandpit, an earthquake platform, music tubes, and much more.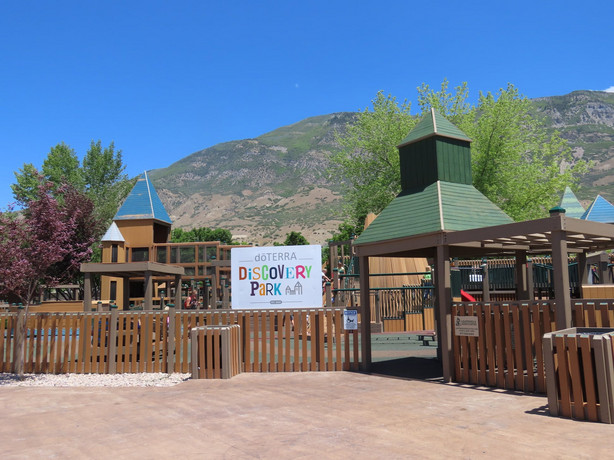 Following in the footsteps of the All-Together Playground, thousands of volunteers recently helped update it to include a variety of accessible options for children of all abilities, notes the Facebook page, Rediscover Discovery Park. Your kids will love the three-story space shuttle (which makes realistic launch sounds), maze, and obstacle course.
See it for yourself at 1550 N. 100 E. in Pleasant Grove.
Sierra Newbold Memorial Playground in West Jordan
Built in memory of a little girl who was abducted and lost her life, the Sierra Newbold Memorial Playground is a place that celebrates childhood innocence and fun. The playground is all accessible and features new play areas that are great for all ages.
One Google reviewer wrote, "Beautiful park/playground! I like that the picnic benches are spaced so I can easily see my kids wherever they are. There's a little bit for kids of all ages so my 3-year-old and 6-year-old are equally entertained."
After a full day of climbing, spinning, sliding, and running around, cool off on the splash pad (open Monday-Saturday). The park includes bathrooms, tennis courts, baseball fields, basketball courts, and a pavilion.
The Sierra Newbold Memorial Playground in West Jordan is located within Ron Wood Memorial Park, reports West Jordan City. You'll find it at 5900 W New Bingham Highway.
High Adventure Park Playground in Ogden
If you're looking for a good playground up north, check out Ogden's High Adventure Park Playground. There are two play areas—one for toddlers and one for older kids.
You get the classic playground elements of slides and swings mixed with crazy-looking climbing elements, making it the best of both worlds. There's also easy access to the River Parkway Trail once you're ready for a break.
According to Ogden City, you can expect to find two playgrounds with a wood chip base, equinox art, a cable climbing station at one of the playgrounds, and covered tables for parents to relax at.
You can find the park at 1859 Grant Avenue in Ogden.
Thunder Junction All Abilities Park in St. George
With 2,740 Google reviews and an average rating of 4.8 stars, Thunder Junction All Abilities Park is one of the highest-rated parks in the state. It's a feast for the eyes alone. The park features a dinosaur theme, a climbing wall, an "erupting" volcano, ziplines, a splash pad, a musical area, and wheelchair-accessible equipment.
There's also a C.P. Huntington 1/4-scale train on a 2,700-foot track around the playground, so it almost feels more like an amusement park. (Park admission is free, but train rides are $1 per person.)
Start your thunderous adventure at 1851 S Dixie Drive in St. George.
Harvey Park in Cedar Hills
Brand new in 2020, the space-themed Harvey Park in Cedar Hills is a guaranteed blast for all ages. Whatever your favorite park features are, Harvey Park has it all. From climbing structures to rocket-fast slides, shaded swings, a splash pad, a musical area, ziplines, and more, there's no time to be bored. There are also basketball, pickleball and tennis courts.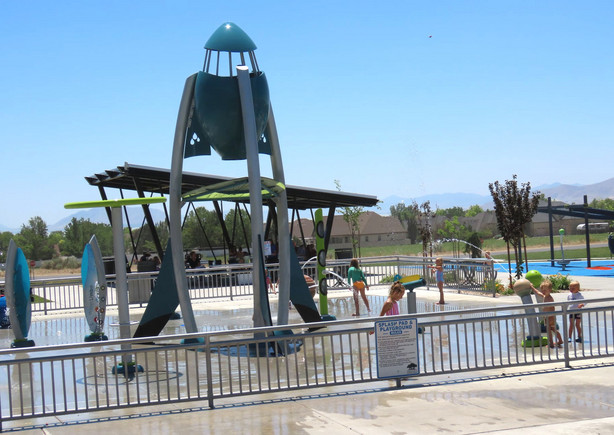 According to Utah's Adventure Family, the splash pad was a huge hit with their kids because of the sprayers and the giant rocket that dumps water every 15 minutes. The extra amenities — such as the pickleball courts, soccer fields, and walkways — make this a great destination for the whole family to enjoy.
Visit Harvey Park at 4301 W Harvey Blvd. in Cedar Hills.
Patriot Park in Saratoga Springs
If you've got a family of baseball fans, you'll love the baseball-themed Patriot Park in Saratoga Springs. The park has pickleball courts and six baseball fields, each named after a branch of the military (The Army Field, The Navy Field, etc.), but the playground is certainly one of its best features.
With an oversized baseball mitt slide, a catcher's mask climbing structure, and a set of giant baseballs to play around, it's truly a field of dreams.
To visit this home run of a park, go to 444 East 400 South in Saratoga Springs.
Did your favorite park make the list?
While this list provides a great starting point, Utah has plenty more public playgrounds that will keep you and your kids entertained all summer long. For a wider selection in the Salt Lake County area, check out your local county's parks and recreation department website.
×