This story is sponsored by Robert J. DeBry—more than 200 years of combined experience practicing personal injury law.
Over the past year, police brutality and officer-involved shootings have been a hot-button issue on the minds of people all across the nation. Disturbing images of violence — particularly against Black men and women — have dominated news stories and headlines, causing many to question their trust of men and women in uniform.
In response to the questions and criticism, police departments in every state have re-examined the tools and tactics they use to control suspects. Here in Utah, the Salt Lake City Police Department is doing the same.
What is the department's policy on the use of force?
Salt Lake City police officers are committed to doing whatever it takes to keep the community safe. In very rare cases, this might include the use of force — or lethal force, such as officer-involved shootings. But the department is clear that this tactic is very much a last resort.
According to the SLCPD website, "Under department policy, a police officer must never employ unnecessary force or violence and should use only such force in the discharge of duty as is reasonable in all circumstances. … Force should only be used with the greatest restraint and only after discussion, negotiation and persuasion have been found to be inappropriate or ineffective."
Sergeant Keith Horrocks with the Salt Lake City Police Department clarified that long before the 2020 protests, officers have been trained in de-escalation methods and non-lethal options. However, the situation is always dictated by the subject in question.
"What we train is to use the least amount of force as possible to resolve any situation. That force level can simply go from talking to someone … all the way up to having a lethal encounter with somebody where an officer doesn't have any other option than to use lethal force," Horrocks said.
Because every scenario is different, Horrocks said, these tactics aren't always the same. But before a situation escalates to the use of lethal force, there are several things a police officer can do.
Here are seven non-lethal steps officers might take before resorting to shooting:
Using tasers
Using Conducted Energy Devices (CEDs) — or tasers — has long been a controversial topic. Some cite a 2012 study in the journal Circulation, which found that tasers are as deadly as guns if the subject has a heart condition or other medical concerns. Others say tasers aren't always effective, so police often have to resort to lethal use of force as a backup.
But the National Institute of Justice published a study examining the effectiveness of taser use against suspects, and those results tell a different story. After analyzing 12 agencies and more than 24,000 use-of-force cases, the study showed that taser use substantially decreased the likelihood of suspect injury. Police departments that used tasers reduced injuries to both suspects and officers over time. Incidents of taser-involved deaths were rare.
Of course, this type of weapon should only be reserved for violent suspects. The SLCPD policy manual states that "The TASER® device is intended to control a violent or potentially violent individual while minimizing the risk of serious injury. The appropriate use of such a device should result in fewer serious injuries to officers and suspects."
Pepper spray
The same study that analyzed taser use also looked at the effectiveness of pepper spray as a non-lethal use of force. The findings were about the same — using pepper spray reduced the number of subject injuries over time. However, officer injuries increased with the use of pepper spray.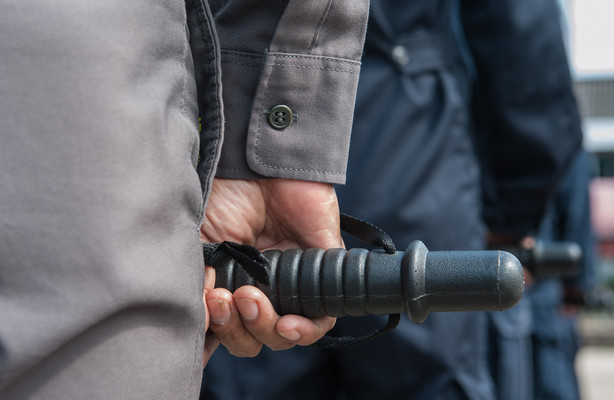 Telescoping steel batons
In the old days, officers carried around nightsticks or clubs. Today, most of them carry a telescoping steel baton instead. (Just as the name suggests, the baton retracts like a telescope.) SLCPD officers carry only department-approved batons that are authorized by the Training Lieutenant. Strict training requirements are also required for carrying batons.
40 mm foam rounds
40 mm foam rounds (also known as a "foam baton") is another non-lethal option SLCPD officers use. Instead of shooting bullets, foam batons launch sponge rounds, which are used to incapacitate aggressive or dangerous subjects.
Bean bag guns
The SLCPD recently acquired bean bag guns to give officers another non-lethal option that's more accurate than 40 mm foam rounds. These are fully functional shotguns loaded with "Super Sock" rounds, or small beanbags, instead of bullets.
In a KSL.com article, Lt. Alma Sweeny, head of training for the Salt Lake City Police Department, said they'd most likely be used for a suicidal person who is armed with a weapon such as a knife and who is threatening to harm themself. The goal is to shoot the person with the beanbags until they drop the weapon and can be taken safely into custody.
Bean bag guns are also effective for crowd control or riots.
Self-defense training
Weapons aren't the only things officers need in order to prepare themselves for dangerous situations. Participating in self-defense training helps officers protect themselves as well as subjects. A Deseret News article reported in the summer of 2020, The Peace Officer Standards and Training Council (POST) passed a motion requiring Utah police officers to take several hours of additional training, including defensive tactics training.
In the article, Scott Stephenson, the director of POST in Utah, was quoted as saying he had "seen a lot of videos where officers just panic because they don't feel comfortable using their hands. And so they go right to the tool belt." He believes additional defense training would help improve muscle memory and increase officers' confidence in using their hands before their weapons.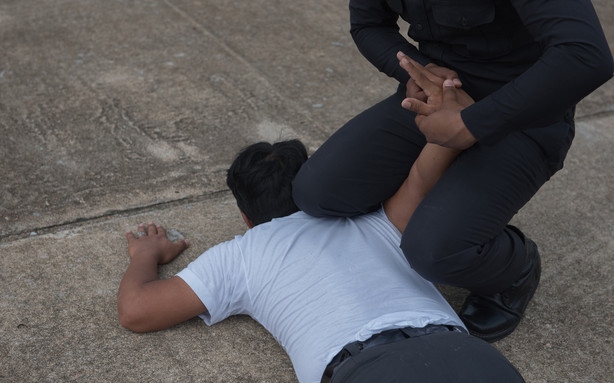 Training in verbally de-escalating situations
Another critical part of training is helping officers learn how to de-escalate situations. According to Horrocks, de-escalation training has been a part of the SLCPD training for years, but it's not something that's totally in the officer's control. While the goal is to bring subjects back to a level that doesn't require the use of force, "it's all predicated on what the subject's going to do."
One significant step the department took this year was to partner with KultureCity for training on how to approach people with autism and sensory needs.
"We looked into their program and thought that that was a good training to implement, so we partnered with them and we put all our police officers, firefighters, and 911 dispatch centers through (that training)," Horrocks said.
In doing so, Salt Lake became the first city with emergency services to complete the KultureCity program.
Always looking for ways to improve
When it comes to the use of deadly force, police officers are taught to exhaust every possible option first.
"Our training is that we use the least amount of force necessary to resolve the situation," Horrocks said.
However, even with all of these tools at their disposal, situations can change rapidly, forcing officers to quickly change tactics. Something that begins as a verbal interaction can turn into a deadly force situation within seconds.
Though it's difficult to predict what might happen in every situation, Horrocks says the department is always training and seeking ways to improve what they do.
"Policing is something that is ever-evolving and changing, and the point of that is to hopefully better make a police department that helps make the community better."
For more information on what Utah police officers are doing to improve de-escalation efforts, you can visit your local police department's website.
×