WEST JORDAN — Like most teams in the spring of 2020, Snow Canyon's baseball team got six games into the season before it was canceled by the COVID-19 pandemic.
The Warriors were hosting a tournament against Ridgeline, Weber and Springville, among other teams, at the time and played out the remainder of the season before schools also closed down to in-person learning, as well.
By Saturday afternoon and after an early advantage in the first game of the Class 4A state championship series, Snow Canyon had made up for plenty of lost time — and then some.
Landon Frei went 2-for-3 with a triple and three RBI to lead the Warriors to their first Class 4A state baseball championship since back-to-back titles in 2012 and 2013 Saturday afternoon at Cate Field on the campus of Salt Lake Community College.
"As a senior, it feels good to get a full season," said Snow Canyon senior Mason Strong, the team's catcher. "It felt like we got cheaped out of last year. This has been a great year, and I've just been doing things with my buddies."
Frei drove in a run on two outs in the bottom of the sixth to go up 6-4 and to pull away for good, a day after Snow Canyon scored three runs on two hits to set up Saturday's finale.
Sam Lindsey added a run-scoring triple for Snow Canyon (28-4), and winning pitcher Isaac Lyon added an RBI double for the Warriors.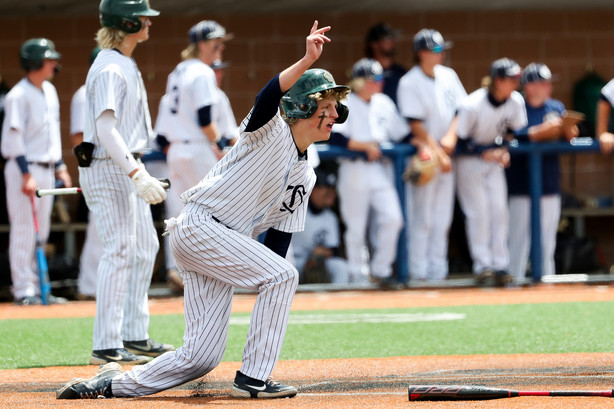 Lyon allowed just two runs with two strikeouts before being pulled in the fourth, and Ethan Anderson added four strikeouts to help seal the deal for the Warriors.
"It means a lot, especially to these seniors now," said Snow Canyon coach Reed Secrist, moments before taking the celebratory water cooler shower for the first time in nearly a decade. "They felt like a lot of them were starting last year, and we thought we could be here.
"To be able to get it done this year has been our dream come true, for sure."
JC Jones had a double and an RBI to lead Mountain Crest (23-9), and Caden Jones added a double for the Mustangs, who were kept off balance by Lyon, Frei and Luke Anderson with four runs on seven hits.
×
Photos
Related Links
Related Stories