SALT LAKE CITY — By most defensive metrics, Rudy Gobert just completed one of the most dominant defensive seasons ever.
ESPN's Defensive Real Plus-Minus ranks Gobert's 2020-21 performance No. 1 since 1996 (the first year the stat was tracked). FiveThirtyEight′s Defensive RAPTOR metric gives the Utah Jazz center's season its best ranking ever, same with BBall Index's D-LEBRON stat and Cleaning the Glass's defensive-rating swing.
What does all that mean? Well, a lot… or a little… or nothing at all. It kind of depends on who you ask.
Even those who are the smartest in the league don't always agree on what advanced stats, which Gobert often dominates in, are actually saying. There are arguments that you need multiple seasons to truly see a player's impact on some metrics and others that state that trying to find a catch-all defensive stat is a trivial exercise.
And that is the problem in trying to quantify Gobert's true value: it's simply hard, if not impossible, to do.
Things that are easy to notice: Steph Curry pulling up for a 30-foot 3-pointer, LeBron James bulldozing down the paint, Kawhi Leonard locking down a perimeter player on a crucial possession.
Things that are not: How every little thing about the Jazz's defense revolves around Gobert.
The clearest way of seeing Gobert's impact is seeing how Utah had the top-ranked defense when you factor out garbage time, despite mostly fielding a team of offensive-oriented players. Bojan Bogdanovic, Donovan Mitchell and Jordan Clarkson are hardly known for their defensive abilities. It'd be interesting to see how well Joe Ingles, Georges Niang and even Royce O'Neale would do on a team that doesn't have Gobert.
Gobert will be the runaway winner for Defensive Player of the Year — even if one certain 76er insists it's a race (side note: what's with Ben Simmons and Jazz players contentiously contending for awards?).
"Rudy allows us to pressure up into the ball and force guys to the rim," Niang said earlier this season. "As long as you can stay on your guy's hip or semi in front, it's almost like, good luck."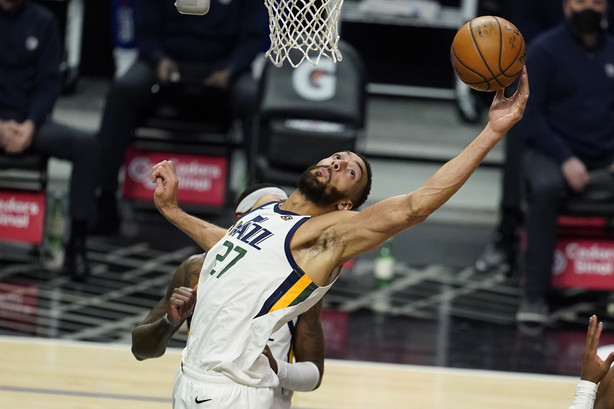 But good luck finding a consensus on Gobert's abilities. Most NBA experts agree on the 7-foot-1 Frenchman's defensive prowess and his importance to the Jazz as a whole, but there's still a narrative that exists that the best defensive player in the game gets played off the court once the postseason comes around.
"Obviously there's always a lot of false narratives on me on what I do to help my team on the court," Gobert said on Friday, two days before his team tips off for the playoffs.
Call it selective memory — or at least selective exposure. The narrative began with Curry crossing him over during the 2017 playoffs, creating an endless array of GIFs featuring Gobert twisting and turning. It continued when Chris Paul feasted in the mid range during the 2018 playoffs after Gobert had switched on him. Now, it seems every time Gobert gets beat in space or on the perimeter, it's a highlight-reel play shared throughout NBA social media.
"People are always going to broadcast the one game when I have a bad game," Gobert said.
As for the numerous games and plays between those featuring Gobert recovering to make a block or to deter a shot attempt altogether? Those hardly garner any attention. Why? Well, for one, they aren't as exciting; and two, they've become commonplace — so much so that Mitchell openly questioned why guards keep going at Gobert in isolation.
"I wouldn't," he said bluntly.
Gobert knows that particular narrative is false, but he also concedes that his playoff record doesn't back him up. His Utah teams have never made it past the second round; and what's worse, they have never been competitive in a second-round matchup. So, for Gobert, it's simple: If he wants that talk to end, the Jazz have to go on a deep run.
Gobert and the Jazz have plenty to prove when the postseason begins on Sunday: that their league-best record isn't a fluke, that Mitchell is a scorer who can push a team to the next level, and that a defense anchored by Gobert can compete for titles. Even as the No. 1 seed, there are still plenty of questions around the team.
"No one really expects us to do much, and I think that kind of feeds our fire," Mitchell said. "We've got to go out there, and you gotta do what we do and try to become champions."
If they do that, all those negative narratives will fade away.
"When you win, what more can they say?" Gobert said. "Nothing."
×
Related Stories