SALT LAKE CITY — Four years ago, when Easton Tangaro was the only golfer on the Wendover High boys golf team, he'd often make the two-hour trip back to the west desert after the state meet, sometimes with a medal, but usually alone or with head coach Nick Tangaro.
Just a week before graduation, he'll make the drive home with something he's never had before: a team, including younger brother Trejin.
And also, a state championship trophy.
For only the second time in the history of the school, Wendover claimed a state title in the Utah High School Activities Association by one stroke at the Class 1A state meet title Wednesday afternoon, taking a 710 to 711 advantage of runner-up Valley over 36 holes at Rose Park Golf Course.
Avre Gomez carded a two-day total of 12-over-par 156 for third place to lead the Wildcats, Tangaro finished fourth just four strokes behind, and Trejin Tangaro was 14th with a two-day 183.
Prior to Wednesday, Easton Tangaro's greatest achievement — one he said he will always remember — was the second-place finish the Wildcats' basketball teams added from the 1A state tournament. The runner-up trophy this past winter was bigger than any he had received before, after all, for the school of about 180 students located in Utah's west desert.
Wednesday will top that — breaking the school's state title drought that goes back to the 1995-96 baseball season.
"I'm going to be honest: I didn't expect us to be here," said Tangaro, who shot a personal-best 79 Tuesday to finish with a two-day total of 160. "It's pretty awesome.
"We kept it really simple: if you win your group, we win state. We just went out and tried to perform our best. I think we did."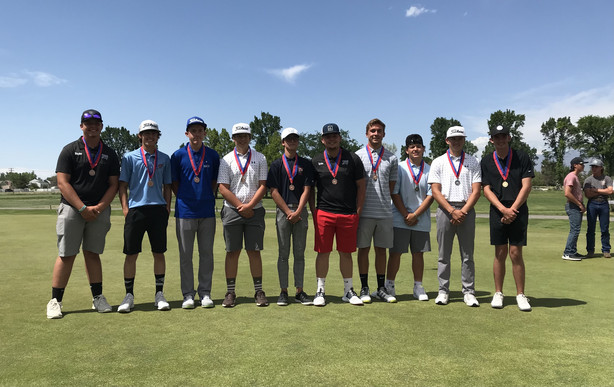 Manila's Brody Schofield took medalist honors with a two-day total of 7-over-par 151. Valley's Connor Chamberlain finished four shots back for second, followed by Gomez, Tangaro and Milford's Kyden Peters in the top five.
How unexpected was Wendover's title? Not only did the Wildcats edge out the five-time reigning champion Owls, but they did it with the first total team performance since the mid-90s, head coach Nick Tangaro said.
Not bad for a team that doesn't play out of a home course in the state of Utah; Wendover will travel across the state line to West Wendover, Nevada, where the Toana Vista Golf Course staff has rolled out the red carpet and embraced them as the local team, the head coach added.
The Wildcats didn't even compete Wednesday in their team shirts. They're just too thick and heavy to wear on a sweltering 81-degree day where scattered showers increased the humidity, as well.
After the title, Tangaro jokes he might have to re-think the "team shirts" idea moving forward.
"I almost had one of our boys pass out during a meet because of them," he said. "We had to pull him off the course, because it was too hot.
"If that's what makes them play good, then I'll have to let them play."
After that, it came down to waiting. And the wait was long on the back patio at Rose Park, as Wendover and Valley golfers paced back and forth while results were tabulated.
"It was crazy," said Tangaro, who also helped the Wildcats and its 180-student school to a second-place finish in basketball during the winter. "When we found out we won as a team, it was a feeling that I will never forget. It's something few people ever get, and I never thought we'd be here right now."
Jayden Murphy added a top-30 performance with a two-day 211 to cap the scoring for the Wildcats, who also brought a fifth and sixth golfer, Sebastian and Felipe Dorado, to the state meet — another program first.
All but Easton Tangaro and Murphy will be back next year. So while the Wildcats may not be "favorites" to win the title again, don't count them out, either.
After all, they've already accomplished what many thought to be impossible.
"We've been waiting to build this group together," the elder Tangaro said. "Most of the kids are out there every day, even when it's hard to get students who are interested in golf. It's just not one of the sports that draws a lot of attention.
"With this, maybe we'll be able to field a team next year, as well."
Class 1A boys golf state meet
Rose Park Golf Course
Team scores
Wendover 710, Valley 711, Milford 727, Piute 755, Manila 764, Wayne 775, Rich 795.
Top-10 individuals
Brody Schofield, Manila — 151
Conner Chamberlain, Valley — 155
Avre Gomez, Wendover — 156
Easton Tangaro, Wendover — 160
Kyden Peters, Milford — 163
Jake Jorgensen, Mount Vernon — 165
Cooper Chamberlain, Valley — 172
Noah Parry, Rich; Preston Olsen, Piute — 174
Rhyder Ambrose, Milford — 178
Full leaderboard, courtesy of Utah Section PGA.
×
Photos
Related Stories