OREM — Beaver's path to a state championship was anything but easy when the team woke up Saturday morning.
Three games awaited the Beavers — with limited pitching and everything else that entails for a Class 2A baseball team on the final day of the regular season — to claim that title.
The Beavers worked their way back from a loss in Thursday's quarterfinal, pushed aside two wins in the loser's bracket Friday, and won three games on Saturday to claim their first baseball title in school history with a 12-9 win over Parowan in Saturday's Class 2A state championship at UCCU Ballpark at Utah Valley University.
Crayton Hollinshead went 2-for-5 with two doubles in the second game for Beaver, and Jake Eichorn was 2-for-3 with two doubles.
The Beavers (19-9) scored a run in every inning but the first of the second title game, while Boston Black threw five innings to earn the win on the mound. Caleb Robinson and Derek Robinson each scored two RBI, and Come Carter added a double with two RBI for Beaver, which also added a 13-10 win over Duchesne and an 8-3 win over Kanab in the 24 hours before Championship Saturday.
Nick Goodman and Wyatt Hall each had a double with two RBI to lead Parowan (13-12).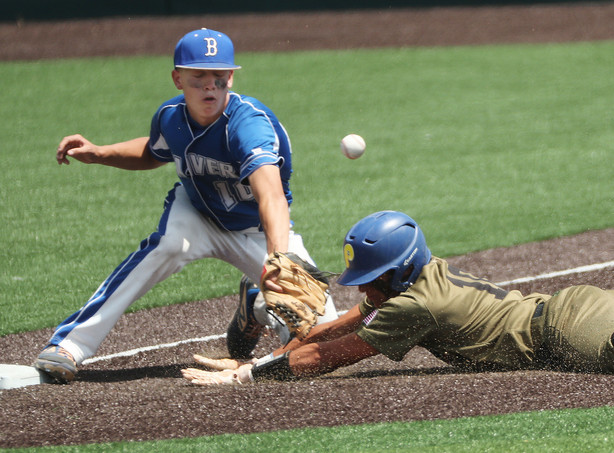 Game 1
Beaver 12, Parowan 7
At Utah Valley University, the Beavers erupted with 11 runs in the top of the fifth to help set up the second championship game with their fourth win in just over 24 hours.
Beaver (19-9) also rolled past Gunnson Valley 13-2 in the loser's bracket final in the first 2A game of the day Saturday morning. Caleb Robinson was 3-for-4 with a double, a triple and three RBI in the win.
Loser's bracket final
Beaver 13, Gunnison Valley 2
The Beavers started the day with eight runs in the first three innings to blow by the Bulldogs in five innings and into the championship final.
Caleb Robinson went 3-for-4 with a double, a triple and three RBI, and Bryton Langston added two RBI for Beaver. Winning pitcher Trexton Bailey helped contain Gunnison (21-3) to just two runs on six hits.
×
Related Links
Related Stories