With more than 15 years of experience in online education, Utah Online School is uniquely positioned to help students adversely affected by the pandemic. For years, educators across the state have relied on Utah Online School to get students back on track to graduate through credit recovery and grade replacement programs.
Here's what teachers, counselors, and administrators throughout Utah had to say about how Utah Online School has helped them meet their students' needs.
Utah Online a 'blessing' for teachers during the pandemic
When things shifted quickly from traditional in-person teaching to online learning last year, students weren't the only ones who had to adjust. For teachers all over the state, navigating virtual classrooms for the first time came with a steep learning curve. That's when many learned the value of Utah Online School's resources.
"I have never been more thankful that we signed up with Utah Online Schools than right now," said Principal Marianne Rozsahegyi.
"Our teachers have been leaning on the apps with UOS as a starter during Covid-19 for their remote learning and that has been a blessing."
A trusted expert in online teaching
Virtual learning may have been new to many teachers last year, but not for Utah Online School. Long before the pandemic began, they were already perfecting the online learning process.
---
Teaching online is not just something you do effectively...you must learn to teach online and Utah Online has been doing this for years
–Murray Hansen, counselor, Enterprise High School
---
"Teaching online is not just something you do effectively...you must learn to teach online and Utah Online has been doing this for years," said Murray Hansen, a counselor at Enterprise High School.
"Their instructors are excellent along with all their support staff. As a counselor, they are always responsive to our needs at EHS, and are they willing to work out the best option for students. With the changing landscape of education, they are an out-of-the-box option for many students. I am thankful for their help and support. I highly recommend them for any online option."
Counselors aren't alone in their endorsement of Utah Online School.
"Because of my belief in the quality of UOS, I have recommended Utah Online School to three other principals in my district," added Principal Gary Green.
Options for individualized learning
Since no two children are exactly alike, many schools are moving away from the one-size-fits-all approach to learning. Tera Houston, a middle school counselor, appreciates that Utah Online helps children at all levels succeed.
"These courses service both students who want to work ahead, and those who wish to have a flexible schedule of both online and in-person classes. UOS counselors are remarkable to work with and always available to help us," Houston stated.
Dave Peck, a teacher at Bingham High School, says that Utah Online helped motivate several of his students to graduate.
"My students have told me that out of the options available, Utah Online is their first choice when it comes to making up credits. Bingham has a number of students that were very close to giving up on graduation, but because of Utah Online they can now see that they are able to accomplish their goal of graduating with their friends and classmates," Peck affirms.
Middle school lab mentor Brandy Paulson likes that Utah Online's format keeps students engaged and learning all throughout the year.
"Students are able to work from anywhere which allows them the flexibility to work on current courses, retrieve credits through credit recovery, the ability to work ahead to receive additional credit towards graduation, and summer courses to keep students engaged and learning. This encourages and enables our students to be continuous learners," Paulson said.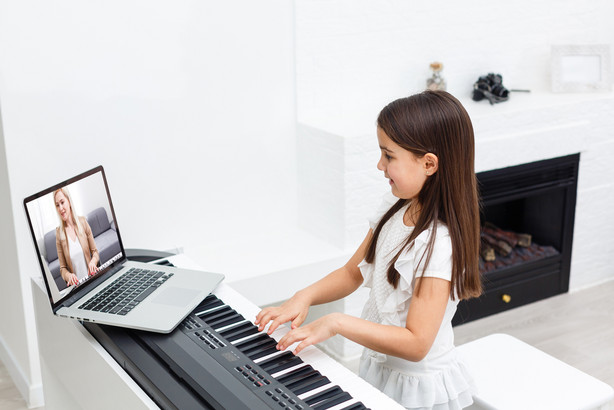 Prioritizing student needs
Through the years, Utah Online School has worked in tandem with traditional schools to meet individual students' needs.
"The counselors at Utah Online work with traditional school counselors in a way that respects traditional student values and provides support for the non-traditional student," stated Angela Atkinson, a high school counselor. "Working together, all students can reach their academic goals."
Whether through traditional or alternative means, the priority is always the student. Eric Christensen, a high school vice principal, is grateful that Utah Online makes it easier to help each child succeed.
"As an administrator and parent, I understand that traditional learning doesn't work for every student," Christensen said. "I have worked with UOS for many years in meeting the needs of our district students, along with meeting the needs of my own kids. When I went to school, the only options for learning were traditional schools and alternative schools, which both met in person. As a school district, our main goal is to get students to graduation and Utah Online is essential in getting our students to that end."
How Utah Online School can help your child
With the challenges of the past year, many students need help catching up on credits or replacing poor grades. Utah Online is here to make that process simple and easy to navigate through their credit recovery and grade replacement programs.
While it's available all year, summer is a great time to take advantage of the credit recovery program. For a flat $50 fee, students can recover as many courses as they want during a nine-week session. As soon as a course is complete, they can start a new one, which allows students the opportunity to complete courses as quickly as they are able. They'll also have daily help from mentors to keep them motivated.
Bingham High School partnered with Utah Online School (UOS) this past year for its newly implemented Prospector Credit Recovery Class, explains MacKenzie Coburn, a school counselor. "Bingham has found that our students have been more successful at remediating credit through UOS than other programs or methods we have utilized in the past. UOS provides quality learning content and the ultimate flexibility for students to complete a course. Students can complete coursework at a pace convenient to them and also allows them to test out of units of content that they are already knowledgeable in. ...This tool has allowed us to set specific and personal goals with each student, which has resulted in increased motivation and productivity. Finally, the UOS staff has been exceptional to work with! We hope to use UOS for many years to come."
Utah Online School also offers a robust variety of free summer classes. With these courses, students can get ahead on credits and enjoy extra flexibility in their regular school year schedule. This means more time for extracurricular activities, concurrent enrollment, internships, and anything else.
Check out Utah Online School today and see for yourself why educators across the state endorse Utah Online School as the leading online provider.
×