Estimated read time: 4-5 minutes
This archived news story is available only for your personal, non-commercial use. Information in the story may be outdated or superseded by additional information. Reading or replaying the story in its archived form does not constitute a republication of the story.
Utah's varied trails and landscapes offer exciting adventure and a new access map of Utah's backcountry roads makes exploring those areas easier and safer than ever.
Created by Utah's Public Lands Policy Coordinating Office, the Utah Access Map 360° program provides geo-immersive video to help explore public land, plan routes, and discover new places—primarily on Bureau of Land Management managed areas. Unlike a traditional map, Utah Access Map 360° allows users to click on the section of road they hope to explore and see actual video from that route.
The state's diverse terrain provides nearly limitless opportunities for every type of recreationist to take in awe-inspiring beauty. But before going off-roading, it's crucial to plan ahead to help keep yourself safe, by creating a backup plan and knowing what areas are open to your type of recreation.
By planning ahead, you not only protect yourself and others, but you can also protect trail access by riding responsibly and in designated areas. Riders can be more self-sufficient and not rely on local emergency response resources or support. Preparation also supports Utah communities. In order to Ride Mighty, know before you go and be ready for anything.
Here is some additional information to make certain your adventure is safe and responsible:
Trail access and mapping
Before heading into Utah's wild places, it's important to check ahead to know if the trail you want to access is open to your mode of transportation. Land management agencies will often post this information on their website or have a number you can call to learn more. In case of changes, have a backup plan and always let someone know where you are going to be in case of emergencies.
Motor vehicle use maps (MVUM) show what trails are open to your type of vehicle. Some off-road trails are available to ATVs and UTVs but not full-sized vehicles. Riding on designated trails helps keep trails from widening, becoming damaged and getting closed. By learning how to Tread Lightly! with a free online awareness course, you can also help keep trails open, healthy and beautiful.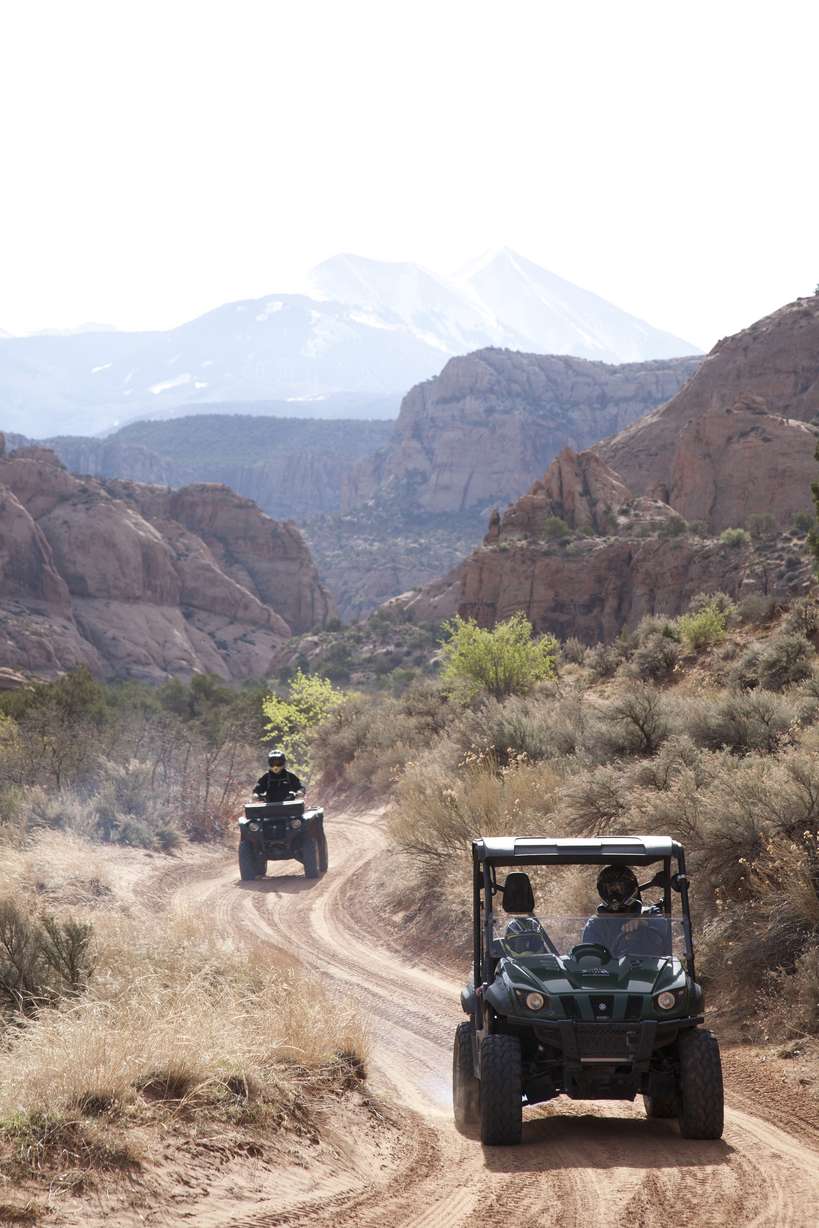 Get geared up
Having the proper gear is important when off-roading. Each type of recreation requires different safety gear and knowing what is required and recommended ahead of time can keep riders safe in case of accidents. Always ride with a helmet and eye protection when required.
Along with safety gear, knowing what kind of weather and elements you will encounter is important when it comes to packing. Be prepared for sudden temperature changes by bringing layers of clothes, a rain jacket, gloves, hat and sunblock. In winter months, be prepared with extra warm layers, headgear and emergency blankets.
Pack emergency items such as food, water, first aid kit, flashlight, communication device, power inverter and a paper map in case communication devices stop working. Finally, be prepared with trash bags to pack out any trash you have or that you find along the trail.
Improve your skills
Another element of preparation is knowing how to operate your machinery safely and correctly. Take an off-highway drivers' course to learn more about negotiating terrain in a four-wheel-drive vehicle. There are many online and in-person off-road safety courses as well that educate riders about safety gear and proper handling.
Riders will want to be prepared with the skills and tools to repair their machinery in case of an accident or breakdown. Before you go, make sure your vehicle is mechanically up to the task. Be prepared with a basic tool kit, tow strap, tree saver, spare tire and a spill kit for trailside repairs. In case of emergency, it is recommended to go in a group of two or more people and always let someone know where you plan to ride and what time they should expect you home.
There are many magnificent trails to explore on public lands in Utah. Help protect those areas and yourself by getting outside responsibly, planning ahead and educating yourself ahead of time. Use the Utah Access Map 360° and take the Tread Lightly! online course to help you get the most from your Utah off-road adventure.
×