Estimated read time: 8-9 minutes
This archived news story is available only for your personal, non-commercial use. Information in the story may be outdated or superseded by additional information. Reading or replaying the story in its archived form does not constitute a republication of the story.
Tendrils of summer heat are creeping into Utah after a long, uneasy spring. Some outdoor therapy is just what the doctor ordered to shed those quarantine blues.
Whether you're an avid outdoors person or looking to dip your toe into what Utah's outdoors has to offer, you can't go wrong with a visit to one of The Mighty 5 national parks in Utah. These incredible outdoor marvels include Arches, Zion and Bryce Canyon National Parks.
Each park has its own unique beauty, attractions and considerations for visiting responsibly, but no matter which you choose, there are tips and tricks you should follow to make sure you get the most out of what's sure to be an unforgettable visit.
Know your stuff
Visiting like an expert means you understand current conditions. Currently, parks are experiencing high visitation, which amplifies the need for visitors to respect restrictions put in place to protect the parks for your visit and for future visitors.
Whenever possible, make your visits during off-peak times: early mornings and weekdays will help you avoid crowds. Also make sure to be aware of any changes in park openings, area closures and operating times. Summer is fire season and occasionally nearby fires will affect park operations.
COVID-19 also continues to have significant effects on national parks and the phased re-opening will affect what services are offered. You can visit the Utah Office of Tourism's travel information page to get updates on the status of each park.
Learn about the land you're visiting
The best way to know what you're doing in a national park is to research its history and geography ahead of time. In Stephen Trimble's, "The Capitol Reef Reader," he delves into the history of Capitol Reef National Park and his story adapted for VisitUtah.com reflects on the five national parks in the Beehive State and why they're so magnificent. He says, "We will make decisions most wisely if we know everything we can about our parks."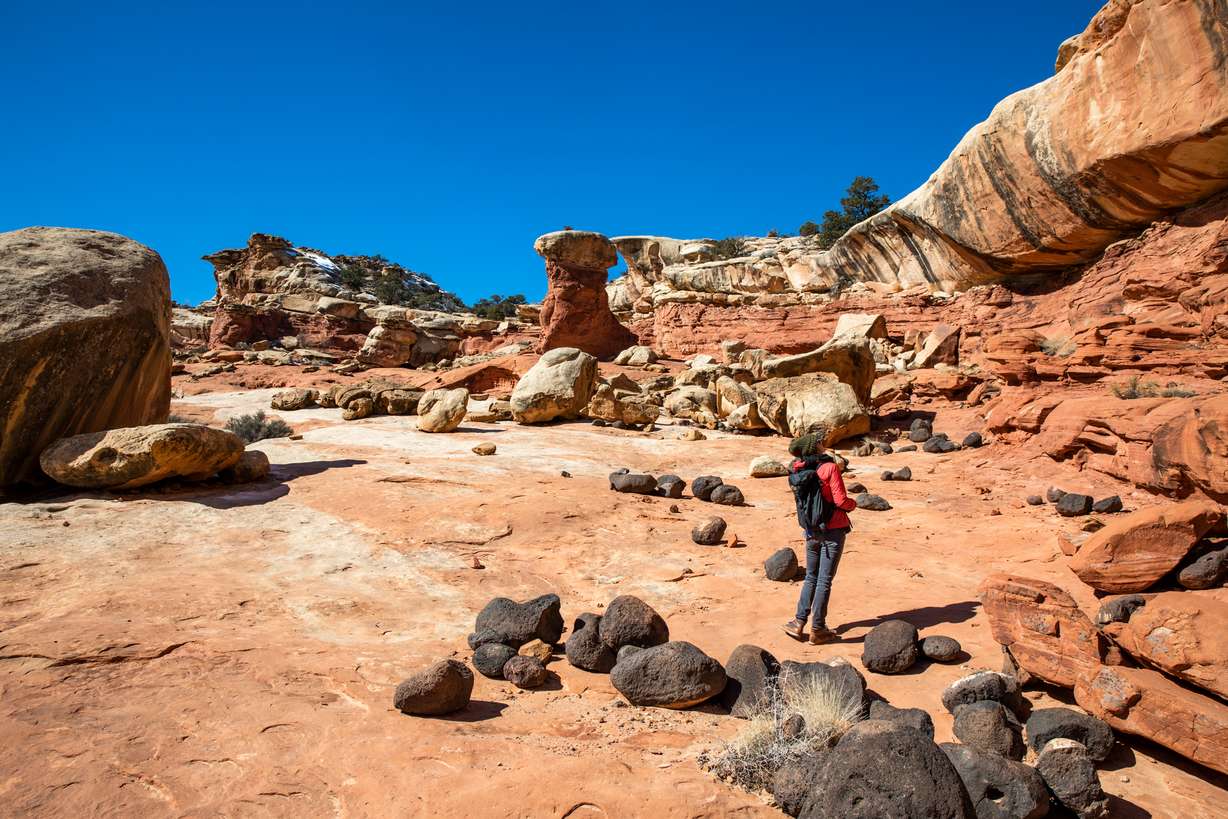 VisitUtah.com offers oodles of historical facts and information about Utah's national parks' history. For example, Trimble says people have been living in Capitol Reef for at least 12,000 years—11,800 years before Utah pioneers settled. Evidence of their residency lies in the petroglyphs and pictographs you can spot throughout the park.
Knowing more about the places you visit can instill deeper respect for each area's history. This knowledge can also inspire you to keep the area clean and be aware of your impact in visiting the park.
Dress properly and have a hiking essentials kit
Temperatures and weather can range widely within a single day's visit, which means you need to prepare with layered clothing you can add or remove as the day wears on. Hats, jackets, long sleeves, shorts, sweatpants, and sunglasses are all possible additions to your hiking ensemble.
Sun protection is just as important as protection from wind, rain and cold, so don't forget to dress to protect yourself from overheating and getting sunburned, too. The American Academy of Dermatology recommends applying broad-spectrum, water-resistant sunscreen of SPF 30 or higher every two hours (or more frequently if you go swimming). Adults need about an ounce of sunscreen to cover their whole body.
If you're a frequent hiker, you could try looking into sun protective clothing with ultraviolet protection (UPF) built-in.
Some items you'll need when hiking are obvious. Water, for instance, is a necessity you won't likely forget, though it might surprise you to learn that each adult should be drinking about 16 ounces of water per hour. Along with water, you'll want a few extra things in your pack.
Here's a list of hiking essentials with suggestions by visitutah.com:
Nutrient-dense snacks (jerky, trail mix, canned fish or tuna pouches, nut butter, dried fruit, etc.)
A charged cellphone (though it's important to note that you may not have service throughout a national park)
External cell phone battery charger
SPF 30 sunscreen and lip balm
First aid kit (adhesive bandages, gauze, medical tape, antibiotic ointment, moleskin, allergy-relief tablets, ibuprofen)
A small mirror (for emergency signaling)
Emergency whistle
Mylar blanket
Poncho
Extra socks (for stream crossings)
Changes of clothes and diapers for children (who are guaranteed to get dirty or fall in a creek at the worst possible moment).
Pack your kit into a sturdy backpack you can take along on your hikes. A first aid kit will do you no good if someone sustains an injury and your kit is miles away safely tucked into the trunk of your car.
Know your hike
While some people may have the flexibility to pick a hike at random and sally forth into the unknown, most people will want to do some research ahead of time to discover a hike with the right length and intensity for you and your hiking partners.
Families with small children, in particular, will want to make sure their hike is carefully curated with little ones in mind. Visitutah.com recommends these hikes as top family-friendly choices at Utah's national parks:
Landscape Arch (Arches) – Difficulty: Easy, 1.6 miles roundtrip
Bristlecone Loop Trail (Bryce Canyon) – Difficulty: Easy, 1 mile loop
Mossy Cave (Bryce Canyon) – Difficulty: Easy, 0.8 mile roundtrip
Cave Spring (Canyonlands) – Difficulty: Moderate, 0.6 mile loop
Sunset Point (Capitol Reef) – Difficulty: Easy, 0.8 mile roundtrip
Weeping Rock Trail (Zion) – Difficulty: Easy, 0.4 mile roundtrip
These hikes plus many more like them are sure to instill in your children a wonder of the great outdoors that simply can't be obtained any other way.
Photograph responsibly
While it's tempting to run all over the arches and red rock of southern Utah in an attempt to get your next Instagram photo, respecting the fragility of the area you're in is important.
It's not just imperative to pack out any and all trash you find or create in national parks, but it's also important to be aware of the very soil you're walking on. Southern Utah is covered with biological crust—a living soil that protects the ground and ecosystem of the area.
Ruining this crust could have devastating effects on the environment. The NPS says this crust keeps the rock and soil from turning into sand dunes—Utah is a desert after all. It retains water for plant life to tap into when it's a particularly dry stretch of time. It can take hundreds of years to reverse the damage of a single footprint or vehicle track. Breaking this soil up to get a good photo is not only unwise but irresponsible.
The bottom line: Stay on trails and durable slickrock. Don't forge your own path for the 'gram.
Even though you have to be aware of your surroundings, photographing national parks is an excellent way to spend a sunny weekend. VisitUtah.com has loads of photography tips for those looking to expand their portfolio and enjoy nature.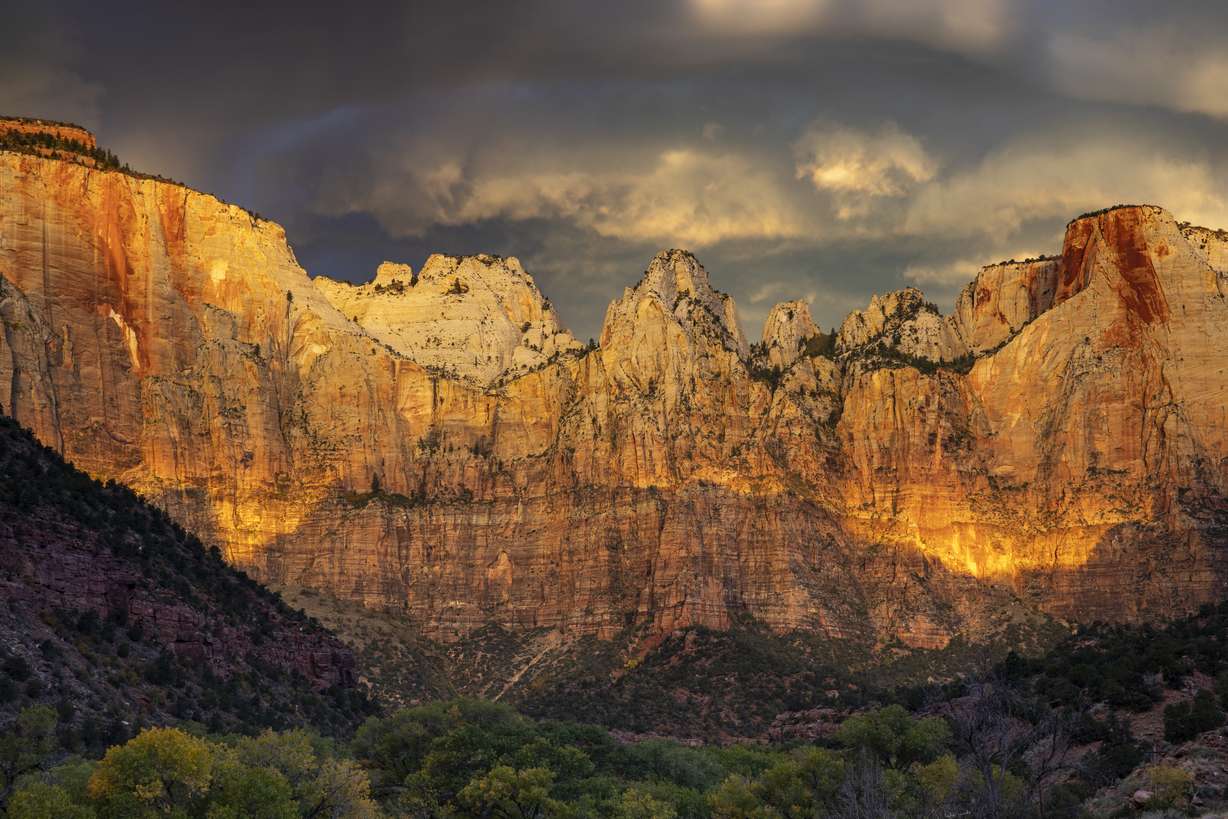 Plan for regional travel
Especially if you're a newcomer to Utah's Mighty 5 national parks, you'll want to make sure you do some research ahead of time. Decide whether you want to camp or find a bed and breakfast, when you'll spend your time in the park, and what activities you'll want to do.
Utah is vast. Trying to cover multiple regions (let alone all of the national parks) in a single trip is likely to lead to frustration and exhaustion. Instead, pick a region and get to know the larger area that surrounds each park. Learning about surrounding state parks, BLM lands or other public areas is likely to uncover scenic gems you will love.
Here are the Utah Office of Tourism suggestions and itineraries for each of the park's areas:
Check out Visitutah.com to learn more about the area, lodging and locals' favorite activities before you go.
×