Not only is it stressful enough to have to deal with an injury or pain, but the process of getting diagnosed and on the path to treatment has also traditionally been long, expensive and even wasteful. Especially now, more people are concerned about getting an MRI in crowded hospitals where COVID-19 could be lurking.
What hurts even more than the pain sometimes, is the financial burden one has to carry when undergoing this process. For many Utahns, insurance deductibles are high, which means much of the cost of initial assessment for pain or injury comes out of pocket. Initial doctor visits, X-rays and follow-up appointments can add up quickly. The time it takes to schedule these appointments can add to the frustration with the health care system.
Magnetic Resonance Imaging (MRI) is one of the best methods for detecting soft tissue joint injuries. In addition, fractures and bone contusions are easily seen on MRI. However, the average cost of an MRI is close to $2,611 nationwide, according to Money.com. Of course, this is before insurance kicks in. But for those with a high insurance deductible or who don't have insurance, this can be a major financial burden.
Kevin Taylor, M.D., decided this process was not beneficial for patients or medical professionals and he did something about it.
TaylorMED MRI in Lindon is the state's only MRI clinic that doesn't require a doctor's order. You don't need to see a doctor first or even have health insurance to get an MRI and you can get an MRI done for $399. In addition, people can usually get scanned the same day, if not the next day. Some patients have been able to even walk in and get an MRI. However, scheduling is preferred to guarantee a time slot.
"A lot of people are fed up with the health insurance hassle and are looking for ways to avoid it. This is a way for patients to take their healthcare into their own hands and save time and money while doing it," Dr. Taylor said.
The TaylorMED way
The average time to see a doctor for the first time in the US is 24 days. The average wait time nationally for an MRI is three weeks. Taylor's MRI clinic cuts that wait time down significantly and allows the freedom to know what's going on that same day.
Getting the actual MRI takes about 30-45 mins and you'll get your images and a radiologist report within 24 hours. Dr. Taylor is a board-certified radiologist specialist trained in Musculoskeletal Imaging at the Mayo Clinic, so you can trust the results you get.
After you get your results and report, you can then take them to your treating physician who can help you decide the best treatment for your problem.
"Our purpose is not for people to avoid seeing a licensed physician, we just want to get to a diagnosis faster and at a lower out-of-pocket expense," Dr. Taylor said.
"While this option may not be for everyone, it is a convenient and cost-effective solution for someone who has a high insurance deductible, no insurance at all or who wants to pay a low cash price," Dr. Taylor said.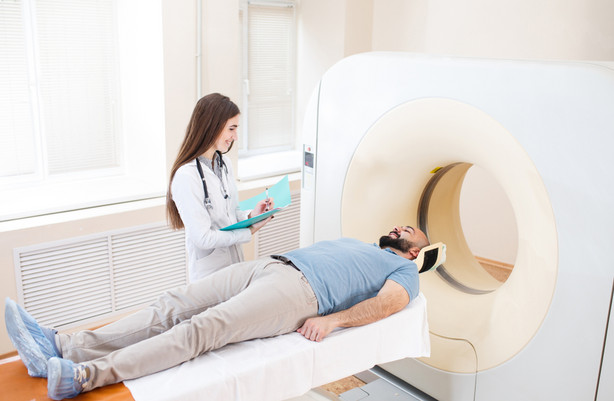 The response has been impressive. A patient drove up from St. George for his MRI appointment at TaylorMED MRI. After getting his results of his scan, he was going to make the four-hour drive back home. "There are no good options for imaging in southern Utah. It's more cost effective to drive up here than it would be to get the scan done in St. George," he said.
That patient is not alone. Patients have driven from every surrounding state and have flown in from various parts of the country to get their MRI for less. " You know there is a problem with affordable and accessible medical imaging when people drive from all the surrounding states to get one," Taylor said. Some patients have even flown in from Alaska.
It's an especially appealing option when you consider the crowded hospital imaging centers and a global pandemic sending people to the hospitals. Dr. Taylor says the majority of people who come to him for an MRI are otherwise healthy.
Maybe it's the price. Maybe it's because they can get the results the same day. Or maybe it is because they can schedule the same day. There are a lot of reasons why people have come to TaylorMED MRI. The $399 price for an MRI is thousands less than what other hospital-based MRIs cost. At TaylorMED MRI, you can pay with cash, credit card or use your HSA account.
The Salt Lake City office is located at 965 Woodoak Lane in Murray and is currently accepting appointments.
In Utah County, TaylorMED MRI is located in Lindon, just off the Pleasant Grove exit. You can schedule your appointment online or on the phone at 385-831-7674. For more information about how you can take control of your health, visit the TaylorMED MRI website.
×