OGDEN — There's a story Weber State inside linebackers coach Matty Ah You has shared about team captain Conner Mortensen.
It happened last September when the COVID-19 pandemic had all but shut down the Football Championship Subdivision nationally, pushing the 2020 season to the spring of 2021. Mortensen and the linebackers were still on campus, attending classes virtually and working out as much as NCAA rules and regulations would allow.
On one occasion, the linebackers went for a hike in the hills above Ogden. Ah You, the Lone Peak product who played at BYU and is now in his first season with the Wildcats, helped guide the group up the hill.
All except one, that is, by the time the "squad" reached the zenith and the coach went to take a picture.
"Missing Conner, cause he was up and down the mountain before we could get up," Ah You posted on Twitter, with a 😂 laughing emoji.
No one out works him, no one! There is no one more deserving then this kid. From a Walk-On to Defensive Player of the Year is a testament to his work ethic. Epitome of how you do one thing is how you do everything @condrew11@weberstatefb#SHOOTAShttps://t.co/4YJ5Wu3D8f

— Coach Matty Ah You (@Matty_AhYou) April 21, 2021
Whether the full story is anecdotal or apocryphal, the detail shares an important trait of Mortensen — the Wildcats' senior leader, top pass rusher and 6-foot, 215-pound battering ram who was recognized this week as the Big Sky Defensive Player of the Year from the winners of four straight conference titles.
"No one outworks him," Ah You later said when Mortensen earned the award. "There is no one more deserving than this kid. From a walk-on to defensive player of the year is a testament to his work ethic. Epitome of how you do one thing is how you do everything."
Things haven't always come easy to Mortensen, a former all-state running back out of Moapa Valley High School in Overton, Nevada. Despite setting a single-season school record for touchdowns, he didn't have a lot of recruiting hype and accepted a walk-on offer from the Wildcats following a two-year mission for The Church of Jesus Christ of Latter-day Saints in the Dominican Republic.
Four years later, Mortensen has been a part of four Big Sky champions, four FCS Playoff contenders, and the conference leader in tackles for loss with 9.5 during the five-game spring season.
Weber State (5-0) will look to defend their 11-game home winning streak when they open the delayed 2020 playoffs Saturday against Southern Illinois (2 p.m. MDT, ESPN3) — and Mortensen figures to play a big role in it.
Really, that's all he wanted prior to what he describes as a "roller coaster" college career.
"I always hoped to be in a position where I could contribute to the team," Mortensen told local media this week. "Did I think it would be to this magnitude? Not really. But I always tried to work as hard as I could, and I guess that is the result oftentimes.
"It's been insane. I feel super grateful all the time for the opportunities the coaches have given me, and the support they have given me. I've been super, super blessed to say the least."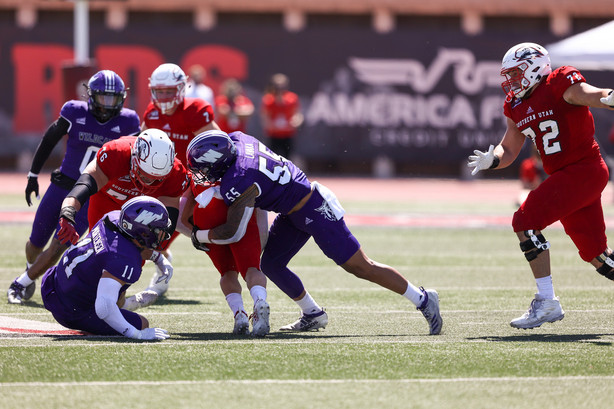 He may be modest, but Mortensen's accolades at the heart of Weber State's defense speak for themselves. Breaking in as a full-time starter in 2019, Mortensen led the team in tackles with 104 en route to a third straight Big Sky title and an appearance in the FCS semifinals for the first time in school history.
The 6-foot linebacker had a season-high 15 tackles in the Wildcats' playoff win over Kennesaw State, and also had double-digit stops against James Madison (13) and Nevada (10). But that's not what stands out most about Mortensen to his head coach.
"Conner's a phenomenal player," said Weber State's Jay Hill, who won his first Big Sky Coach of the Year honor Thursday. "I'm so excited for that kid and everything he's accomplished this year. He's played light's out.
"He had unbelievable stats this year, led the Big Sky in tackles for loss. He's a leader. And he came here as a walk-on; that's what I love most about him. He is a self-made, hard-working tough guy who just plays the game the right way, and everybody knows it."
Everybody but Mortensen, that is — at least at one point.
Mortensen opened up this week as he revealed that the former walk-on once thought about calling it a career. He didn't say when, but the feeling is understandable: Division I football is hard, and for a player paying his own way and one who redshirted straight off his mission for the entire 2016 season, feelings of doubt and unrest can be well understood.
Mortensen had to rely on the confidence of others before he found confidence in himself. Now, he's got both.
"I hate admitting it, but there were definitely times where I felt hopeless," he said. "I felt like my time was maybe better spent at other things, that I wasn't maybe going to get a shot. I struggled believing in myself and believing that I could get to where I am now. Luckily, I had friends and family members and coaches who gave me confidence and helped me to realize that playing and contributing at this level was a reality.
"But there were definitely times where it was hard. You're not really a guy sometimes, but hard work does pay off. It's definitely more credit to coaches, friends and family who kept me in it."
Just as his teammates and coaches believe in him, though, Mortensen now believes in them. The Wildcats were ranked in the top three nationally for most of the truncated spring season, though they found themselves outside the top-four national seeds when the playoff field was unveiled Sunday.
Hill said then that the rating "doesn't matter," this season more than any other, because the reduced-field, 16-team bracket doesn't provide a first-round bye to any seeded team. All the Wildcats can do now is take care of business — starting with Saturday's home game that will clinch a spot in the FCS quarterfinals May 1-2 (likely against No. 1 South Dakota State, which faces 3-0 Holy Cross in the opening round).
Fresh off their most successful season in school history, Weber State has expectations. And that's OK with them.
"I feel like it gives us the expectation," Mortensen said. "That's the bar we've set for ourselves, and we know the work it takes to get to that spot. If we want to go further, the discipline and work has to be stepped up.
"But it definitely gives us some confidence, the feeling that we've been here before. It gives us a feeling that we belong."
---
Football Championship Subdivision Playoff
April 24, first round
Weber State (5-0) vs. SIU (5-3)
Venue: Stewart Stadium, Ogden
Kickoff: 2 p.m. MDT
TV/Streaming: ESPN3
Radio: 103.1 FM "The Wave"
×
Related Stories