SALT LAKE CITY — This wasn't what ESPN had in mind.
When the network selected the Jazz-Lakers game for its Saturday afternoon time slot, it envisioned the LeBron James-led defending champions vs. the Rudy Gobert and Donovan Mitchell-led team with the best record in the league.
What did it get instead? Jordan Clarkson vs. Andre Drummond.
Turns out, that can be pretty fun, too.
The depleted LA Lakers beat the depleted Utah Jazz 127-115 in overtime Saturday at the Staples Center in a game that was way more entertaining than it had any right to be — especially the end of regulation.
With the seconds ticking down in the fourth quarter, Clarkson slipped a screen, which confused the Lakers defense that had thrown double teams at him all afternoon, and got an open 3 that gave the Jazz a 110-108 lead with 8.7 second left.
Game winner? Not quite.
Dennis Schroeder, who was a game-time decision himself, blew by Royce O'Neale and tied the game up with a layup just before the end of regulation. That shot sent the game to overtime where the Lakers took control. The poor overtime showing sullied the game a bit from Utah's perspective, but it truly was only a bit.
The Jazz (42-15) were without Gobert, Mitchell, Mike Conley and Derrick Favors on Saturday due to a myriad of bumps and bruises.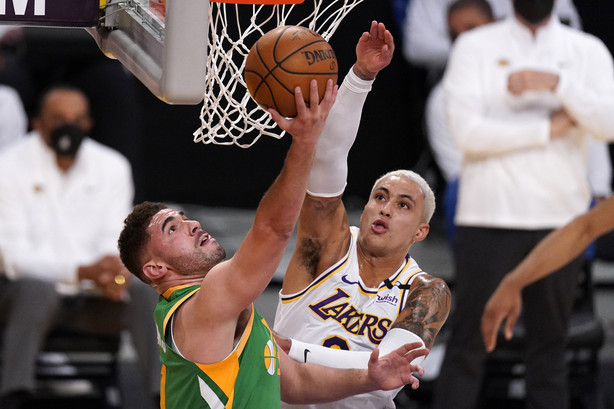 Mitchell is out at least a week with a low-ankle sprain; Favors has been dealing with "a few things," according to Quin Snyder; Gobert hadn't missed a game this entire season and was due for a break (the Jazz officially called it a "right knee contusion"); and Conley has only played on both ends of a back-to-back once since returning from a hamstring injury.
The fact is all the minutes and games have caught up to the Jazz — not to mention the rest of the NBA. The Lakers (35-22) themselves played without Anthony Davis and James as they both recover from injuries.
Luck has been on the Jazz's side this season; they have been one of the few teams that have had a consistent rotation through the course of the season. So they went into Saturday not really knowing what they would get. Some of what they saw was a pleasant surprise.
Who would have guessed Ersan Ilyasova would have scored 20 points, which included hitting five 3s in the first quarter, in his first start for the Jazz as a stretch 5?
"That was the first time I've actually seen him in live action and really got to play with him for a long amount of time, so tonight he really showed that he could shoot the ball space the floor for us," said Clarkson, who had 27 points on 27 shots.
And who would have thought a team absent all three of its All-Stars would find a way to erase a 14-point fourth-quarter lead with a 15-0 run?
"We were just trying to find different guys that could make plays and kind of connect together," Snyder said. "That's not always that apparent in a short time so you're guessing on some level — obviously an educated guess but we had a lot of guys that came in and gave us contributions."
And who would have expected that without two of their best ball-handlers and shooters, the Jazz still would have 31 assists and hit 23 3s?
"We just tried to keep it a little bit more basic," said Joe Ingles, who had 20 points and 14 assists. "Obviously, we were missing four pretty important guys, so just kind of keep it basic, let it flow, let guys play. I think for the majority of the game we did a pretty good job."
It was a strange and fun game that probably won't have much bearing on future scouting reports — well maybe in Monday's quick rematch. The Lakers aren't expected to have either of their All-NBA players back by then; the Jazz, however, may have everyone but Mitchell available.
But when it comes to a fun afternoon of basketball? Well, there's been worse games.
There was something interesting about watching Drummond — all 6-foot-10 and 280 pounds of him — go coast to coast on multiple occasions in the third quarter as the Jazz committed eight turnovers and allowed the Lakers to build a lead. Having Ilyasova sky high to block Kyle Kuzma at the rim in the fourth quarter to help the Jazz continue their fourth-quarter surge was good, too.
But fun or not, it was still a loss.
"We were one stop away from winning the game really, so we'll take some good stuff out of it, but, I mean, regardless of who's out there, it still sucks to lose," Ingles said.
Against all odds, though, it didn't suck to watch.
×
Photos