LOGAN — Rollie Worster's time at Utah State has apparently come to a close.
The 6-foot-3, 200-pound guard from Missoula, Montana has entered the NCAA's transfer portal, a source with access to the portal confirmed to KSL.com Thursday night.
The move was first reported by ustateaggies.com, though a source told KSL.com that Worster's move had not been official until sometime after Thursday afternoon.
Still, the departure is not unexpected. Worster was recruited to Utah State by former Aggie head coach Craig Smith, who took the same job at the University of Utah on March 27. Just Thursday, the Utes announced that Smith's former top assistant — both at Utah State and at his previous stop at South Dakota — was joining him on the Hill, along with former Utah assistant DeMarlo Slocum.
Smith and Peterson were the primary recruiters that brought Worster to Logan.
"Eric has been instrumental in our success over the last seven years at the university of South Dakota and Utah State," Smith said earlier in announcing Peterson's hire. "We have won many games and championships during that stretch and Eric has been a big part of that. He is the total package. Eric is well versed in all areas of our program. He can coach, develop players, recruit, lead and motivate. He is a relationship person in every way! Eric and his wonderful family will thrive in our great community of Salt Lake City."
Utah State athletic director John Hartwell moved quickly to fill the Aggies' coaching vacancy, hiring Ryan Odom from UMBC and introducing him to high-profile boosters, media and most of the players Wednesday morning in the Wayne Estes Center.
But Worster apparently won't be joining the new coach for another year in Logan.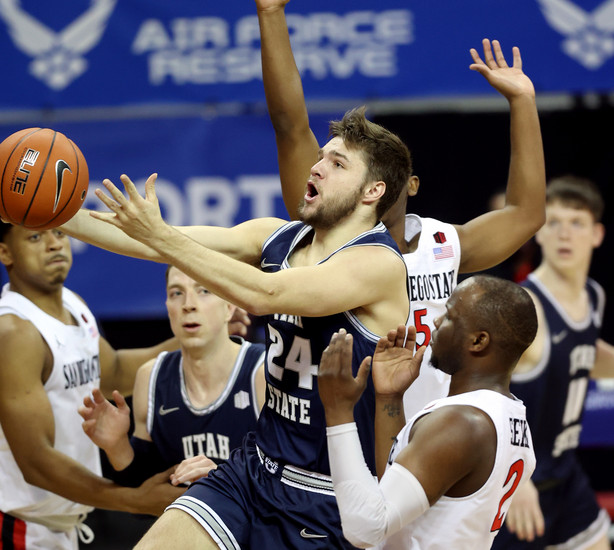 Worster averaged 9.1 points, 3.5 assists and 3.8 rebounds per game as a freshman at Utah State, where he started 25 of 26 games for an Aggies squad that won 20 games and qualified for the NCAA Tournament for a third straight year. His biggest game came Jan. 28, when he finished one rebound and one assist shy of a triple-double in an 83-74 win over UNLV in Las Vegas.
The native of Missoula, Montana was a two-time Gatorade Montana player of the year at Hellgate High School, where he averaged 20.7 points, 7.1 rebounds, 4.5 assists and 2.3 steals per game. Prior to signing with Utah State, Worster was also recruited by Boise State, Montana and Pepperdine, among others.
Players are not bound to leave once they enter the transfer portal, but coaches are not bound to renew their scholarship at that point, either. Worster would be the first player to leave Utah State since Odom took over in Logan.
Neemias Queta, the 7-footer from Portugal who passed on the NBA draft each of the past two seasons, has already declared his intentions to turn pro following the Aggies' loss to Texas Tech in the first round of the NCAA Tournament. Additionally, Odom said Wednesday that two more players are likely to be done playing at Utah State.
Those two players are presumed to be seniors Alphonso Anderson, the Mountain West's sixth man of the year, and reserve center Kuba Karwowski. Neither one of them has publicly mentioned whether they would return for an extra season of eligibility granted by the NCAA due to the COVID-19 pandemic, but they also are not part of the Aggies' official roster for the 2021-22 season that was updated this week (Worster was, however).
Among the holdovers are Justin Bean, the former walk-on who earned a scholarship at Utah State following a two-year church mission in Reno, Nevada and became a rebounding star alongside Queta in the post; former Lone Peak scoring guard Steven Ashworth, who just finished his freshman season following a church mission; and ex-Brighton High sharpshooter Brock Miller, among others.
×
Related Stories