PROVO — BYU made news Wednesday without making a whole lot of news.
The Cougars announced that Puka and Samson Nacua, the younger brothers of former BYU safety Kai Nacua who both played in the Pac-12, have been accepted to the university and will compete beginning with the fall 2021 season.
Puka, who played two seasons at Washington, will be a sophomore this fall, while Samson will be a senior and eligible as a graduate transfer after four years at the University of Utah.
"We are very excited about the additions of Samson and Puka," BYU coach Kalani Sitake said of the brothers. "They are both experienced and talented receivers and come from an amazing family and a great bloodline of football players to come through BYU. Their character and leadership will be a great asset to our program and university and will add to the great culture that has already been established here at BYU."
Welcome to the Family @AsapPuka!! 🤙 pic.twitter.com/J30AZUIY29

— BYU FOOTBALL (@BYUfootball) March 31, 2021
Welcome to the Family @lionel_nacua!! 🤙 pic.twitter.com/gRqonqs0lq

— BYU FOOTBALL (@BYUfootball) March 31, 2021
The duo join the Cougars as they are losing prolific wide out Dax Milne, who was former BYU quarterback Zach Wilson's go-to target last season with 1,188 yards and eight touchdowns as a junior before departing for the NFL draft. Those numbers represent nearly one-third of Wilson's 3,692 yards and 33 touchdowns overall passing production — a significant hole to fill.
But the cupboards are hardly barely in the receiver room, and the addition of the Nacuas will add depth to the position even as new offensive coordinator Aaron Roderick and passing game coordinator are still figuring out who will replace Wilson as starting quarterback.
Through spring practices that were closed to a limited number of observers and all media, junior-to-be signal caller Jaren Hall is thought to have a narrow advantage over the field — but Baylor Romney, Jacob Conover and Sol-Jay Maiava-Peters are close on his heels, and Roderick said the competition will continue through offseason workouts and into fall camp.
"It's starting to take shape a little bit, in my mind," Roderick said after the Cougars' final spring practice last Friday. "I talk with our coaching staff a little bit every day, and it's starting to take shape. I'm going to meet with each of those guys next week, and talk about what we are doing going forward.
"There will still be some competition in the fall. I think we'll go at least a week to 10 days in the fall to make that decision."
Wide receiver isn't like quarterback, mainly because it will take several players to fill the position. With the Nacuas now on board, here are the top-five receivers that will compete for the most minutes as BYU prepares for the Sept. 4 season opener against Arizona in Las Vegas.
The following list is just the Cougars' wide receivers; we'll save tight end pass-catchers like Isaac Rex, Carter Wheat and Dallin Holker at tight end for another day.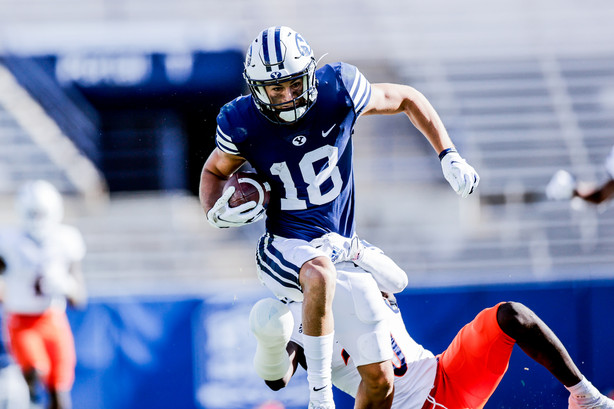 1. Gunner Romney
With all the excitement around Puka and Samson Nacua, the 6-foot-3, 195-pound junior from Chandler, Arizona, has been glossed over as the top returning big-play receiver in Provo. The younger brother of quarterback Baylor, Gunner Romney caught 39 passes for 767 yards and two touchdowns in 2020, averaging 19.7 yards per catch and 76.7 yards per game while playing in just 10 of the Cougars' 12 games due to injury.
Additionally, if Conover wins the starting quarterback job, Romney likely becomes the freshman's immediate go-to receiver. The two led Chandler High to back-to-back Arizona 6A state titles in 2016 and 2017, when Conover was a junior.
2. Puka Nacua
Still, the younger Nacua comes in as the most talented addition to BYU's roster, if nothing else based on potential and projection.
The 6-foot-1, 210-pounder grew up in Provo after Kai joined the Cougars, and following his father Lionel's tragic death the family had dreams of each of their sons representing the Y. growing up. But when Nacua was named a first-team All-American and Utah's Mr. Football by the Deseret News out of Orem High in 2018, much bigger programs came calling.
Nacua solidified his pledge to the Huskies in the middle of a snowstorm, a quick turnaround that included former coach Chris Peterson calling the receiving threat in studio and him responding, "I'm a dawg, coach." Two seasons later, Peterson has been replaced by former Washington defensive coordinator Jimmy Lake, and Nacua — who averaged 19.9 yards per reception over his two seasons — gradually saw his playing time diminish in Seattle.
As a freshman in 2019, Nacua played in eight games with three starts, finishing the season with 168 yards and two touchdowns before a season-ending injury. He then saw limited playing time in the Pac-12's limited season that ended up being just three games in 2020, when Nacua totaled 151 yards and a touchdown on nine receptions.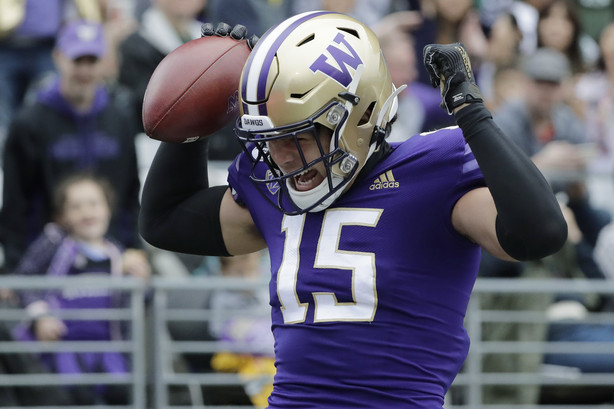 3. Neil Pau'u
The younger brother of former BYU linebacker (and current Snow College assistant head coach) Butch, Neil Pau'u wasn't always the big-play threat or highlight-reel receiver in 2020. But the junior who played quarterback at Servite High School in Anaheim, California, was as reliable as they come as a junior, when he totaled 603 yards and four touchdowns at a 13.4 yards per catch clip.
Pau'u is as experienced as they come, arriving at BYU following a two-year mission for The Church of Jesus Christ of Latter-day Saints in Salt Lake City in 2017, when he averaged 9.9 yards per catch over 11 games as a freshman. After starting three of his nine games as a sophomore in 2018, Pau'u then redshirted the 2019 season due to legal troubles and returned in time for the pandemic-impacted season in 2020 to lead the receivers' room.
But his combination of leadership, experience and sure-handed catches will make him a vital part of BYU's offense in 2021.
4. Samson Nacua
Speaking of experience, Samson Nacua comes to BYU with plenty of it. The 6-foot-3, 195-pound graduate transfer played in 45 games over four years with the Utes, including eight starts, amassing 1,015 yards and 11 touchdowns since 2017.
The former first-team all-state player from Timpview, Nacua redshirted in 2016 as well, giving him another season in Utah's offense and working with the scout team. At 12.4 yards per catch, including a career-high 18.3 yards per reception during his final full season in 2019, that experience came through for the wide out who led the Utes in receiving touchdowns in 2018.
Nacua missed just one game over the past four years, and while his offensive numbers weren't always spectacular, he also proved himself as a downfield blocker and was the emotional leader of a group of young wide receivers in 2019 and 2020. Now reunited with his younger brother, Samson Nacua heads to Provo after he "talked with dad" and was told "mom needs us home."
5. Chris Jackson
This spot could go to several players, but we're giving Jackson the nod for potential. The 5-foot-10, 184-pound junior from Pomona, California played in eight games in 2020, finishing his first season at BYU with six catches for 22 yards.
With Milne off to the NFL, there will be plenty of production that needs to be replaced, though. Another target who could make the leap is Brayden Cosper, a fellow Bingham High grad like Milne who also excelled at safety with the Miners. The 6-foot-3, 205-pound sophomore has been hanging around the fringes of the wide receiver group in his three previous seasons on campus. Can he make the jump to full-time contributor with a repeat sophomore year?
If not, there will be plenty of young talent to step into the role. Highly-touted freshman Kody Epps is among them; the 5-foot-11, 180-pound freshman from Mater Dei High School who was one of just four wide receivers nationally to be named a first-team All-American by USA Today, and he caught five passes for 47 yards in six games during his coronavirus-impacted freshman season.
Other standouts through spring camp include former Dixie multi-sport standout Hobbs Nyberg, who was the team's primary punt returner in 2020; Texas-born freshman Keanu Hill; and Las Vegas native Miles Davis, who played both wide receiver and running back during his freshman season in 2020.
×
Related Stories