SALT LAKE CITY — The Utah Jazz returned from the All-Star break with a less-than-dominant win over an injury-ridden Houston Rockets squad on Friday. There was a common thread from KSL.com commenters after this one: What was wrong with the Jazz? Let's examine.
"The Jazz were very complacent in their playing. I'm glad they won though." — char61
The Rockets played just one player over 6-foot-6 on Friday (and he, Justin Patton, was playing in his 17th NBA game). Yet, the Jazz were 19-6 on the offensive glass. That alone should show you the effort the Jazz showed for much of the win. You could point to Houston's lengthy injury report as a reason for the complacency, but there was an even bigger factor.
Before Friday's game a moment of silence was held in honor of longtime team massage therapist Doug Birrell, who died Sunday.
It was a name many of the 5,600 fans in attendance likely had never heard. Birrell wasn't a public-facing official in the organization. He wasn't making trade calls or drawing up plays, so fans never heard much about him. But everyone from John Stockton, Karl Malone, Mehmet Okur, Deron Williams, Donovan Mitchell and Quin Snyder could tell you plenty.
Birrell had been a beloved member of the Jazz for 21 years. Players changed, coaches changed, front offices changed, but Birrell remained. First off, because he was great at his job; second, you'd be hard pressed to find someone that didn't want him around.
"Someone asked me what his title was and, honestly, I don't know if there's a title that you can capture that would be fitting to all the ways that he impacted people," Jazz coach Quin Snyder said before the game. "It might say healer. He healed all of us physically, mentally, emotionally. … It's heavy hearts today and I don't want to just let it go, because he was as special a person as I've ever met."
That was the second time in two days Snyder opened up his media availability with a tribute to Birrell. He didn't want the week to go by without honoring his friend and colleague.
Birrell was one of the people behind the scenes that was integral to the Jazz. He had an amazing spirit and passion for life that those around him couldn't help be drawn to. He made players laugh, made everyone feel comfortable, and was simply a joy to be around. So when news of his passing reached the team, it was crushing.
"He was almost that kind of the glue guy off the court for us," Joe Ingles said.
Birrell died after a battle with cancer; he was 51-years-old. He leaves behind a wife and three daughters.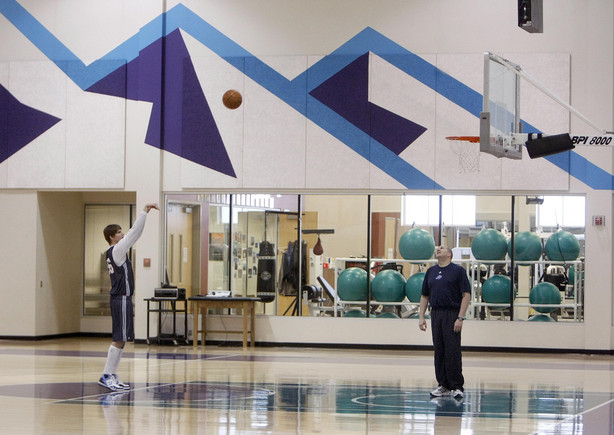 The Jazz held a private viewing for Birrell on Thursday night and his funeral was Friday morning, giving the players and team staff a chance to say goodbye to the friend who had accompanied them just about everywhere — including the NBA bubble in Orlando last summer, even as he fought the disease that ended up taking his life.
"His presence is missed," Mitchell said. "You go to the stories, the funny stories, the stuff that can keep yourself uplifted. It's definitely tough when you lose someone with such enthusiasm, a jokester, laughing, keeping energy — keeping everything light every day, talking trash, you know what I mean? You miss that."
When you lose someone that means that much to a team, of course, it's going to impact how they play. How could it not? The players, though, didn't want to use that as a reason for their lack of focus on Friday. Ingles, who wore a wristband with the words "Dougie Fresh" written on it, even said that it was part of their jobs to "compartmentalize and try and leave it in the locker room."
Players are human, though, and forgetting about the loss of friend isn't that simple. So, yes, were the Jazz complacent? Extremely so. There were times multiple Jazz players allowed a rebound bounce right by them into the hands of an opponent. That's an effort play, pure a simple.
And while there are actual basketball things to point to — the Rockets were effective, like many of Utah's recent opponents have been, in keeping Rudy Gobert away from the play by putting Mike Conley and Bojan Bogdanovic in a pick and roll — it's hard to fully analyze those when the effort is obviously lacking.
On Friday, the jazz had some heavy external reasons for why that was the case.
"I don't think you can ever replace someone of Doug's stature," Snyder said. "He was a giant in so many ways, and touched so many people."
Losing him, made it a tough week and an emotional game for the Jazz. There's been a lot of reflection about his life, his positive outlook and his "horrible" humor, as Ingles lovingly called it.
"You sit there and think about … I wish I went to one more massage that I didn't go to and stuff like that," Ingles said.
That was the overwhelming feeling around the Jazz this week. They wished they had more time with the person that has been so integral to each of them and to the team.
"I don't know that there's a better man that I've ever been around," Snyder said as he wrapped up his pregame tribute to Birrell. "And so now we transition to basketball."
That was easier said than done.
×