SANDY — Things were unusually quiet on a Thursday afternoon at the headquarters of one Utah's most recognizable businesses where bronze statues of Karl Malone and John Stockton are silhouetted against the cloudy, snow-covered Wasatch mountains.
The same larger-than-life figures also sit outside Vivint Arena in downtown Salt Lake City, a testament to hard work and dedication that helped build the Utah Jazz into a premier NBA franchise.
For a company with a billion-dollar-plus portfolio, there didn't seem to be much happening on the upper floors at the Larry H. Miller Group of Companies corporate office in Sandy. Most of the employees work in a hybrid model now that allows them the flexibility to work from home or go into the building.
That wouldn't have been the case on March 11 a year ago.
In a ninth-floor conference room with a panoramic view of the Salt Lake Valley, Steve Starks, the CEO of the LHM Group — which until a few months ago included the Jazz — reflected on the significance of what happened that surreal day and how it influenced every aspect of life.
"In a unique way, it's been an emotional week reflecting back to this time last year," he said through a black face mask.
Starks recalled the phone call from Dennis Lindsey, Jazz executive vice president of basketball operations, saying all-star center Rudy Gobert had tested positive for COVID-19 just 30 minutes before tipoff for a game in Oklahoma City. He recalled being on the phone for the next six hours with then Jazz owner Gail Miller, NBA commissioner Adam Silver, Lindsey and others during what was supposed to be a family vacation in St. George.
Meantime, company executives in Utah were trying to arrange for a hotel for the team stuck in Oklahoma City and for Delta Air Lines pilots to fly them home. Then Gov. Gary Herbert's office was involved, as was his newly formed coronavirus task force and state epidemiologist Dr. Angela Dunn.
"We were just trying to figure out in real-time how we needed to respond to this," Starks recalled. "It kicked off a very unusual period in my career and in all of our lives."
In the ensuing weeks and months, the LHM Group, like companies in Utah and across the country, adapted and evolved. Instead of hunkering down, it embraced technology and innovation to navigate the economic downturn. It leaned on experienced leadership, communicated regularly to its workforce and valued its employees and customers.
"Our culture was tested, but our culture gave us a competitive advantage," Starks said. "In a moment of change or uncertainty, the ability to communicate clearly really helped us get through those challenging months, and people could hear directly from Gail Miller and be reassured that we'll get through this."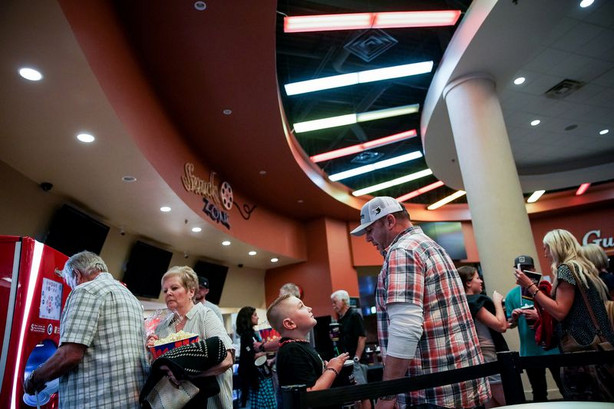 Some of the company's businesses were hit harder than others.
The NBA season came to an abrupt end immediately after Gobert's positive test. The LHM Group's other professional sports team, the Salt Lake Bees, never took the field. Projectors at the company's Megaplex theaters stopped rolling. Bands and singers pulled the plug on concerts at the arena.
Because those venues were idled, the company found other ways to use them. The movie theaters became COVID-19 testing and vaccination centers as well as polling places in the November election. Car dealerships and sports facilities held food drives. Vivint hosted a blood drive.
While the sports and entertainment side struggled, others in the conglomerate had great, even record years. The company's car dealerships, real estate arm and finance company all did well.
At the end of the year, the LHM Group bought Advanced Health Care, a transitional care provider specializing in short-term nursing, rehabilitation, home health and hospice services. In January, it launched an insurance agency.
And in a move that perhaps no one saw coming, the Miller family sold its marquee asset in the middle of a pandemic. Had the company had its heads down, not actively networking or talking to people, that might not have happened.
"I think like everybody in the country, the Miller family and our team started to look at our business and our goals through a different lens," Starks said.
Ryan Smith, the co-founder of Qualtrics, a data analysis startup that sold for $8 billion in 2018, long had interest in buying the Utah Jazz. Over lunch in early July, Starks told him the team was not for sale.
Related:
About a month later, Starks received a text from Gail Miller and another one from one of her sons wondering if it was something they should consider, which opened the door for the family to talk about it. Larry H. Miller, who died in 2009, bought the Jazz outright in 1986, and the team became synonymous with the Miller name.
"You can imagine a decision like that goes so far beyond the financial elements, that it really became a meaningful exercise to have Gail lead her family through discussion around an emotional topic," Starks said.
"To a person, as they all evaluated it and what their broader goals were long term, they all arrived at the conclusion that they loved the Utah Jazz, they loved being stewards of that asset for the community, they loved building it up over the years, but the timing was right now to transfer that stewardship over to somebody else and there were some other things that they wanted to accomplish broadly as a family and that we could accomplish as an organization."
Gail Miller announced the transaction, which included Vivint Arena, last October. The sale allows her to pump up her charitable foundation and give more money to causes that she is passionate about. It also allows the company to diversify its portfolio.
It became a point of pride in the Miller family that they sold the Jazz at a high point — the team is winning, has good coaches and management, the arena was recently renovated and Salt Lake City will host the NBA All-Star Game in 2023.
"They weren't selling the team when we were going through a rough patch. Because of that, we're all sharing in the success of the team right now with a lot of joy and that's fun to see," Starks said.
With the sale of the Jazz, Starks' five-year run as team president came to an end. He oversaw the team's return to prominence in the league and helped set the foundation for what he hopes will be a championship run. He remains an adviser to Smith, and of course, an avid fan.
Though Starks shied away from making a prediction about the league-leading Jazz's prospects for an NBA title this season, he said he believes the team's best days are ahead.
"I would not be surprised if this becomes one of the most memorable Jazz seasons we've ever had," he said.
It certainly would put an indelible cap on a past year most people are trying to forget.
While the LHM Group presses forward without the Jazz, the Salt Lake Bees just signed a new 10-year agreement to continue as the AAA affiliate of the Los Angeles Angels. Though the Bees' season has been pushed back a month, Starks said he believes people are craving to get back to the ballpark. There's something about watching a baseball game and eating a hot dog that is timeless, he said.
The theaters will open to more moviegoers as public health protocols allow and more first-run movies emerge from Hollywood. If the release of Disney's "Raya and the Last Dragon" last weekend is any indication, big screens in Utah will again be packed. The Megaplex theaters on the Wasatch Front had seven of the top 10 spots for the opening, according to industry tracking sources.
Starks also hinted at some acquisitions that will be "outside of what we've done historically but that fit the criteria of impact on the community," but he declined to elaborate.
As the COVID-19 vaccine breeds optimism for an end to the pandemic, Starks said he hopes people just don't revert back to the old way of doing things. There are lessons that people ought to embrace going forward.
"It tested a lot of our biases and we learned what truly matters and some things that don't," he said.
The LHM Group doubled down on technology and innovation. It found employees can be productive and enjoy a better quality of life without going into the office every day. It intends to continue to allow workers that flexibility.
Starks set the example for that, even taking meetings on walks or drives to canyons he seldom explored.
"For me, that was good for my soul," he said.
Starks said the thing that sticks out to him the past year is the thought that people can get through anything if they work together.
"I think what 2020 taught me is that division can actually be more destructive than a disease. We saw that unfortunately in too many instances in 2020, whether it's political division or social division," he said.
"Yet when we come together and work collaboratively as an organization, as a community, as a country, we can get through hard times. We demonstrated that, but we have to stick together. We have to appeal to the best within us."
×
Related Stories