SALT LAKE CITY — A young fan was camped out on the front row next to tunnel where the Utah Jazz would soon run out at Madison Square Garden. With a Donovan Mitchell jersey in hand, he looked over the rail and cocked his head to the right and tried to get a glimpse inside.
Someone came out, but not the person he was waiting on. His hopeful and excited eyes dropped into disappointment as a security guard explained there would be no autographs, no high-fives, no handshakes, no anything from the players on that night. Fans had to stay away from players.
That was on March 4, 2020 — an early glimpse of what a socially-distanced life would be like. Exactly one week later, the world changed.
"Due to unforeseen circumstances, the game tonight has been postponed," the Oklahoma City Thunder PA announcer's voice echoed throughout the area on March 11, 2020. "You are all safe."
At that moment, nothing felt safe anymore.
Thursday marks the one-year anniversary of Rudy Gobert testing positive for the coronavirus, a day that altered life as we knew it. The virus was already spreading in America — outbreaks had occurred in Seattle and New York, three cases had been found in Utah, and COVID-19 had officially been declared a pandemic — but, up to that point, most of the talks were speculative in nature: "What would happen if…"
The NBA had set up new protocols for media and fans, and the NCAA considered putting on the March Madness tournament without crowds (the thought of outright canceling felt insane at the time). Things were getting worse each day, a creeping sense of unease accompanying nearly everything. The virus was the boogeyman no one wanted to admit was real until it was absolutely necessary.
That time came on March 11, 2020. It was no longer speculative. It was real. The NBA reacted swiftly and shut down the league indefinitely; just about everything else followed suit.
One year later, things still aren't fully back to normal.
"COVID has impacted all of us individually and society and our country collectively," Jazz coach Quin Snyder said. "There's been so much pain and grief and sacrifice. To look back over the course of the last year, we see that all of us are enduring and making our way through that adversity."
The Utah Jazz were in the center of everything. A team that, for the most part, is devoid of national attention suddenly had the spotlight all to themselves.
The next morning, Donovan Mitchell tested positive for the virus which led to a now-repaired schism between him and Gobert. Gobert's previous actions were heavily scrutinized. He faced online threats and was blamed for all the shutdowns. It was reported he hadn't taken the virus seriously around teammates and a clip of him touching microphones and recorders during a press conference just two days before the positive test aired just about everywhere on a nonstop loop.
Bad optics? Obviously. Malicious? Hardly.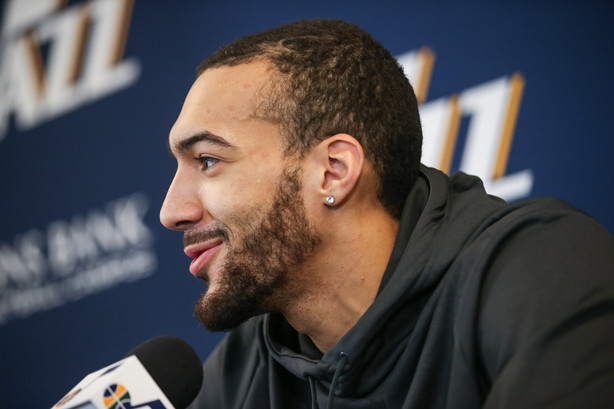 Gobert was just like many of us and didn't realize what soon would be the new reality. He had just spent a week speaking with reporters in close quarters in locker rooms, but now there was suddenly a need for an invisible barrier between him and those same people? It seemed silly. When he touched those microphones most people in the room chuckled. No one was ready to accept the pandemic was on our doorstep.
"It's true that if you were to tell me that we were gonna have to wear masks and most people not be able to travel from one country to another and have no fans and all that, it would have been weird to understand that," Gobert said this week.
"Weird" might be the simplest but best way to explain everything about that night in Oklahoma City and everything that has followed.
Snyder still has pictures of some of his players getting tested for the virus following the abrupt postponement of the game. The pictures were taken to document how strange things were then. The Jazz didn't know what the next step was when the officials informed them, moments before the tip, that the game was canceled. Were they going to be sleeping in the arena? Were they going to be quarantined in Oklahoma? Did the whole team have the virus? It was question after question without a lot of answers.
"I think that a lot of people were trying to figure out how long we were going to be in that room and whether we needed to bring cots in to sleep," Snyder said. "We were trying to find a hotel room — which was really difficult. And as you got further and further into it, you realized transportation was really going to be an issue, and there were a lot of people that you know that worked hard to essentially get us out of there so to speak."
Those pictures now represent how much things have changed. Getting tested as a team was once an oddity, now it's simply part of their daily routine. Those photos also document the start of what has been a strange journey for the Jazz. They were the team with Patient Zero in the league and in American sports. That can either tear a team apart or strengthen it.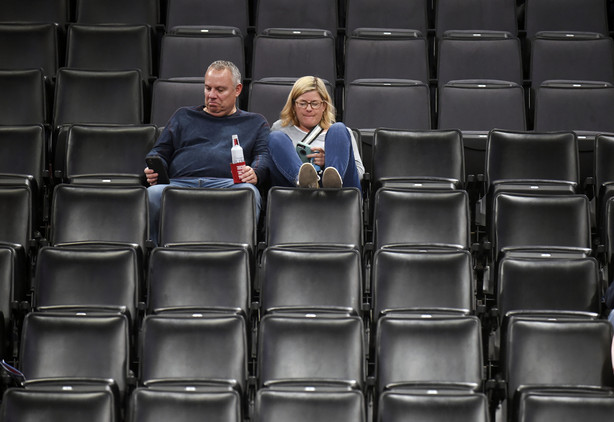 Gobert called it a "special learning experience." He was at the center of it all. He heard the vile things said about him, felt the fingers being pointed in his direction, and had to mend a broken relationship with his co-star. It was tough. But Gobert knows he wasn't alone in facing adversity over the last year. The pandemic has provided just about everyone a crash course in how to deal with change, with grief and with adversity.
"Obviously there's a lot of things that I think we all took for granted in our lives," Gobert said.
Said Mitchell: "There was a lot of time to reflect on a lot of different things. It allowed us to take a step back, allowed me to do that. And on top of that, we learned a lot about different things. I've learned about people."
The last year provided the Jazz a chance to grow as people in ways that they wouldn't have before. Mitchell and Gobert worked out their differences (Mitchell did say things were "blown out of proportion") and the team grew stronger. In the offseason, Utah re-signed Mitchell, Gobert and Jordan Clarkson to long-term contracts, keeping the team that was stuck in an Oklahoma City locker room together for the long haul. That same team has jumped out to an NBA-best start.
Things have changed on the court from last season, obviously. Utah is shooting more 3s than ever and Mike Conley was named an All-Star after a transitional year, but it's not too difficult for Snyder to look back to one year ago Thursday as a catalyst for his team's growth.
"We were cohesive in many respects last year, but not like we are now," Snyder said. "That growth process I think is normal. In our case, it's just much easier to track because the story and the narrative was so compelling."
Just as Gobert's positive test was the first major domino to fall, sports is still the yardstick used to see how the pandemic is going. There will be an NCAA Tournament this month — with some fans even in attendance; the Texas Rangers could welcome a full capacity crowd for their home opener, and the Jazz are hopeful Vivint Arena can be sold out when the playoffs come around.
Vaccinations are up, cases are down — what life was like before March of 2020, could be on the horizon again.
"Now that we're a year removed and saw the ups and downs of what the pandemic has brought, for so many people and for myself, it just speaks to the resiliency of us as people, as humans, as players, as citizens," Conley said.
That kid in New York may soon, at long last, be able to get an autograph.
×