PROVO — Every college athletic department in America experienced a wild, unique 2020-21 season. But few experienced one quite like BYU, and the Cougars have Tom Holmoe to thank for that.
The 16-year athletic director at BYU has been recognized by his peers at the National Association of College Directors of Athletics as the athletic director of the year, the organization announced Wednesday.
Holmoe was one of four honorees at the Football Bowl Subdivision, joining Coastal Carolina's Matt Hogue, West Virginia's Shane Lyons and Oregon's Rob Mullens. Ironically, it was likely a seminal moment of the college football season between the Cougars and Chanticleers that propelled to stardom the two athletic directors, who will be recognized in a virtual convention July 27-28.
With the college football season on the brink amid conference cancellations and postponements to the spring, BYU was the only program west of Texas that was playing college football. Holmoe went to work, replacing all but two games on the Cougars' original schedule — games against teams from the Pac-12, Mountain West, Big Ten and SEC, for example — with whoever he could find. He added teams from the American Athletic Conference, Sun Belt and Conference USA — many first-time BYU opponents — and built up a 12-game season almost entirely from scratch in just over a month's time.
With respect to scheduling the likes of Navy, Western Kentucky and Army (which was never played due to the COVID-19 pandemic), Holmoe's finest work came over the first week of December. With the Cougars sitting just outside the College Football Playoff rankings and needing scheduling jolt to capture the committee's attention, Holmoe (with the help of ESPN), reached out to Hogue at Coastal Carolina as the Chanticleers' original opponent for the College GameDay weekend in Conway was struggling to contain several cases of the virus.
Holmoe offered his team on standby to take the place of Liberty and travel to the edge of Myrtle Beach on a moment's notice. And with just three days of preparation time, the Cougars did just that. The game turned into a national sensation, ending with BYU's 22-17 loss on the 1-yard line, and propelled both programs into a spotlight unlike anything BYU had seen in years — or anything Coastal Carolina had seen in its brief FBS history.
The Cougars didn't win that day, but Holmoe won all weekend.
It's the kind of moment that led to Wednesday's recognition.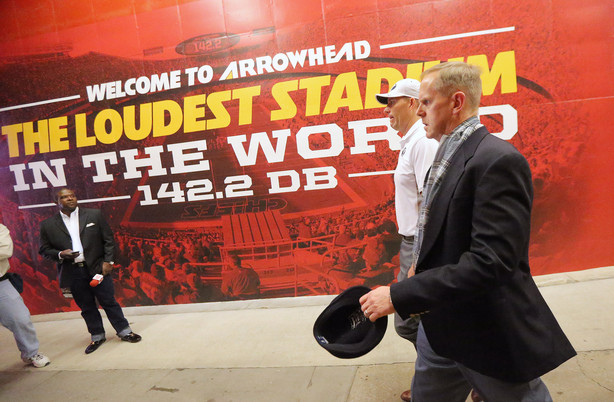 "If this were a career award, Tom would be among the most deserving," said BYU President Kevin J. Worthen, who worked with Holmoe for six years as advancement vice president over athletics and seven years as university president. "For the past 15 years, Tom has been a remarkably effective leader of a program that, without exception, finished in the top 50 in the Director's Cup, often in the top 35, and usually the top non-Power-Five program.
"He has also been extremely effective as a role model and mentor for the student­ athletes at BYU. He always knows exactly how many student-athletes are enrolled each semester, and often is on a first-name basis with each of them. Tom's lifetime contributions are almost without parallel. But this is an annual award, given for performance over the past year. And, in that regard, Tom is, in my opinion, not just among the most deserving, but the most deserving."
Named athletic director on March 1, 2005, Holmoe has overseen an athletic program of 21 intercollegiate sports, with more than 600 athletes and 190 people on staff. Since his appointment, BYU has captured 120 conference regular-season and postseason championships, and more than 275 individual All-American citations.
Buoyed by a national championship in men's cross-country, and a runner-up finish among the women's team, the Cougars were ranked No. 5 nationally in the annual Directors' Cup standings in the fall of 2019. The university also had the No. 1-rated men's volleyball team in the country at the time the competition was canceled due to the pandemic.
He's also made two pivotal hires in BYU's marquee sports of football and men's basketball, first replacing Bronco Mendenhall with Kalani Sitake and then bringing in Mark Pope when legendary coach Dave Rose retired. Both hires have been considered home runs by the majority of outsiders to the organization, with Sitake putting together a 38-26 record and a 3-1 mark in four postseason bowl game appearances in five years and Pope electrifying the BYU fanbase en route to a 44-14 mark and all-but guaranteed NCAA Tournament appearance in 2021 following Tuesday night's loss to No. 1 Gonzaga in the West Coast Conference Tournament.
But Holmoe has been more than a dynamic scheduler or hirer, according to those who supported his candidacy for the award from NACDA. They say he's put his No. 1 focus on the mental health of the Cougars' athletes, both in the money-making sports of football and men's basketball as well as the Olympic sports. No program fell under a 3.0 GPA average last winter semester, and the department-wide cumulative GPA rose to 3.5.
He's also lent his support to athletes as they have taken a stand on social issues, particularly in the last year. When BYU football players promoted a "We Are One" campaign that included T-shirt designs, Holmoe championed the effort and helped make the shirts available for sale — an effort that raised $100,000 to fund 63 scholarships for underserved students through the school's multicultural center.
Under Holmoe's leadership, the school helped make up more than $15 million of a projected $20 million budget shortfall during the pandemic with its All In fundraising drive, with more than 7,000 donors spread out amongst the 50 states and internationally.
"Most impressively," Worthen continued, "Tom continued his role as mentor to the more than 600 student-athletes at BYU who are facing not only the normal academic and athletic pressures, but also a worldwide pandemic. And it is this role and focus Tom enjoys most. He is an extraordinary athletic director, who has had an extraordinary year. There could not be a better choice for this award."
His resume was littered with personal anecdotes from former BYU football player Isaiah Kaufusi, gymnast Angel Zhong, Sitake and track and field and cross-country coach Diljeet Taylor, who described Holmoe as a personal counselor for depression and anxiety, sports psychiatrist after a season-ending Achilles' injury, and a father-like figure who brings his employees chocolate chip cookies to their homes and organizes an annual Utah Jazz night for all female head coaches in the athletic department.
"I could give hundreds of examples and stories of Tom being an exceptional AD and leader," Sitake said. "If you ever want to know how I personally feel about him, just listen to my postgame press conferences or media video clips during the week.
"I make it a point to thank Tom for his efforts because I truly appreciate all that he does for me personally and for the football program. I know he is an integral part of our success, and this year is especially a testament to that. I feel his passion is unmatched, and his abilities to make incredible things happen in the face of seemingly impossible odds was really highlighted this year. I cannot think of a more deserving person to receive the honor of Athletic Director of the Year than Tom Holmoe."
×
Related Stories