SALT LAKE CITY — Mike Conley has never been shy about his desire to play in an All-Star Game — not this year, not ever.
Before the reserves were announced last month, he said it would "mean the world to him" to make it. History, though, was against him: Conley is in his 14th season, and no player had ever made it to the game for the first time so late in their career.
The oldest (in terms of years in the league) first time All-Stars were Kyle Korver (2015 Hawks), Tyson Chandler (2013 Knicks) and Vlade Divac (2001 Kings), who all made the game for the first time in their 12th seasons.
So when the reserves were announced for the 2021 edition of the game, it wasn't a huge surprise Conley was once again snubbed; that's been the case for most of his career. Before Friday, he was known as the best active player to never have a spot in the game, and one of the best players ever to never be considered an All-Star. That label wasn't something he was proud of maintaining.
On Friday evening, Conley's phone kept ringing. It was dinner time at the Conley home in Columbus, Ohio, where the veteran was spending his All-Star break. He looked down at his phone, saw a number he didn't recognize and he sent it to voicemail. Another call came in, and then another — each time Conley silenced it. Even when his father's number popped up, he figured he'd just return it after dinner was finished.
Then he got a text from the Jazz organization, stating that he might want to return some phone calls because the league was trying to get in touch.
"I'm thinking like, 'What could they want?'" Conley recalled. "I know we had a player association meeting and all this stuff — I don't know what this is for."
He was more than a little confused, but Conley got up from dinner and returned the call from the unknown number.
"Hey, Mike got some good news," a voice on the other end said, "there's a spot available in the 3-point contest and the All Star Game."
All Conley heard at first was "3-point contest." He thought he was simply being offered a spot in the annual shooting competition, and that alone was a pretty good. He had done the skills contest a couple years ago and enjoyed it — this would be another chance to get an All-Star experience.
"Oh yeah, for sure, I'd love to do that," Conley said.
Then the second part sank in.
"An All-Star spot?" Conley asked.
"Yeah, man. If you're available," the answer came.
Was he available? Ha! Of course he was. This was the moment he'd been waiting on for a better part of a decade. The chance to finally, at long last, shed the label as one of the best to never be an All-Star.
"I'm doing nothing!" Conley said.
The veteran guard stated he'd be on the first flight he could find to Atlanta for the festivities, and then returned to the dinner table with some news — news that he'd been wanting and hoping to celebrate for a long time.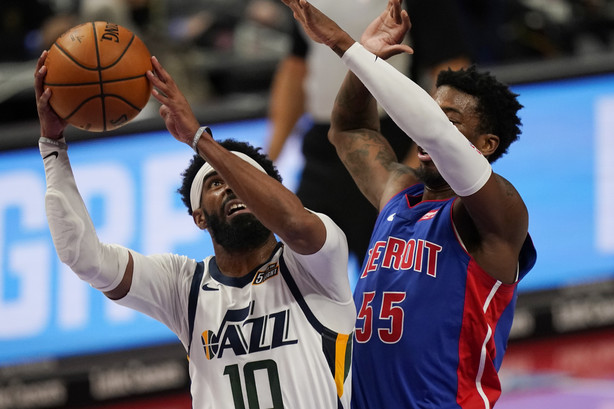 "I immediately went back to the family and told them," he said. "Everybody's really excited. So it was a unique way to find out."
Everybody in his family and everybody around the Jazz; heck, it's probably safe to say everyone around the league, too. Conley is one of the most respected players in the association. This was good news for a lot of people.
"We're just so happy, so excited for him," Rudy Gobert said. "It was frustrating to see that he wasn't selected at first. We really thought that he deserved it, and he had deserved it for many years in his career."
Due to that thought, there were no feelings that this honor was diminished because he was an injury replacement. There are snubs every year — choosing 24 players from a group of 450 is pretty tough. Conley had a strong case to make it on the team before the injuries to Anthony Davis and Devin Booker. His advanced metrics are among the best in the league and his team has the best record. This wasn't a sympathy vote; Conley earned the selection.
"I don't know the exact numbers but when you look at all the advanced metrics I think he's got the highest plus-minus in the league," Jazz coach Quin Snyder said. "There's certain things that we don't necessarily see on a box score that give you an idea of how impactful he's been with our team and how important he's been to winning, so to have that recognized is terrific. I know a lot of coaches that did vote for him anyway, and you just can't vote for everybody."
That's been the problem for Conley for years. For his entire career, he has shared a conference with some of the best guards in NBA history — Chris Paul, Steph Curry, James Harden, Kobe Bryant, Damian Lillard, etc. — that made it a difficult task to break in, especially for a guard that is known more for how he leads the team and less about how much he scores. Snyder is right: you simply can't vote for everyone.
"For him to be able to participate in this game, it stands for the season that he's had, but also somewhat of a lifetime achievement, collectively over the years," Snyder said. "Everything that he's accomplished has also been recognized here today."
And just like how Conley was never shy about his desire to compete on this stage, he is just as forthcoming about how excited he is to officially have the title of All-Star.
"To be able to play in an All-Star game with Rudy and Don and actually get to play against coach Quin, it's going to be one of the better moments of my life," Conley said.
×
Related Stories