TAYLORSVILLE — Believe it or not, Farmington's Amber Beddes had just one shot and one assist in a scoreless first half.
Beddes finished with 13 points on 5 of 7 shooting, and Delaney Baker added 13 points and 11 rebounds to help the Phoenix advance to their first-ever Class 5A state championship game with a 59-39 win over Olympus in Thursday's semifinals at Salt Lake Community College.
Valerie Kunzler had 13 points, including three 3-pointers, for Farmington (20-1), which will face third-seeded Springville at 7:30 p.m. MT in Saturday's championship at SLCC.
Plagued by a pair of fouls that limited her to just seven minutes before the break, the senior only needed two quarters to do her damage.
"I probably started off too aggressive," said Beddes, who had just one foul after the break. "After settling down the second half, I was able to play a lot better.
"I think my head got more in the game (in the third quarter). I was definitely able to focus a lot better, as well as have good support from my teammates. If it weren't for my team, I wouldn't have been able to play as well as I did."
Alyssa Blanck had 10 points and 13 rebounds to lead Olympus (19-6), which was outrebounded 33-30 and committed 14 turnovers — half of them unforced.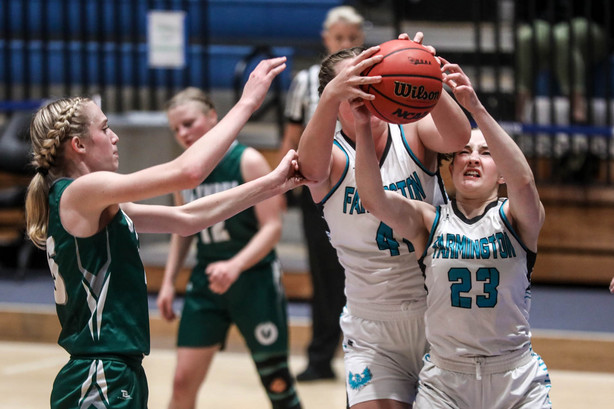 The top-seeded Phoenix jumped out to a 7-0 start early, but Olympus didn't wilt. The Titans took their first lead of the game at 10-9 on a pair of free throws by Blanck, and pushed the lead to 12-9 en route to a 12-11 score at the first quarter break.
Mia Smith had a game-high 9 points and three rebounds in the first half for the Titans, including a 3-pointer during an 8-2 run that put Olympus up 24-22 at the break.
But Beddes scored 8 points to pace a 16-point third quarter that turned a 2-point halftime deficit into a 43-34 advantage before the final period. The senior wing almost singlehandedly paced an 11-0 run midway through the period that helped the Phoenix pull away for good.
"She's a confidence-driven player, and when she's got her confidence and her groove, she's really tough to stop," Farmington coach Van Price said. "She struggled a little bit early this year, and I think she just felt it come on to her.
"The last three games, she's really played well for us."
Farmington held the Titans without a field goal for half the fourth quarter, and Beddes' spin move gave the Phoenix a 49-34 lead with 4:27 left from which Olympus could never recover. Anchored by Baker's strong post play and aided by turnovers, Farmington held the Titans without a field goal until Mary Sheets' transition bucket with 2:24 remaining.
That pulled Olympus within 51-37. The Titans could get no closer.
In the first meeting between the two teams — Farmington's second game of the year on Dec. 8 — the Phoenix got out to a 12-4 first-quarter lead and coasted to a 57-38 victory that an outsider might describe as "easy."
The rematch was anything but, with Farmington inverting each half to pull away for a similar margin. But that's the case with the state tournament: teams get better, and each of 5A's final four of Farmington, Olympus, Lehi and Springville are capable of doing that to any of the other teams.
"Lehi was probably the favorite last year, and they got upset — by Springville," Price said. "I think Lehi is still the favorite this year, and they played Springville again.
"We're going to have to play really good basketball, kind of like the second half today."
But there's something special about this year's Farmington squad.
"We've been talking the whole year about making it to this situation," Beddes said. "To finally make it to the final game, we were just ecstatic."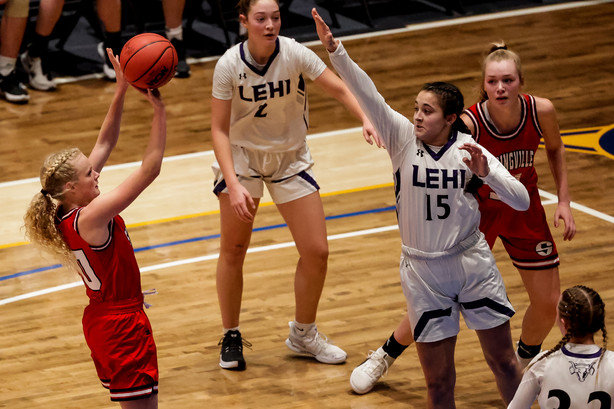 Springville 49, Lehi 42
Springville's return path to the state final confronted a familiar barrier Friday afternoon: No. 2-seeded Lehi.
Sure, the Red Devils beat the Pioneers in last year's state semifinals en route to a state runner-up finish. But most considered that game an upset, and most observers would've considered Lehi the favorites in the 2021 rematch, as well.
Except for Springville.
Addisyn Johnson had 15 points and seven rebounds, and the Red Devils used a big run to open the second half to return to the 5A championship with a 49-42 win in the second semifinal.
Kayla Jackson added 12 points and five rebounds for Springville (21-2), and Lauryn Deede supplied 8 points, six rebounds and two steals for the Red Devils, who held the Pioneers to 2 of 10 shooting during a 14-5 third quarter.
"Lehi went on a run (to end the first half), and we knew they would. They're a great team, and we knew they would," Springville coach Holly Averette said. "We just told them to get that composure and confidence back like they did in the first half. We know they're going to go on runs, but we keep our composure and play our game. And they did. They played confident offensively."
The first half couldn't have been much more even. Springville hit three 3-pointers in the first quarter to jump out to a 15-12 lead. The Red Devils extended the lead as high as 19-12 with a 4-0 spurt to open the second, but Lehi came right back.
The Pioneers ended the half on a 9-2 run to tie the game at 21-21 at the break.
Springville exited the locker room on a 12-0 run, taking a 33-21 on Johnson's shot from the low post with three minutes left in the third. The Red Devils pushed the lead as high as 16 with 5:25 remaining, but Lehi came back.
The Pioneers outscored Springville 16-14 in the fourth quarter, but the Red Devils made 6 of 10 free throws down the stretch and outrebounded Lehi 31-16 for the win.
"We have two amazing bigs, and they have worked extremely hard all four years," Averett said. "They do the little things, like rebounding, and they're confident with composure. They're able to find their teammates, and they're huge leaders for our team. They got great experience last year, and they were ready to go this year."
Macie Warren had a game-high 20 points to lead Lehi (20-4), and Jamisyn Heaton added 11 points and seven rebounds for the Pioneers.
×
Photos
Related Stories