SALT LAKE CITY — Quin Snyder looked almost amused. The Utah Jazz had returned from the All-Star break in 2018 and the head coach was asked how he used his time off. He gave the reporter a side-eye: "You know me better than that."
Translation: Ask me about basketball, please.
Since arriving in Salt Lake City in 2014, Snyder has kept personal matters, well, personal. While his wife, Amy, and his four kids do come up from time to time in his answers — and certainly have more over the last year — it's still a rarity for Snyder to pull back the cover and let outsiders into his life.
If you want him to talk about a specific play, he'll detail it for you. If you ask him about a player, he's more than happy to give you some anecdotes. If you mention the D-League — he'll never call it the G League — Snyder will go on and on and on. He's not even immune to giving 10-minute monologues about different eras of the game. But ask about a personal detail — well, good luck.
Sunday, though, represents a momentous occasion for Snyder: He'll be in Atlanta coaching at his first All-Star Game. That's a special moment for a coach who left his first head job at Missouri amid controversy and accusations and worked his way to the top of NBA on a very non-traditional route. He sharpened his skills at the D-League long before it became an avenue for coaches to make a name for themselves, and he bounced around assistant jobs across the country and even the world.
Quin Snyder was a vagabond coach — staying a year here, and year there. So, as has he looks back at the strange journey and the people that have stood by him through it all, something has become clear: Sunday isn't just a special day for coach Snyder; it's a special day for the Snyder family.
"I'm gonna jump back to the All-Star Game, one more time," a reporter said.
"You and my wife," Snyder responded with a laugh.
"She's excited. I mean, when you've started in the D-League together, there's a gratification about the evolution of your time together," Snyder added. "Especially when you move. I moved five times in five years. Something like that. A long road."
A long road — with plenty of air travel thrown in there, as well.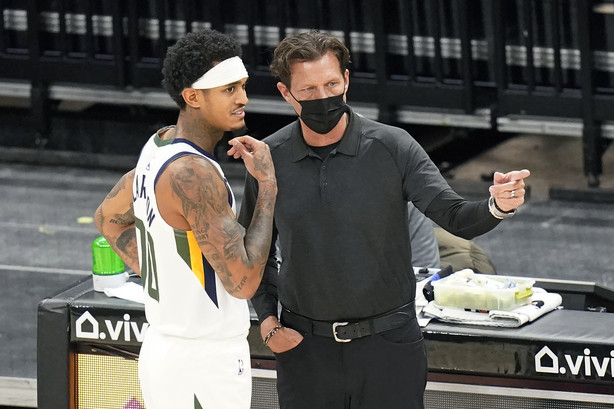 After spending three years in the D-League with the San Antonio Spurs organization, Snyder joined the 76ers staff for the 2010-11 season. In 2011-12, he was with the Lakers. The next season, he moved to Russia to work with European powerhouse CSKA Moscow. In 2013-14, he was back in the NBA coaching on the Atlanta Hawks' staff. So when he got hired by the Jazz in the summer of 2014, it was a relief to be able to put some roots down.
"It was rewarding not to have to take all the stickers off my boxes," Snyder said with a laugh, and then he grew reflective.
"The fact that I was able to spend time in a number of different places with a number of different people was rewarding in and of itself," Snyder said. "There were a lot of people that really helped me, and helped me grow at various times and gave me opportunities."
Snyder doesn't know where he'd be if Spurs CEO R.C. Buford didn't take a chance on him and help tutor him. He doesn't know how he would have developed as a coach if Spurs legend Gregg Popovich wouldn't have allowed him to run the Austin Torros the way he saw fit.
"You think I'm going to say anything bad?" Popovich said when asked about Snyder's first season with the Jazz. "He's doing great."
Popovich was proud to see Snyder's progression even then — something that Snyder can relate to, as well. He's seen coaches on his staff — from Igor Kokoškov getting a head coaching job in Phoenix to a once little-known players development coach Johnnie Bryant getting a chance at the Mecca of Basketball — move forward in their careers. Those achievements bring him just as much satisfaction as going on a long winning streak.
"I'm happy for Johnnie and his family. It's an opportunity that he's earned and deserved. We're really excited for him," Snyder said when it was announced Bryant would be heading to New York last summer.
Those opportunities — the ones he was gifted with — are the ones he wants to keep providing for those around him. He saw special talent in Rudy Gobert and built a system around him. He saw Donovan Mitchell had star qualities and gave him the reins to the Utah offense as a rookie. Jordan Clarkson was seen as nothing but bench chucker; Snyder allowed him to become the favorite for Sixth Man of the Year.
"To have someone that genuinely cares about everyone — I mean, guys that have been traded, guys that have been cut, guys that are on 10-days, everyone that's been here, he cares about them. To me, that's pretty special and pretty rare," Joe Ingles said.
Added Mitchell: "People say lose yourself in the game. He kind of invests himself, loses himself, in each individual player. I don't think he goes out there and just keeps his attention on the main guys. It's 1-15, he's having moments, teachable moments, life moments with. I think that's one thing that I definitely appreciate."
Those moments are why the Jazz players, themselves, were probably more excited for Snyder than he was when the Jazz head man was named the All-Star coach. They knew all that he's done for them and the opportunities he's provided. They were happy to see him get recognized for that.
"When you look back since Quin got here seven years ago, and where we started — obviously, we're not far from finished, but the road's never been easy," Gobert said. "We went through a lot and be able to have Quin coaching the All-Star game. It's a blessing, and I think it's just a reward for how he changed this franchise, and I think we all appreciate it."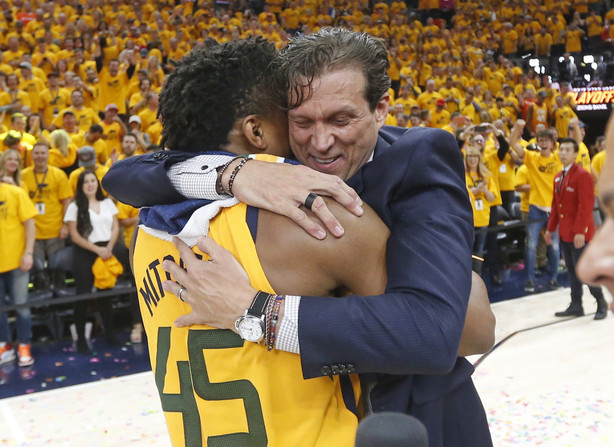 From the iconic "wake up" moment in Oklahoma City to the seeming death stares he has given referees, Snyder has built a reputation of being one of the more intense coaches in the league. So the thought of him coaching an All-Star game, where defense is optional and fun is of the utmost importance, does seem a little strange to many.
But not really to him.
"I don't look like I'm having fun?" Snyder said, only half-joking. "I think our guys know that I like to have fun. … Sometimes competing is fun, and competition in the All-Star Game is obviously a different thing. I don't intend to try to put my thumbprint on the game."
His players, though, aren't sure if they buy that.
Ingles joked — or at least he appeared to be joking — that Snyder was going to hold two-hour practices and a shootaround in the short time he has with Team LeBron. Jordan Clarkson laughed about how Snyder will have LeBron James getting back on transition defense and making sure everyone is crashing the boards.
"We were talking about it the other day; it's gonna be funny to see him in a not-as-competitive game. He's still trying to win, but it's not the same. It might be a little awkward for him to try to be easygoing, to let things go," Gobert said. "I'm excited to see him. I think he's gonna be a great and fun experience for him and for all of us."
An experience that will just be another chapter in Snyder's long journey. One that he doesn't want to end anytime soon.
"The whole journey to me has been important and significant," Snyder said. "I like to think that there's more out there and you can continue growing in different ways."
×