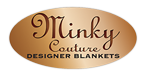 This story is sponsored by Minky Couture. Take the quiz and you could win a Minky Couture blanket.
Women's History Month is a great time to pay tribute to the female leaders and forebears who paved the way for those who would follow.
And while certain names stand out in history, there are plenty of unsung or lesser-known heroes who've made significant contributions to both Utah and the nation at large.
When it comes to highlighting incredible Utah women, it's difficult to whittle the choices down to just a few. This list is by no means comprehensive, so if you'd like to learn more about these women—and many more—who left their mark in the Beehive State and beyond, visit utahwomenshistory.org.
Here's just a quick look at some impressive Utah women who accomplished great things:
You might have already heard about some or all of these women, but how well do you think you know them? Take the quiz to find out! Be sure to enter your email address for a chance to win a Minky Couture blanket!
×
More stories you may be interested in