OGDEN — It's football season, and it's game day.
For the first time since the Football Bowl Subdivision finished capped off the truncated, coronavirus-altered 2020 season with Alabama's win over Ohio State in the national championship, football will return to college campuses in Utah beginning Saturday.
Weber State, Southern Utah and newly promoted Dixie State will all take part in the Football Championship Subdivision's spring season beginning this weekend, when the Wildcats travel to Idaho State, the Thunderbirds face Grand Canyon rival Northern Arizona on the road, and the Trailblazers open the Division I era in Stephenville, Texas, by facing No. 22 Tarleton State.
"We pinch ourselves every day that it's really here," Weber State coach Jay Hill said. "We're just trying like crazy to make sure that nothing disrupts (the season). Everything we do every day is critical."
Here are four questions Utah teams will face during the next six weeks, including mighty expectations for the Wildcats.
Can Weber State live up to national expectations?
In six seasons under Hill, the Wildcats have amassed a 47-30 record, including a 34-14 mark in Big Sky play and three straight conference championships.
Hill's success is inarguable, and he's been rewarded handsomely for it, including with a two-year contract extension that guarantees him a spot in Ogden through the 2025 season.
In 2021, though, Weber State is expected to take a big step forward — a national step, even.
The Wildcats have been ranked in the top 25 of most FCS national polls for 36 consecutive weeks, the fifth-longest active streak in the nation. They'll enter 2021 in the top five in several polls, including No. 4 by STATS and No. 2 by HERO Sports.
In other words, Weber State is no longer simply expected to compete with the best of the Big Sky, to beat teams like Eastern Washington or Montana (which has opted out of the spring season). The Wildcats, instead, are on the same level as undisputed top-ranked North Dakota State, James Madison and South Dakota State, to name a few.
Can they live up to the hype?
"I'd much rather have hype than not," Hill said. "People at least think you're going to be pretty good, and I've been on the flip side of it. That's not very fun.
"But we're just trying to get better every single day. That's what every team is preaching; whether you're good or not, the message is the same. I don't have any sense that it's going to go to this team's heads."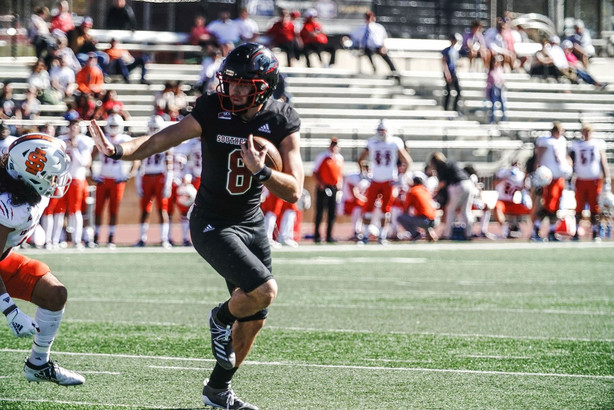 What will the home crowd look like?
Home games look different due to COVID-19, but Weber State received permission to host up to 5,000 people for its three home games at Stewart Stadium this year. That means 5,000 fans in the stand, including family and close friends of players, at the very least.
One of those players that could benefit the most is Josh Davis, the 2018 Jerry Rice Award winner and two-time All-American who returns for his third season just 140 rushing yards away from fourth place all-time in Weber State history.
The two-time All-American from Alta High plans to appreciate every home fan he can bring to Ogden, as well.
"Having them be up here to watch me do what I love is a big thing," Davis said. "Having fans there, and everything they bring to the game of football, is awesome. Just having your loved ones supporting you is great."
Is SUU ready to rebound?
The Thunderbirds were just 3-9 in 2019, including a 2-6 mark in Big Sky play in their last full season of football. And that was an improvement from 2019 when SUU finished just 1-10 with its lone win over Sacramento State in Cedar City.
Head coach Demario Warren retooled during the extended offseason, bringing in new offensive coordinator Matt Wade from the University of Pacific, where he led the Boxers to a school-record 454.9 yards and 34.7 points per game. He also promoted defensive backs coach Robert Bala to defensive coordinator, the former SUU linebacker's first full-time coordinator job at the Division I level.
"They had a year to get ready, so it's been a long process," Warren said of the two new coordinators. "The players have been excited to actually run the plays instead of watching them on Zoom, so it's been good. We're not having as many practices as most teams are, so we really put a lot of extra work in during December and January to make sure we're ready for now. I think it's showing, and the guys are starting to take ownership of the new schemes."
Will the changes — plus a squad that returns five starters each on offense and defense — be enough to improve on a team with just four wins since winning their second Big Sky championship in 2017?
Can the Trailblazers compete in Division I?
Finally making its long-awaited debut in the FCS is Dixie State, which opens with a home-and-home in-season agreement with Tarleton State as well as a trip to Football Bowl Subdivision foe New Mexico State.
The Texans (1-1) got a head start on their fellow Western Athletic Conference (non-football) newcomers, including last week's 43-17 win over New Mexico State in El Paso, Texas.
But the Trailblazers are ready, after the fall season was canceled and prematurely postponed their jump from Division II.
"Making this jump isn't going to be easy," coach Paul Peterson said. "But we're going to come in swinging and competing. We're excited for those opportunities."
The Trailblazers are scheduled to play two games at home, including the home opener on March 13 at 7 p.m. against Tarleton. Saturday's game will be broadcast live on ESPN+.
×
Related Stories