Estimated read time: 4-5 minutes
This archived news story is available only for your personal, non-commercial use. Information in the story may be outdated or superseded by additional information. Reading or replaying the story in its archived form does not constitute a republication of the story.
Tony Titcomb never had an office job. "I worked with my hands most of my life," he says, primarily in steel fabrication. And when he wasn't shaping steel, he'd be outdoors, hunting and fishing.
In 2013, he retired, with plans to travel, go to the movies and above all fly fish in his home state of Utah and Montana. He'd just had his right knee replaced after "it had gotten real bad." But seven years later, in late 2019, it was his left knee that started hurting.
The then-68-year-old went to see Christopher Pelt, MD, an orthopedic surgeon specializing in joint replacement surgery, at the University Orthopaedic Center. Pelt told him he needed surgery if he wanted to keep walking.
In March, Tony was scheduled for a knee replacement the following month. But by then the first cases of COVID-19 were already hitting Utah. The week before his operation, the hospital called. They were canceling his appointment and for now, could not commit to a new date. That was because on March 23, 2020, a Utah state public health order had been issued suspending all elective procedures, due to uncertainties over patient safety with the virus and the need to preserve personal protective equipment (PPE) and bed availability if there was a surge in the number of patients with the virus.
But for Tony, his surgery was hardly a matter of choice. When he walked, his knee popped out of joint and he couldn't climb stairs anymore. "I have a home, I go out and mow the lawn, take care of the gardening," he says. "It got to where I didn't feel I could do that anymore. It just got to where I didn't want to walk anymore."
Pelt says Tony is reflective of a large number of patients. "It's easy to say it's just knee pain or knee arthritis. But when someone goes from caring for his family and house to not being able to walk because the pain is so severe, that's a big deal." Pelt argues that what has become apparent during the pandemic is that most surgeries performed by the Orthopedic Center are not elective. "And not to patients in particular," he says. "There's a huge difference in surgery done to enhance appearances on the one hand and allow people to work and walk and function in society on the other."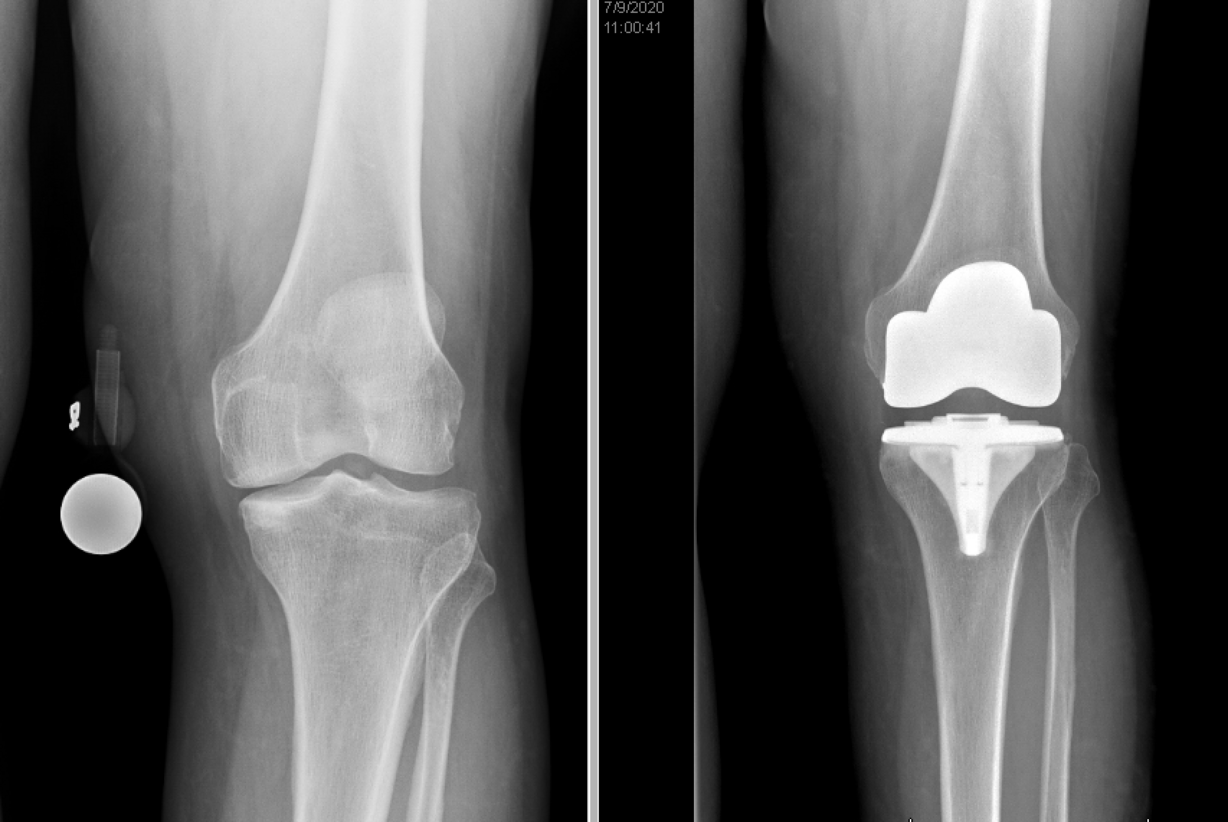 Pelt was also frustrated. Studies in 2020 showed "just how impactful the lack of access to care can be on someone's life," he says. "The prolongation and inability to have timely access to care is the equivalent of having a terminal diagnosis," he says one UK report found. The answer, University of Utah Health staff realized, he says, was "to get creative," by moving patients scheduled for joint operations from inpatient to outpatient and same-day discharge.
In April, after the public health order was lifted, the U's Orthopaedic Center resumed scheduling surgeries. In May, Tony got the call he had been hoping for. Would he like to get his knee fixed? All he had to do was be able to use crutches and show he was otherwise healthy. He'd go in Saturday to get a COVID-19 test and then the operation would be on the following Monday. "It surprised the heck out of me," he says.
Shifting such procedures to outpatient care isn't the only innovation that the pandemic has brought to fruit. When you get a knee replacement, Tony explains, you are supposed to walk on it. "You don't want it sitting and stiffening up on you." The rehabilitation department offered him the opportunity to do therapy at home. "Every day they let me know on a phone they gave me what I needed to do. I actually worked harder by myself than going to therapy. It gave me more incentive."
Despite such creative modifications to health care, Pelt says there has still been a dip in the volume of patients signed up for surgeries, due to unfounded fears of contracting COVID-19 in a medical facility. "We are messaging our patients we have these new care pathways and we do believe it is safe to seek care," he says. "It's better to be proactive and not delay seeking health care rather than face the ramifications I've seen of not seeking care in a timely fashion."
"I got back to my own life," Tony says. "And everything is good again."
×