Estimated read time: 4-5 minutes
This archived news story is available only for your personal, non-commercial use. Information in the story may be outdated or superseded by additional information. Reading or replaying the story in its archived form does not constitute a republication of the story.
HEBER CITY — Payson didn't have a bevy of champions it took into the Class 5A state wrestling tournament, where it hoped to dethrone two-time defending champion Wasatch on its home court.
But the Lions had Aaron Garcia — and a whole lot of depth.
Garcia won the 106-pound individual title, Layne Shepherd and Deegan Palmer added runner-up finishes, and the Lions used their overpowering depth to cruise to their first state title since rejoining 5A Thursday night in the Heber Valley.
"It's just a lot of hard work paying off. This is great," said Garcia, whose 2 minute, 40 second pin of Farmington's Jacob Waddoups paced the Lions. "I get that nice feeling of starting off the team strong, and setting the pace.
"I usually like to be first, too. It's nice to be able to just sit back and watch everybody else."
Box Elder placed second, netting five individual state champions to lead all teams. Jackson Ricks (113), Bridger Ricks (120), Caleb Marx (170), Lucas Cochran (195) and Kellen Collier (285) each claimed a state title for the Bees.
Wasatch, Mountain Ridge and Mountain View rounded out the top five.
But the gulf was simply too wide from the Lions, who outdistanced the Bees 268-205.5.
"I would say it's the ultimate team effort," said Payson coach Jeb Clark, who has won four state titles in 3A, 4A and 5A, all since 2014. "We had JV kids scoring points, placing freshmen. It was just the ultimate team effort, and we're happy about it.
"We wish that a couple of matches could've gone differently — but that's just the state tournament."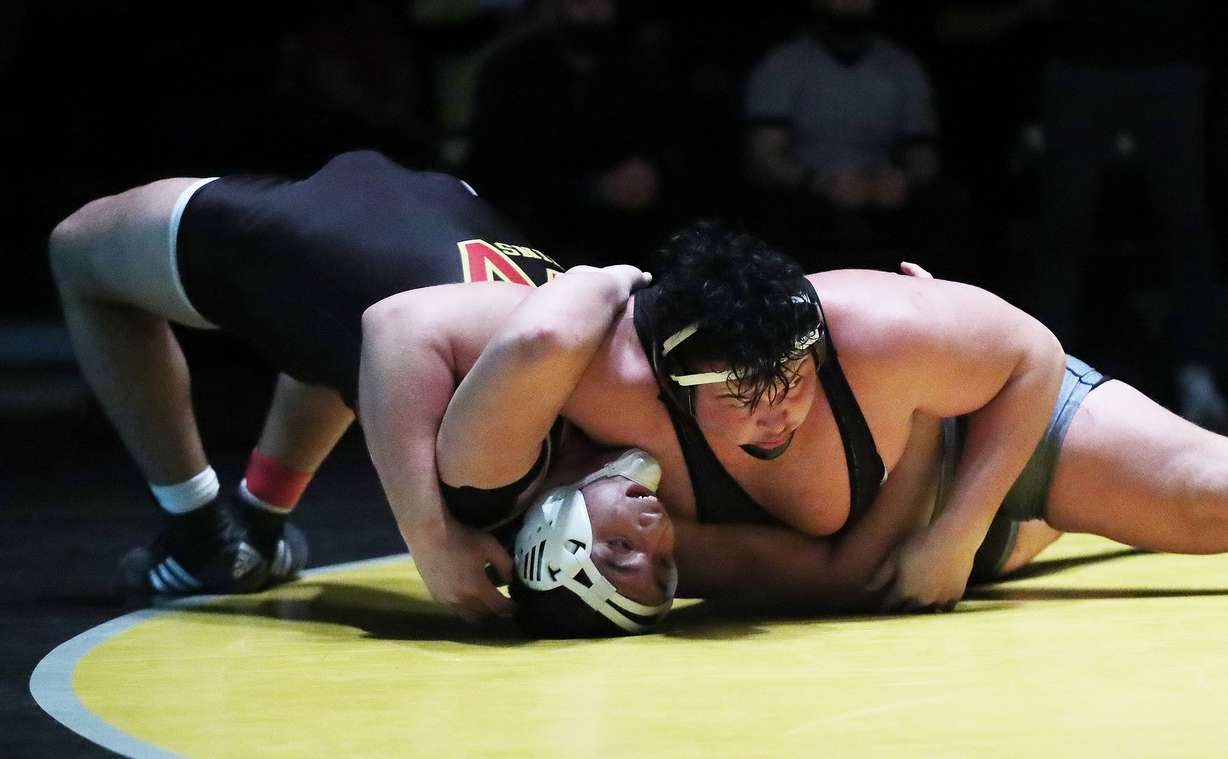 Beyond Garcia, Payson had 10 wrestlers finish in the top four in their weight class — including two at 120 — to ride its depth to the Lions' first state title since winning in 4A in 2019.
In all, the Lions placed 15 in the top six at the 5A tournament.
"Every weight basically has two kids coming to state," Garcia said. "Payson is a deep team, and everyone loves each other, too. During practice, we just have fun and also work hard.
"Everyone fights for each other. That's the best part about it: we win as a team."
It wasn't all good for the Lions in the championship finals.
Payson sent three wrestlers to the finals, but only Garcia found the top of the podium in the first match of the round. Still, the hallmark of the Lions' wrestling program for years has been depth — and proved to be Thursday night.
At 126 pounds, Shepherd trailed Maple Mountain's Brock Morris by two late in the third but found a takedown in the final seconds to force overtime. But Morris dropped to a knee, shot and scored with just 6 seconds left in the first extra session to escape with his own state title.
One match later, Viewmont's Karson Rees upset Payson's Palmer to claim the 132-pound title, a win that pushed the Vikings into the top six.
Rees trailed 4-3 in the third period, with as little as 11 seconds remaining. But Palmer scored to go up with 10 seconds left, and seven seconds later, Rees pulled another reversal to lift the Viking senior to a 35-9 record and his first state championship.
But the depth was too much to overcome.
"I thought they showed a lot of sportsmanship today, too," Clark said. "That was pretty important for us; I saw a lot of class acts today that deserved to win."
Team scores
Payson 268, Box Elder 205.5, Wasatch, 182.5, Mountain Ridge 146.5, Mountain View 124, Viewmont 114.5, Farmington 78, Woods Cross 74, Maple Mountain 70.5, Spanish Fork 64, Alta 55.5, Lehi 51.5, Murray 45, Timpanogos 41, Timpview 40, Springville 35, Salem Hills 31, Park City 26, Brighton 19, East 16, Orem 6, Hillcrest 5.5, Skyline 3.5, Bonneville 3, Bountiful 3, Highland 3, Olympus 3.
Individual championships
106 — Aaron Garcia, Payson p. Jacob Waddoups, Farmington, 2:40; 3. Brandon Murray, Box Elder; 4. Hudson Palmer, Farmington.
113 — Jackson Ricks, Box Elder; d. Gable Stoddard, Mountain View, 4-1. 3. Kyison Garcia, Mountain Ridge; 4. Parker Hayes, Wasatch.
120 — Bridger Ricks, Box Elder, d. Heather Clyde, Wasatch, 9-4; 3. Ethan Boulton, Payson; 4. Colton Theobald, Payson.
126 — Brock Morris, Maple Mountain, d. Layne Shepherd, Payson, 10-8 (OT); 3. Charlie Donaldson, Box Elder; 4. Austin Kelly, Wasatch.
132 — Karson Rees, Viewmont, d. Deegan Palmer, Payson, 6-5; 3. Ryder Robinson, Wasatch; 4. Ryan Bullough, Payson.
138 — Colton Erickson, Woods Cross d. Bryson Lloyd, Wasatch, 7-2; 3. Preston Stevens, Mountain Ridge; 4. Andrew Weakley, Springville.
145 — Conway Christensen, Murray p. Clayton Orton, Spanish Fork, 1:30; 3. Trevor Frank, Payson; 4. Noah Roylance, Wasatch.
152 — Moses Espinoza-Owens, Viewmont, d. Ryan Stevens, Mountain Ridge, 9-3; 3. Sam May, Farmington; 4. Izaac Wetzel, Spanish Fork.
160 — Jaden Strange, Mountain Ridge d. Marcus Espinoza-Owens, Viewmont, 3-1; 3. Landen Shurtleff, Payson; 4. Cody Stewart, Mountain Ridge.
170 — Caleb Marx, Box Elder, d. Gabe Barraza, Alta, 11-10; 3. Mark Rausch, Mountain Ridge; 4. Alex Zesiger, Viewmont.
182 — Radi Stafford, Mountain View d. Conner Morris, Timpview, 11-3; 3. Christian Smoot, Woods Cross; 4. Andrew Jensen, Maple Mountain.
195 — Lucas Cochran, Box Elder, p. Mason Hulme, Wasatch, 2:55; 3. Tate Christensen, Payson; 4. Alejandro Quezada, Springville.
220 — Elijah Stafford, Mountain View, p. Cael Richardson, Timpview, 5:10; 3. Stone Combs, Park City; 4. Braxton Monroe, Payson.
285 — Kellen Collier, Box Elder, p. Christopher Esparza, Mountain View, 8:30; 3. Jeff Durrant, Payson; 4. Jayden Olsen, Alta.
×
Photos
Related stories
Most recent High School stories