Estimated read time: 6-7 minutes
This archived news story is available only for your personal, non-commercial use. Information in the story may be outdated or superseded by additional information. Reading or replaying the story in its archived form does not constitute a republication of the story.
SALT LAKE CITY — The Utah Jazz won for the 19th time in the last 20 games Monday against the Philadelphia 76ers. It's a fun and historic stretch. Fans are commenting and we are reading (the nice ones at least), so we thought we'd add to the conversation.
Here are the talking points after Utah's win over the 76ers from KSL.com commenters.
"Trading Dante Exum for Jordan Clarkson was one of the best trades the Jazz have ever made." — jaredteerlink
Recency bias is a natural and beautiful thing. Clarkson's 40-point night on Monday was one of the big catalysts to Utah's eighth straight win, and he is the undisputed favorite to win Sixth Man of the Year (if he continues to play even remotely at his current level, he very well may be a unanimous selection). But where does the Dante Exum and Clarkson swap land in the history of Jazz trades?
Ranking things is a fun (if completely meaningless) activity, so here's a quick take on where we think it lands among the great Jazz trades.
Top contenders:
Spencer Haywood for Adrian Dantley (1979): The Jazz sent Haywood to LA for the 23-year-old Dantley, who became the Jazz's first star of the Salt Lake City era. Dantley made six all-star teams while in Utah and led the franchise to its first playoffs in 1984. Haywood was dismissed by the Lakers in 1980.
Jeff Malone and a first-round pick for Jeff Hornacek (1994): Hornacek is often credited for getting the Jazz over the hump and to the NBA Finals for the first time in franchise history. Meanwhile, Jeff Malone played just 78 more games in his career after the trade.
Three first-round picks for Deron Williams (2005): The Jazz sent the picks that would become Martell Webster, Linas Kleiza and Joel Freeland to the Portland Blazers for the rights of Deron Williams. By 2007, the Jazz were playing in the Western Conference Finals behind their new star point guard.
Second-round pick and cash for Rudy Gobert (2013): This was less of a trade and more just smart investing. The Jazz bought back into the first round to take Gobert, who has become the centerpiece to the franchise.
First-round pick and Trey Lyles for Donovan Mitchell (2017): The Jazz used a pick that would become Tyler Lydon and Trey Lyles to take Donovan Mitchell — and that has turned out OK. Lydon is out of the league, Lyles is playing limited minutes, and Mitchell is a lock to be named to his second All-Star Game.
Dante Exum and two second-round picks for Clarkson (2019): The Jazz moved on from the oft-injured Exum last winter, and in return found the perfect bench player for Quin Snyder's system. Clarkson is averaging a career-high 18.2 points this season on career-high shooting numbers. Exum has played just 30 games since the trade.
OK, now to my rankings:
Mitchell: fresh-faced star at the perfect time
Dantley: legitimized the franchise after its arrival in Utah
Hornacek: Finals appearances speak for themselves
Williams: new star following the Stockton-to-Malone era
Gobert: this one loses points because it feels more like a purchase than a trade (yeah, semantics, but remember these are meaningless)
Clarkson: if the Jazz end up being as good as they look right now, this will get a big bump.
"Looks like we had no plan to stop Simmons, glad he does not play defense and that we have Jordan. Not one of our better defended games that is for sure." — MisterD
Ben Simmons had a career night against the Jazz (42 points, 12 assists, nine rebounds), and a career first quarter. Simmons had 19 points in the first 12 minutes of the game and did all of the damage from inside the paint.
Look at this shot chart: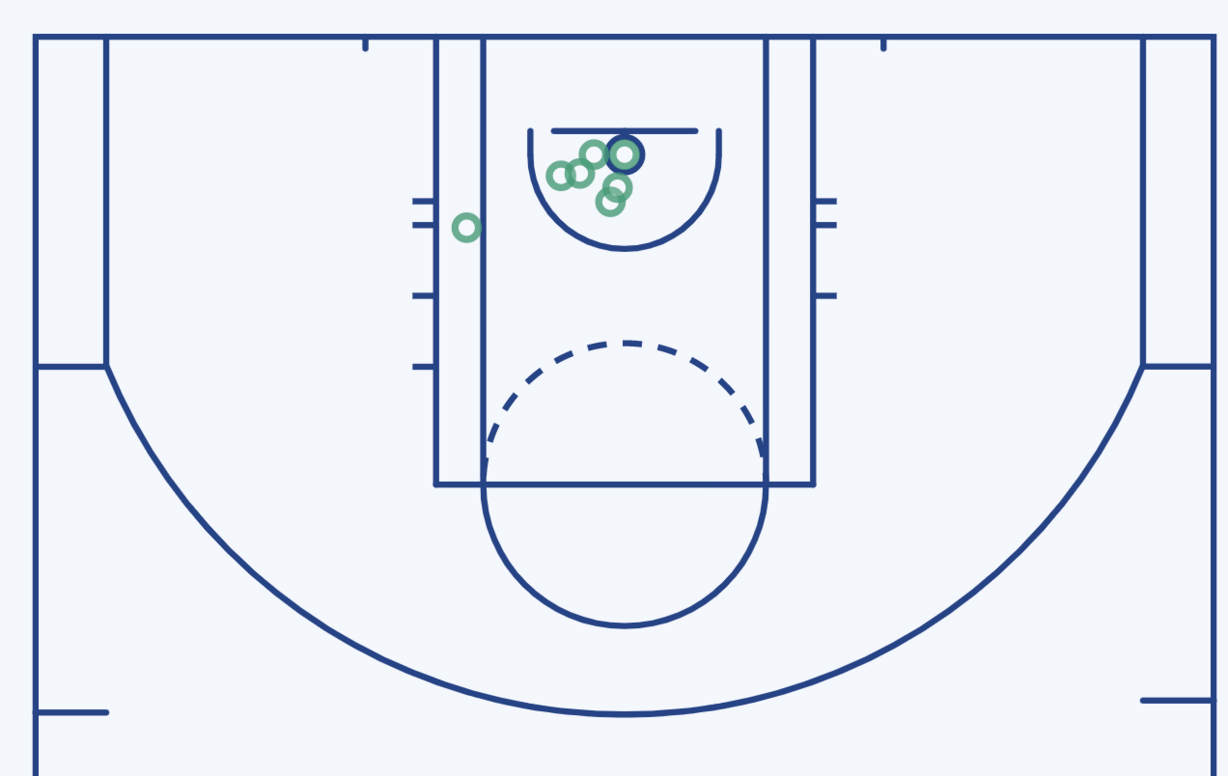 When you get into the restricted area and are 6-foot-11, things are pretty easy.
"He just had too much space in transition," Snyder said after the game. "And there's a lot of times that he'll drive the ball — and he's so big he's finding shooters, whether it's (Tobias) Harris or (Seth) Curry or (Danny) Green. Tonight, I think, he attacked the rim more early. He felt the game."
Snyder said the Jazz had to show "more of a crowd" to make it harder for Simmons to get inside and deter drives. When Simmons wasn't driving downhill, Utah was able to at least semi contain him. Royce O'Neale's fourth quarter defense on Simmons, especially in the post, helped halt a Philly run and preserved the win for the Jazz. In the fourth, Simmons only took two shots from inside the restricted area.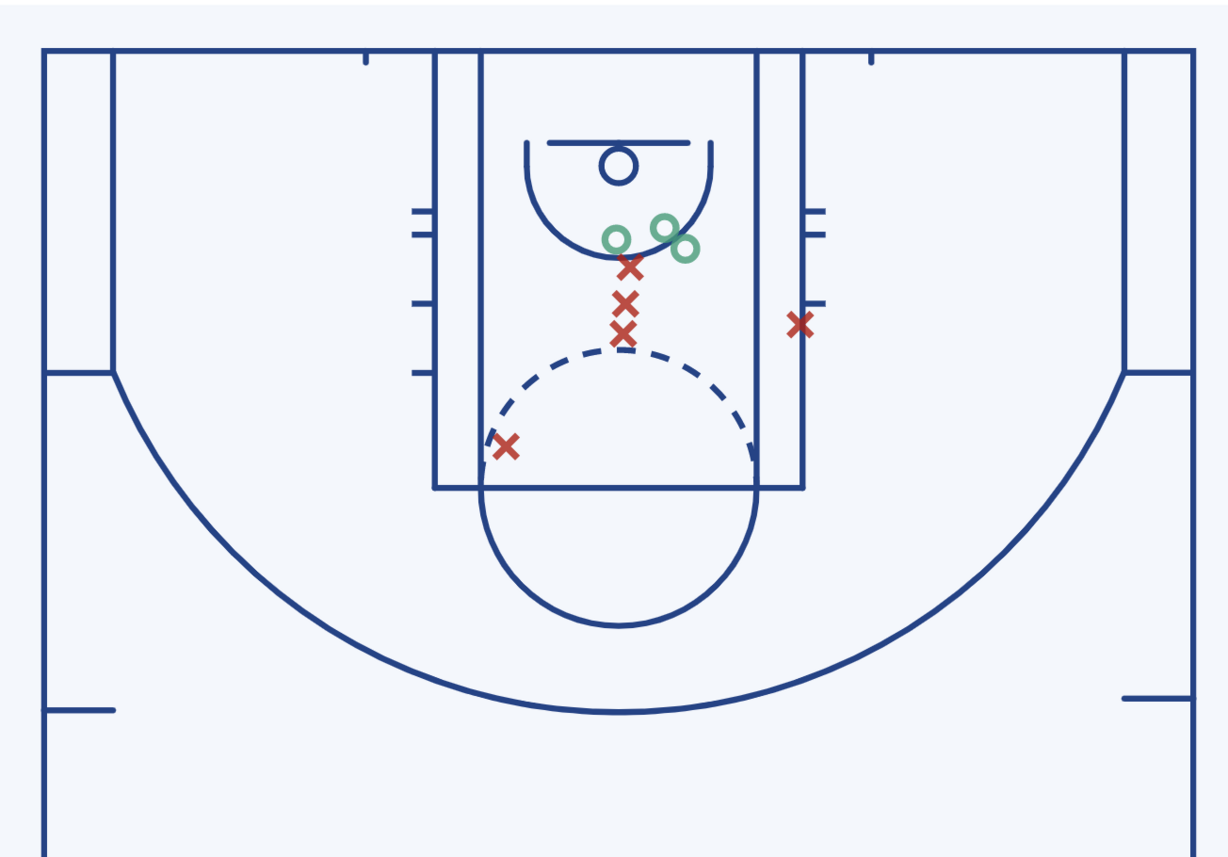 All in all, it wasn't the best defensive performance of the season, but it also was a lot of Simmons being really good and forcing the issue more without Joel Embiid in the lineup.
"Maybe we could help a little more from our bigs," Snyder said. "I think it's more collective that Rudy has got to come over a little sooner; we got to protect Rudy on the boards — that's probably the chain reaction because he gets that deep in the post. He's got that junk hook; it's virtually impossible to block that shot. So maybe we give each other a little more help, but really as much as anything, tip your hat. Certain times it was good defense and it was better offense."
"Waiting for the 'but look who they've played' comments. Milwaukee, Boston, Indiana, Miami and the Sixers were the last five. That's who." — Shadowpup
The Jazz are slowly winning believers throughout the basketball world. Really, it's hard for any team to go 19-1 over a 20-game stretch. There should be no doubt left that Utah is a legitimate title contender — the last week just helped solidify that even more. Milwaukee's Giannis Antetokounmpo called the Jazz the best team in the West and seemed genuinely jealous of how they were playing. Meanwhile, ESPN, NBA.com and The Athletic all have Utah as the No. 1 team in their weekly power rankings.
Right now, everything is coming up Jazz.
"To be completely honest with you, I don't know exactly what the power ranking means. That's just me, I don't," Mitchell said — side note, it's not just him. "I think, as far as the fans go, the consistent theme is we don't get enough credit as an organization. So I can understand the happiness behind it for sure, but I don't think it's something that we as players kind of go into and say, 'That's our goal.' It's great to be No. 1. It's one thing to be there, but we want to stay there and continue to be there, not just now, but in July. That's really the ultimate goal. That's really where our head is, that it's going to continue to be at."
×
Most recent Utah Jazz stories