Estimated read time: 3-4 minutes
This archived news story is available only for your personal, non-commercial use. Information in the story may be outdated or superseded by additional information. Reading or replaying the story in its archived form does not constitute a republication of the story.
SALT LAKE CITY — When Aaron Herrera starts, the United States men's national team scores plenty of goals.
It's now codified science, at least as much as one match represents a trend.
OK — give plenty of credit to FC Dallas forward Jesus Ferreira.
Ferreira had two goals and three assists, and Paul Arriola and Jonathan Lewis each scored twice as the United States thumped Trinidad & Tobago 7-0 in an international friendly Sunday night in Orlando, Florida.
Miles Robinson added a goal for the United States, which outshot the Socca Warriors 16-2.
The match represented the first official senior team callup for Herrera, the 23-year-old Real Salt Lake defender and RSL Academy product. Goalkeeper Matt Turner, who made his senior team debut alongside Herrera, stopped a penalty kick from former RSL defender Alvin Jones to collect the shutout.
"Aaron Herrera played well," said U.S. coach Gregg Berhalter, naming a number of young standouts from the match. "It's very difficult to pick out a player that didn't play well from the Starting XI. Overall, I'm very pleased with the guys and the effort from the group."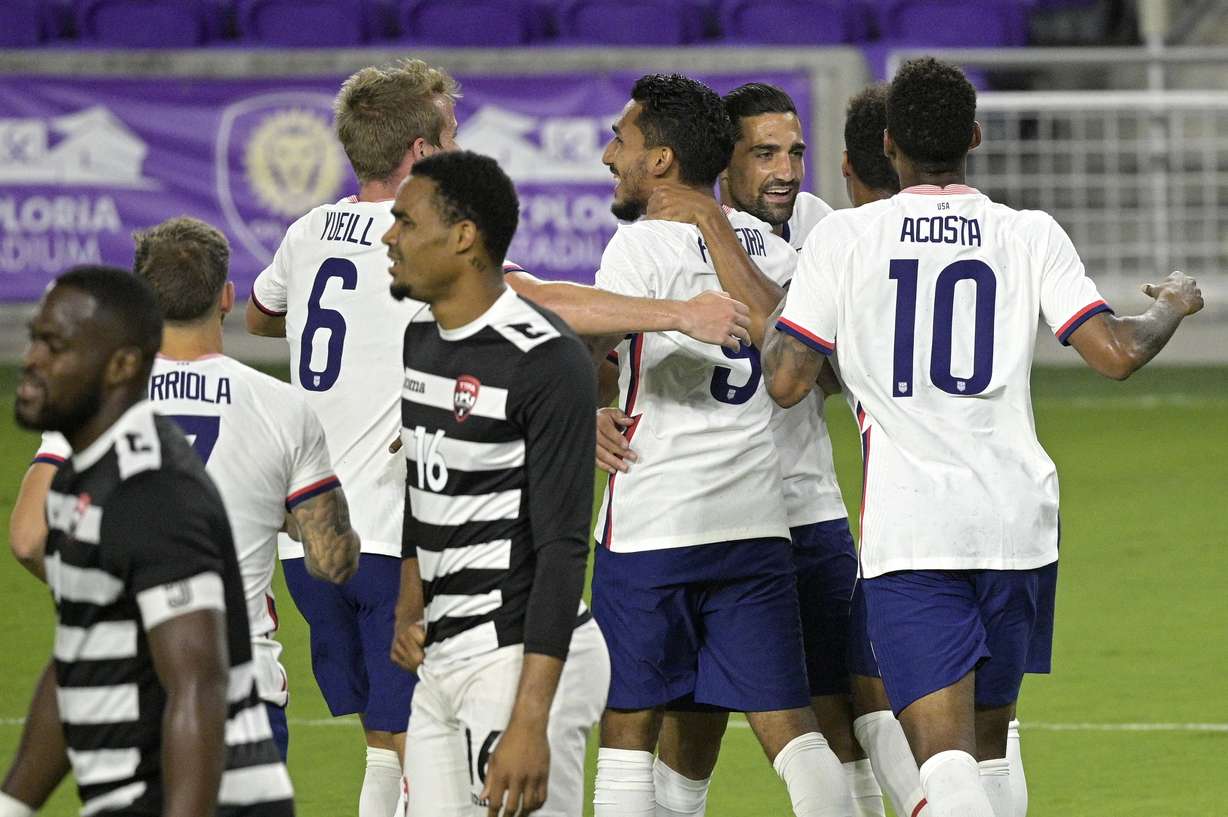 Herrera has been with RSL since signing a homegrown contract prior to the 2018 season, becoming a staple at right back with 65 starts in 68 appearances in three seasons.
Just last week, Herrera was reportedly the target of "several Serie A clubs," according to SkySport Italia, though RSL has not been contacted about a move, according to MLS Soccer. He's grown into a key piece of the Salt Lake back line, and established himself as one of the top up-and-coming fullbacks in the league.
And now he's broken through with the national team.
"I thought Aaron did an outstanding job," Berhalter said. "It was nice to see him build his confidence throughout camp, and his progression throughout camp. He capped it off with a very, very dynamic performance.
"We didn't want to take him out of the game, but unfortunately he was cramping because of all the work he did. An absolutely excellent performance by Aaron tonight."
Herrera booted a pair of shots between the 35th and 40th minutes, his second a left-footed jab from the center of the box that was saved just three minutes before Arriola's second goal gave the United States a 4-0 lead in the 41st minute.
Herrera played until the 78th minute, when he was substituted for Tanner Tessmann, the 19-year-old god son of Clemson football coach Dabo Swinney who also made his full U.S. senior-team debut.
"What I really liked from the guys was the focus and the intensity," Berhalter said. "After three weeks of training with a really young group, it's good to see those types of components."
RSL fullback Noah Powder, who was recently signed to a first-team deal after spending last year with Real Monarchs in the second-division USL Championship, made his debut for Trinidad and Tobago in the 81st minute. The 5-foot-11, 160-pound defender started 29-of-30 games in 2019 in his debut season with the Monarchs as the New Jersey native won the second USL title of his career.
Former RSL coach Jason Kreis was a special guest of Berhalter. Kreis, who is the head coach of the Under-23 national team, is expected to take command of the United States' Olympic qualifying team later this year as all eyes turn to Tokyo 2021.
Herrera is expected to be a key contributor on the Olympic team. Major League Soccer is scheduled to open the 2021 season April 3, assuming the league and players' union finalize the extension of a new collective bargaining agreement and avoid a lockout.
USA v. Trinidad
×
Related stories
Most recent Real Salt Lake stories