Estimated read time: 4-5 minutes
This archived news story is available only for your personal, non-commercial use. Information in the story may be outdated or superseded by additional information. Reading or replaying the story in its archived form does not constitute a republication of the story.
SALT LAKE CITY — Dallas Mavericks coach Rick Carlisle knew what most would think: His team got a break with Donovan Mitchell sitting out after entering the league's concussion protocol. But you could tell he didn't buy into that. Not against that Jazz team.
With how well Mike Conley, Rudy Gobert, Jordan Clarkson, Joe Ingles and Co. (you pretty much could go down the whole rotation) have been playing, he knew the Jazz are uniquely set up to handle the loss of a player of Mitchell's caliber.
"Quin Snyder is a very, very underrated coach," Carlisle said. "Quietly, he's built this team into a very cohesive group. They're really at the top league in both offense and defense. And when you can do that at a high level, you're gonna be one of the top teams. … NBA games are hard games, you win nine in a row, you're doing a lot of things at a very, very high level."
Make it 10 in a row.
The Jazz (14-4) proved Carlisle right on Wednesday in a 116-104 win over the Mavericks, marking their NBA-best 10th straight victory.
And now, they are not just one of the top teams in the league — they are the top team. Combined with the Los Angeles Lakers' loss to Philadelphia on Wednesday, Utah's win over the Mavericks moves them up to the top spot in the Western Conference and the entire league.
"I don't know what other people's answers are, but I don't really care to be honest with you," said Ingles when asked what he thought about sitting at the top of the standings. "It's great to be winning games and obviously we're playing it at a high level, but I just don't think we're satisfied. I think we just want to keep pushing."
Ingles was magnificent starting in place of Mitchell on Wednesday. He had 21 points on seven 3-pointers and handed out eight assists, including a highlight worthy lob from the 3-point line to Royce O'Neale for an alley-oop dunk.
"I didn't think he was going to catch it," Ingles said, laughing.
It's been all smiles and laughs for the Jazz of late. How could it be anything else? They've won 10 straight with all but one coming by double digits. And Wednesday's game will simply raise Utah's stock even more (there's probably a GameStop reference to be made here).
Mitchell has to sit? OK, Clarkson will just drop 31 points, Rudy Gobert will add 29 points and 20 rebounds, and Ingles and Conley will torch everyone in the pick and roll.
Kristaps Porzingis might be a scoring threat from the center position, which the Jazz countered by putting O'Neale on him, allowing Gobert to roam and cause havoc whenever someone even thought about entering the paint, but the Jazz abused him on the other end. He was no match to stop Gobert's rolls to the hoop as the All-Star center posted a season-high in points.
"Every single night. It's a different challenge," Gobert said. "I think the difference for us now is that we embrace those challenges. We don't take any team lightly."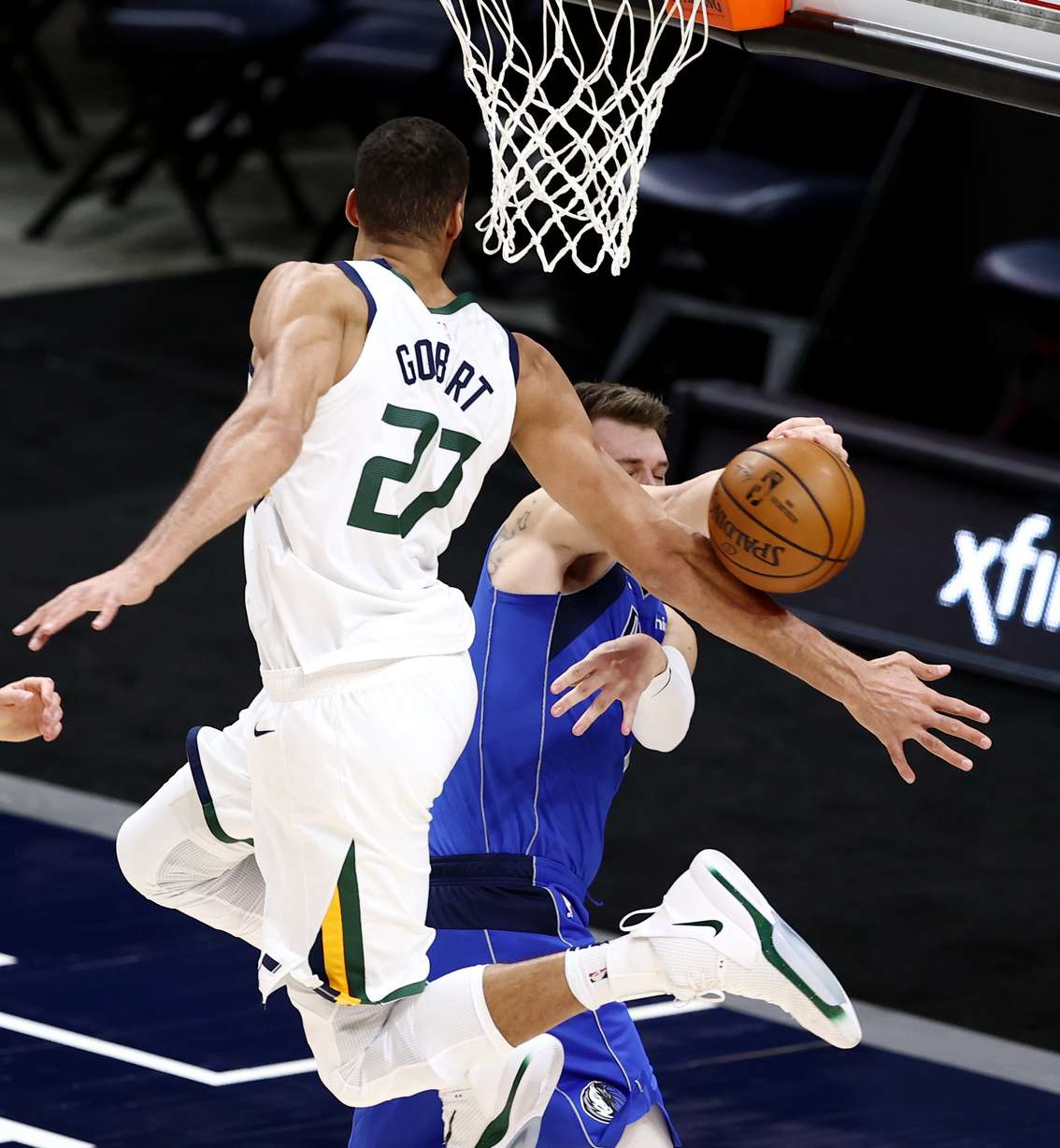 What about if Favors is out with a sore back? Fine, the Jazz will go a little smaller when Gobert takes a breather and put Juwan Morgan at center, and then throw some wrinkles at you.
There was some zone and some possessions that featured eye-popping sequences of switching defense. With how cohesive they were on the defensive end, it looked like Clarkson, Morgan, Conley, Georges Niang, and Miye Oni had played major minutes together all season; Wednesday was the first time they all had shared the court.
"Different guys stepped up in different ways," Snyder said. "Guys stay ready, and we ask that of them. Sometimes when you come into the game, there's little things and simple things that have a big impact on the game."
With Mitchell and Favors out, Snyder was forced to alter his rotations. Conley and Gobert played nearly the entire first quarter (they usually come out about six minutes into the game), but things didn't flounder when they weren't on the court.
The Jazz outscored Dallas by 13 in the first quarter and took a 21-point lead into halftime. The Mavericks, like many of the other teams Utah has played throughout the streak, never truly posed a threat in the second half. The Jazz have trailed by a grand total of 57 seconds in the 10 straight wins.
"It's just a really fun group to play with. We play for each other. There's no egos involved," Ingles said.
That is why Ingles isn't alone in not caring about the gaudy record. The Jazz have played just 25% of their games — they know a lot can still happen.
"I don't think we're looking at the record right now," Clarkson said. "I think the biggest thing for us is just focusing on getting better each and every day, moving the ball and getting better defensively, still communicating, still pushing the ball."
That level of focus has only increased as the wins have piled up.
"This is probably the first time since I've been here that I see that much focus from every single one in this locker room," Gobert said. "I really feel that we're playing for something bigger, and that we are on a mission."
×
Most recent Utah Jazz stories