AROUND THE SHIELD —After 26 years of postseason futility, the words of the Presidents of the United States never rang truer than they did Sunday night: "Cleveland rocks."
So, too, did former BYU linebacker Sione Takitaki and Salem Hills product Porter Gustin.
The Browns jumped out to a historic 28-0 lead in the first quarter, forced five turnovers including four interceptions, and pulled away for a 48-37 win over Pittsburgh for the franchise's first playoff victory since 1994.
Quarterback Baker Mayfield threw for 263 yards and three touchdowns, but his job was easy with his defense — by his own admission.
"To defer to the second half and then to get seven points without having to step on the field was great," Mayfield said. "Being up 28-0 after the first quarter is an incredible start. We just had to capitalize."
The Browns scored on the first play of the game — even though the Steelers were on offense.
A bad snap over the head of Pittsburgh quarterback Ben Roethlisberger was recovered in the end zone by Karl Joseph.
Cleveland forced three early turnovers, Mayfield completed five of his first six passes for 69 yards and a touchdown, and Kareem Hunt added two rushing touchdowns en route to a 28-0 lead — all in the first quarter.
Pittsburgh averaged just 3.8 yards per play in the first quarter, and the Browns' four touchdowns tied an NFL record for most points in the first quarter of a playoff game.
Porter Gustin DIVES for the INT!

📺: https://t.co/NyBDmNclTKpic.twitter.com/lLsy5s9NnI

— Cleveland Browns (@Browns) January 11, 2021
The Cleveland defense didn't let up, though.
Gustin pulled down his first career interception with 10:15 left in the half, diving after a tipped pass at the line of scrimmage to secure the Browns' fourth takeaway on Roethlisberger's third pick of the half. The Steelers' seven first-half drives ended in a fumble, two punts and three interceptions before James Conner walked in for a 1-yard score to pull the Steelers within 28-7 just 1:44 before halftime.
The Browns outscored the Steelers by 25 despite 17 fewer players and 10 fewer yards in the first half, nearly doubling their average yards per play and scoring touchdowns on four of six possessions before the break en route to a 35-10 lead.
Not to be outdone by his defense, Mayfield threw for 111 yards and two touchdowns leading an offense that had just one penalty and punted twice in addition to the 4-0 turnover margin.
Pittsburgh opened the second half with a 19-7 to pull as close as 35-23 and 42-29. But Takitaki's second pick of his second NFL season with 3:25 remaining helped preserve the Browns' victory. The play earned a special shout out from the most famous resident of Ohio in the modern era: Lebron James himself.
"Taki Taki!!!" James tweeted late Sunday night with the simplistic hashtag #Browns, as he watched along with millions of others on NBC's Sunday Night Football and tweeted in a manner that epitomized every resident Clevelander of the past 26 years.
Roethlisberger, for his part, still tossed 47 passes for 501 yards and four touchdowns, plus the four interceptions. But the Browns knew that to beat the likely Hall of Fame quarterback they were going to have to be aggressive. And they were — right from the first play.
Here's how the rest of the state of Utah's former high school and college football stars fared in the NFL's "Super Wild Card Weekend."
Baker Mayfield threw for 263 yards and three touchdowns while Kareem Hunt ran for two more scores, and the Browns picked off Ben Roethlisberger four times to clinch their first playoff win in 26 years.
Browns (12-5)
Sione Takitaki, LB, BYU: Starting linebacker had 3 tackles,1 pass breakup and the second interception of his sophomore pro season to clinch arguably the biggest win in the Browns' modern era.
Porter Gustin, DE, Salem Hills: Reserve defensive end made first career interception, as well as a pass breakup.
Steelers (12-5)
No locals on the active roster.
Lamar Jackson broke through in the playoffs, running for 136 yards and a touchdown and throwing for 179 yards to lead the Ravens to the divisional round for the first time in his three-year career.
Ravens (12-5)
Tyler Huntley, QB, Utah: A week after being reactivated off the Raven's practice squad, Huntley did not play as Jackson's backup.
Titans (11-6)
No locals on the active roster.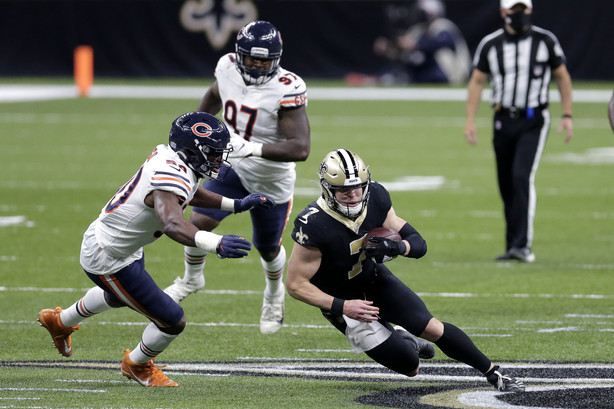 Drew Brees threw for 265 yards and two touchdowns, and Alvin Kamara added 99 yards and a score for a Saints team that held the Bears without a touchdown until the final play of the game for a divisional round berth.
Most importantly, the first game to air on Nickelodeon included plenty of references to the kid-friendly network — including replacing the end zone with the "slime zone."
Saints head coach Sean Payton told the network that if the Saints win, he would get slimed — adding that "a lot of things feel good after a win."
He kept his promise.
Sean Payton is a man of his word 🤣 pic.twitter.com/IO8oalZdLG

— CBS Sports (@CBSSports) January 11, 2021
Saints (13-5)
Taysom Hill, QB, BYU: Backup quarterback and starting tight end ran 4 times for 15 yards, caught 2 passes for 5 yards, took a sack, and fumbled in the Saints' win.
Marcus Williams, S, Utah: Starting free safety made 3 tackles after being activated late with an ankle injury.
Chase Hansen, LB, Utah: Made 1 tackle on kick return as a reserve.
Kaden Elliss, LB, Judge Memorial: Played as a reserve.
Bears (8-9)
Patrick Scales, LS, Utah State/Weber: Made 1 tackle on eight special-teams snaps.
Jaylon Johnson, CB, Utah: Inactive (shoulder) for Wild Card.
Saturday's Wild Card round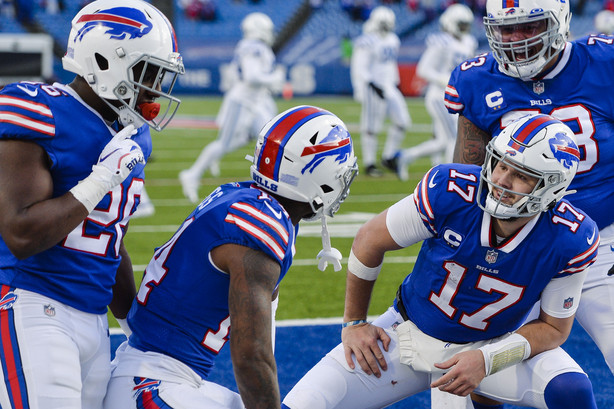 The Buffalo Bills won their first playoff game in 25 years, denying Colts quarterback Philip Rivers' Hail Mary attempt for a 27-24 victory.
The win marks the first postseason victory since 1995, but will the Bills be looking for a new starting running back after an injury former Utes star Zack Moss?
Josh Allen threw for 324 yards and two touchdowns, including a 35-yard strike to Stefon Diggs, who caught six passes for 128 yards — but the Bills could only watch as Moss was hauled off on a medical cart in the fourth quarter of the contest.
Moss, who starred at Utah and rose to become the Utes' all-time leading rusher, started Saturday in his career playoff debut and ran for 21 yards on seven carries.
But with the Bills (14-3) driving for the touchdown that sealed the victory, Moss took a no-huddle handoff with 14:24 left to play and ran off the right end for 6 yards before being tackled by a pair of defenders. That's when the former Utes star went down and didn't come up as Buffalo's medical team examined his lower leg.
Moss was taken off the field on a medical cart and did not return.
"You hate to see that," Allen told reporters after the game. "We're praying for him; it's tough to see any one of your brothers go down."
NFL Network's Mike Garafolo reported Saturday that the Bills fear Moss is done for the season.
We're LIVE for Bills Tonight after our Wild Card win over the Colts! #BillsMafia

Stay tuned to hear from QB Josh Allen, HC Sean McDermott and more. https://t.co/n1Kn0JUZVp

— Buffalo Bills (@BuffaloBills) January 9, 2021
That summation may also depend on how far Buffalo advances. There remains a chance the Utah product could return later in the playoffs, potentially if the Bills advance to the AFC Championship, after suffering what appeared to be a high-ankle sprain, according to Dr. Matt Provencher in speaking with FOX Sports after the game. Such injuries usually linger for at least two to three weeks.
Former Weber State star Taron Johnson also started in the Bills' euphoric playoff victory Saturday, the first of two straight days of three Wild Card games on the opening weekend of the NFL's 2020 postseason.
Johnson finished with six tackles, including one tackle for loss, in the win.
Josh Allen threw for 324 yards and two touchdowns, including a fourth-quarter, 35-yard strike to to Stefon Diggs, who caught six passes for 128 yards to help the Bills hold on for their first postseason victory in 25 years.
Bills RB Zack Moss' postseason feared over after suffering ankle injury vs. Colts (per @MikeGarafolo)https://t.co/503Y1Hiriipic.twitter.com/1vcCuPxtR3

— Around The NFL (@AroundTheNFL) January 9, 2021
Bills (14-3)
Zack Moss, RB, Utah: Started at running back and ran for 21 yards on 7 carries; added 4 catches for 26 yards in first career playoff game. Moss suffered an injury on the second play of the fourth quarter, just before Allen's TD pass that helped seal the victory, and did not return after being taken off the field on a cart.
Taron Johnson, CB, Weber State: Starting nickelback and made 6 tackles, 1 tackle for loss in the win.
Jordan Devey, OT, American Fork/Snow: Inactive for Wild Card.
Colts (11-6)
Julian Blackmon, DB, Utah/Layton: Starting free safety had 5 tackles, second-most on the team, in the rookie's playoff debut.
Noah Togiai, TE, Hunter: Inactive for Wild Card.
Jared Goff threw for 155 yards and a touchdown with an injured thumb, Cam Akers added 131 yards and a score on the ground, and former Utah kicker and UVU soccer star Matt Gay accounted for 12 of the Rams' 30 points in a win over the division rival Seahawks.
Un gol de campo más para Matt Gay y los Rams aumentan más la ventaja 👟🏈🧐

📺 @FOXDeportes#NFLEspañol#RamsHousepic.twitter.com/AlOCIcxNQG

— NFL en Español (@NFLEspanol) January 10, 2021
Rams (11-6)
Matt Gay, K, Utah/UVU/Orem: Kicked field goals of 40, 39 and 36 yards and added 3 extra points in his first career playoff game. Also handled 5 kickoffs, including four touchbacks.
Seahawks (12-5)
Bobby Wagner, LB, Utah State: Starting middle linebacker played through second-quarter injury to wrack up a game high 16 tackles, including a sack, and a quarterback hurry.
Bryan Mone, DE, Highland: Made 1 tackle as a reserve, sharing it with Wagner.
Cody Barton, LB, Utah/Brighton: Made 1 tackle on special teams as a reserve.
Tom Brady threw for 381 yards and two touchdowns to help the Buccaneers hold off the Football Team and clinch their first playoff win since 2002.
On to the next one 😏 pic.twitter.com/5Um64DNLa5

— Tampa Bay Buccaneers (@Buccaneers) January 10, 2021
Buccaneers (12-5)
No locals on the active roster
Football Team (7-10)
Alex Smith, QB, Utah: Inactive (calf) for Wild Card.
Jared Norris, LB, Utah: Played as a reserve.
×
Photos
Related Stories