Estimated read time: 5-6 minutes
This archived news story is available only for your personal, non-commercial use. Information in the story may be outdated or superseded by additional information. Reading or replaying the story in its archived form does not constitute a republication of the story.
The rituals of winter holidays are set in stone: travel long distances; gather with family and friends often not seen the rest of the year; crowd around tables groaning with food and beverages.
Such festive celebrations will have to be shelved in 2020, say top infectious disease experts at University of Utah Health, if the dire realities of surging COVID-19 infection rates are to be avoided at the start of 2021.
If Utahns ignore this advice, providers predict a huge surge in the number of sick and dying in January. Medical staff and local health care systems already under enormous strain will reach the breaking point.
"It's impossible to go back to our informal ways of gathering," says U of U Health infectious disease specialist, Carlos Gomez, MD. Associate professor of medicine in the division of infectious diseases, Emily Spivak, MD, agrees. "The first recommendation from both us and the Centers for Disease Control and Prevention is not to gather for holiday meals with people outside your immediate household," she says. "Eat only with those who sleep under your roof."
Providers say that many in the public view neighbors or direct family members outside the household who live nearby as not counting with regard to potentially having the virus. That's not true. "The degree of dissemination and penetration of the pandemic is extremely high," says Gomez. "It's so difficult to tell at this point who is infected or not."
The risks of entertaining anyone who doesn't live with you, emphases Spivak, is too high. "When people are eating and talking, it can mean aerosol and droplet transmission of the virus. That's especially true when people talk at high volumes because they're emotional or trying to be heard."
That raises questions about family members returning from out-of-state for the holidays. They should quarantine for 14 days ideally before coming home, says Andrew Pavia, MD, U of U Health chief of the division of pediatric infectious diseases. If that's impossible, then dining with visiting relatives needs to be done outdoors, socially-distanced with masks on, except for eating.
"The safest way would be to have them self-isolate for 14 days before coming home," he advises. They should also be extremely careful on the way home, he adds. "While airplanes have shown to be only a modest risk, a taxi to the airport, lining up to get on the plane and deplaning are high-risk situations."
The social-distancing that helps avoid infection has made life much harder in terms of mental health issues during the pandemic, including loneliness and depression. Pavia says that mental health concerns shouldn't be ignored, "but we can't deal with it in the usual way of getting together and ignoring safety, trading one set of risks for another. Just because somebody really needs a hug is not worth their life or yours."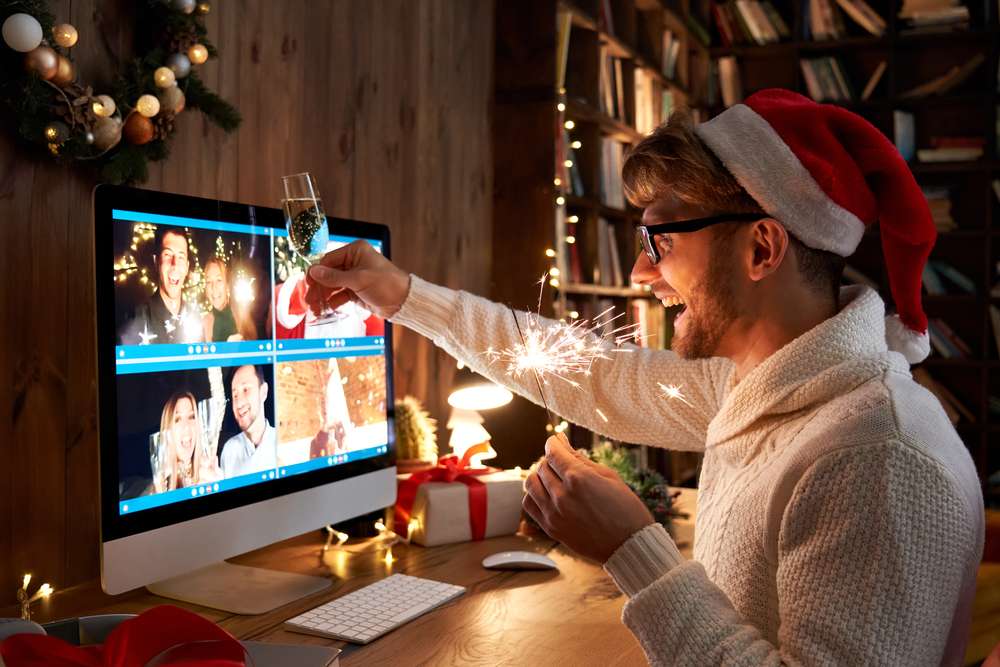 The best way to approach the holidays at the end of 2020 is to look for creative ways to engage socially.
Agree on a simple menu and recipes beforehand with loved ones who don't live with you, cook the same meal and then share your thoughts on each dish and its successes over Zoom.
Alternatively, if those you would have invited live near you, arrange for different people to do different parts of the meal which they deliver beforehand to participating family member, then gather on Zoom to shower each other with compliments.
For neighbors or friends within walking distance, wear your mask and deliver a pie, or simply have an outdoor toast for the holiday.
Try to limit noise. Shouting over boisterous children will only exacerbate the potential spread of the virus.
If you can't avoid mixing households or having guests over during the holidays, then keeping the group as small as possible, maintaining social-distance, wearing your mask inside and out, and eating outside if possible, are all fundamental to having a safe gathering.
If you must get together, bring your own utensils and serve yourself, rather than having the host serve.
If you must gather with those outside your household, the U of U Health experts urge frank conversations with future guests. "You need to know if people who are coming have been in isolation for 14 days, if they are waiting for a test, or if they have been exposed to somebody with COVID-19 in the last two weeks," Gomez says. One infected family member can place the whole family at risk.
Behavior during the holidays will determine what the new year is like, Pavia says. "How we act during the holidays will determine what kind of 2021 we have," he says. "We've seen this with a series of holidays during 2020. People get together who do not live under the same roof, the infection spreads, then those same people are gathering with others, and it has an enormous amplifier effect." He continues, "We all love the holidays and we want them to be the holidays they always are, but this year it's a scary moment that can take us to a much darker place."
But there is an end in sight, says Spivak, with vaccines expected to be available next year. "If people are thinking of gathering, please remember there's light at the end of the tunnel," she says. "Be as careful as you can until then. For all our sakes."
×